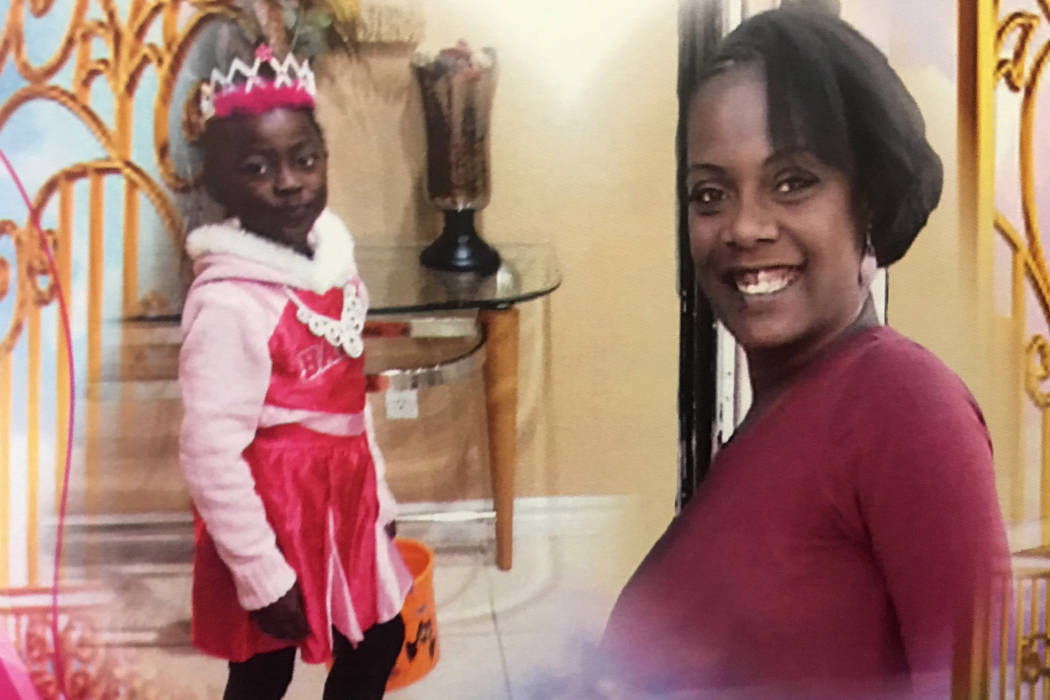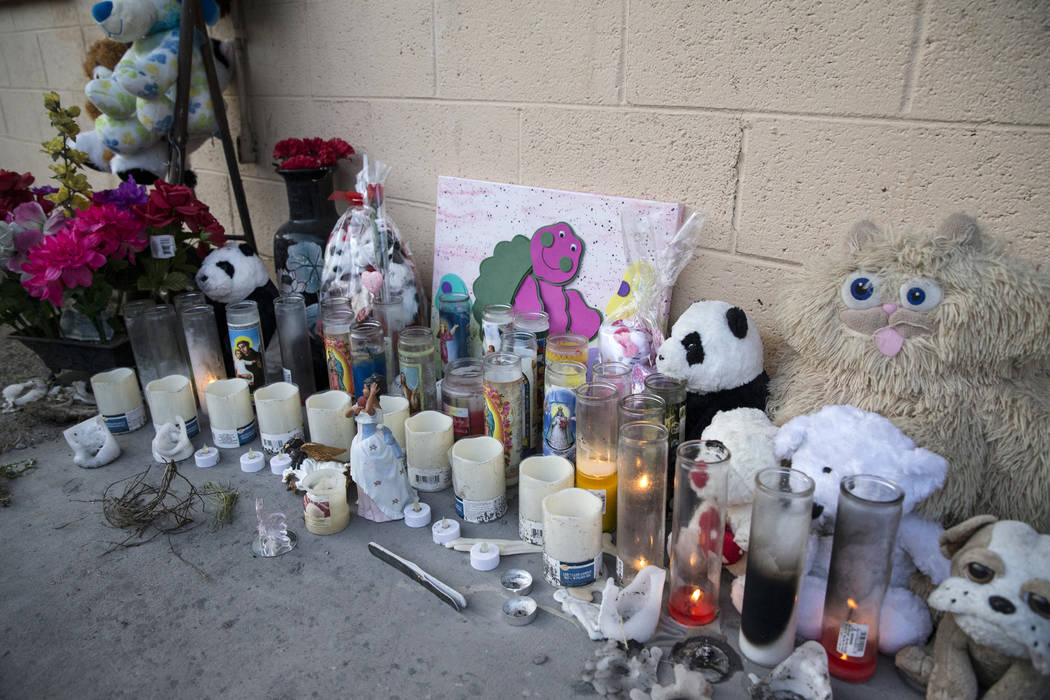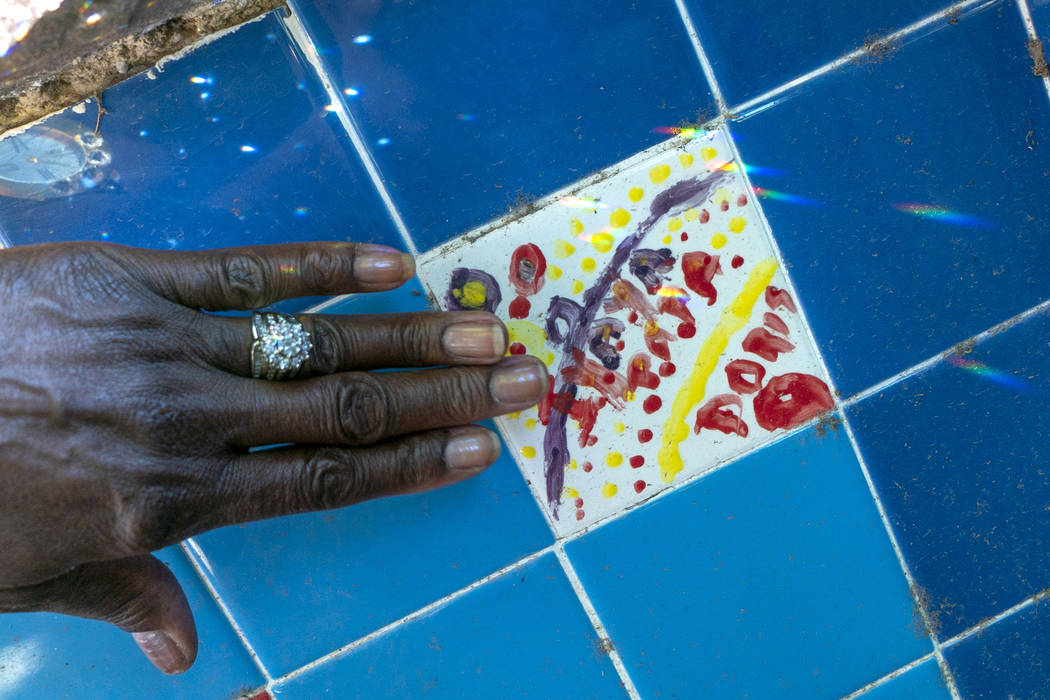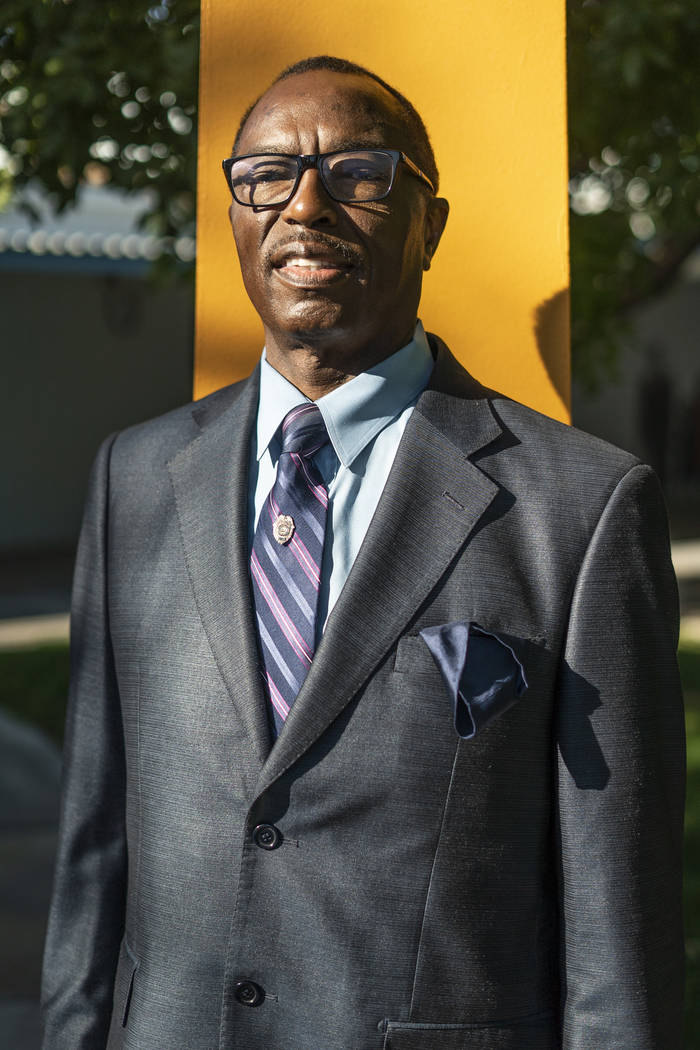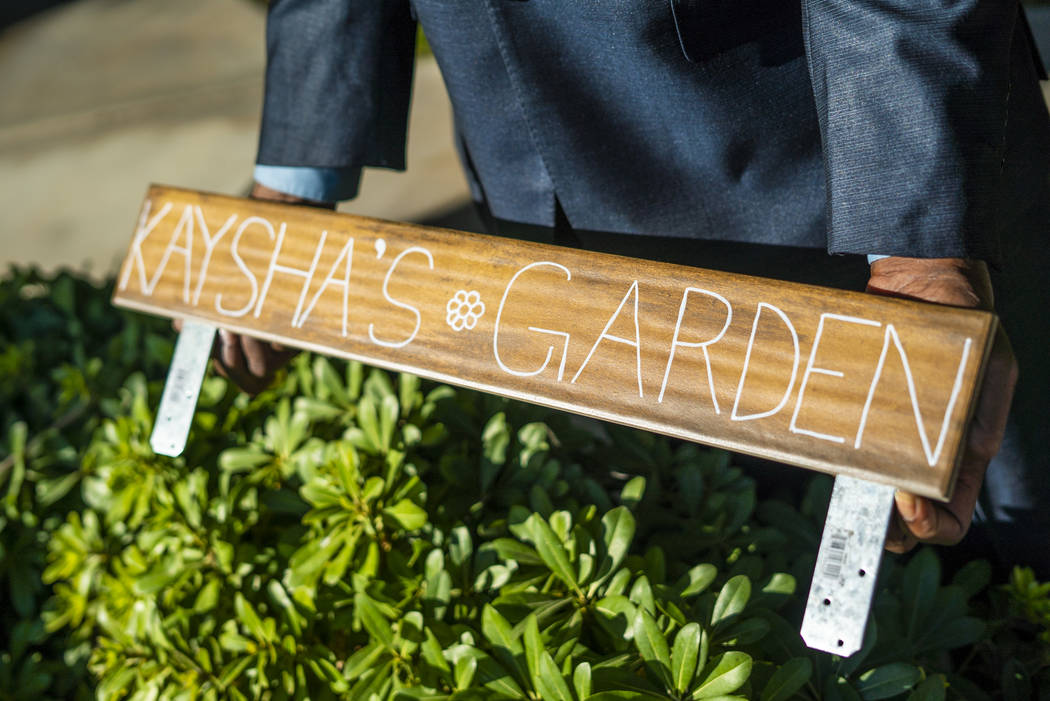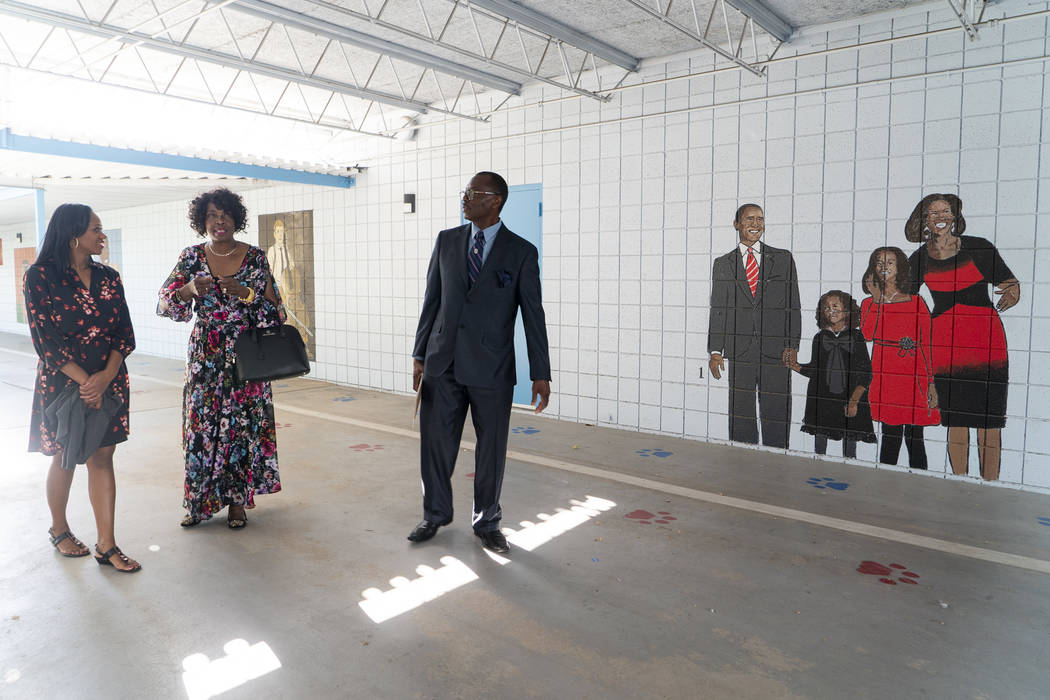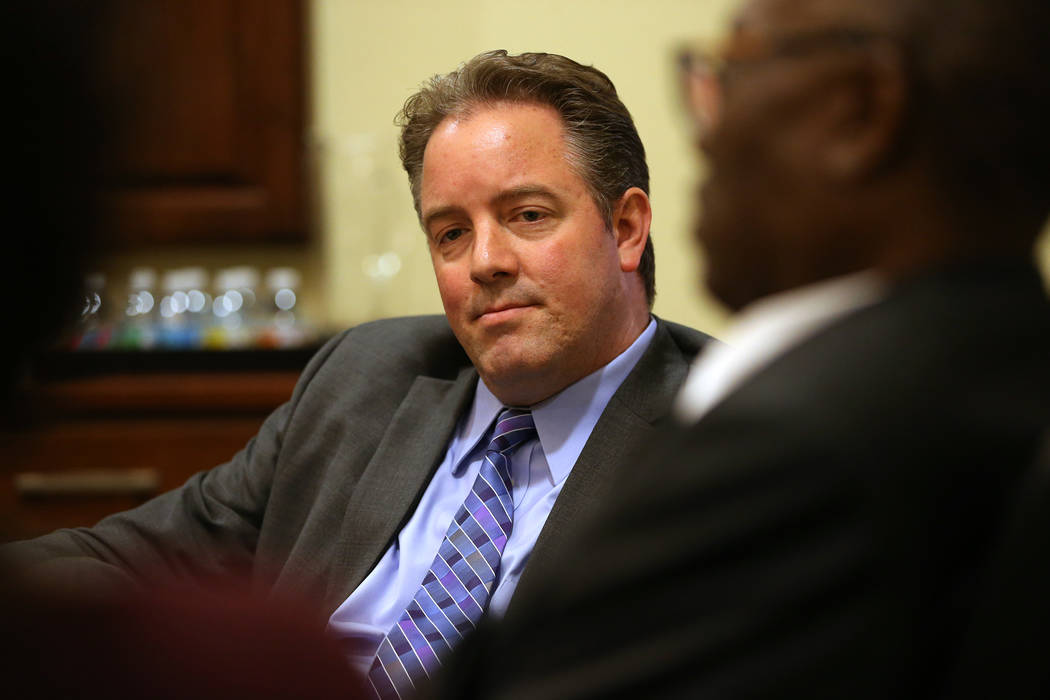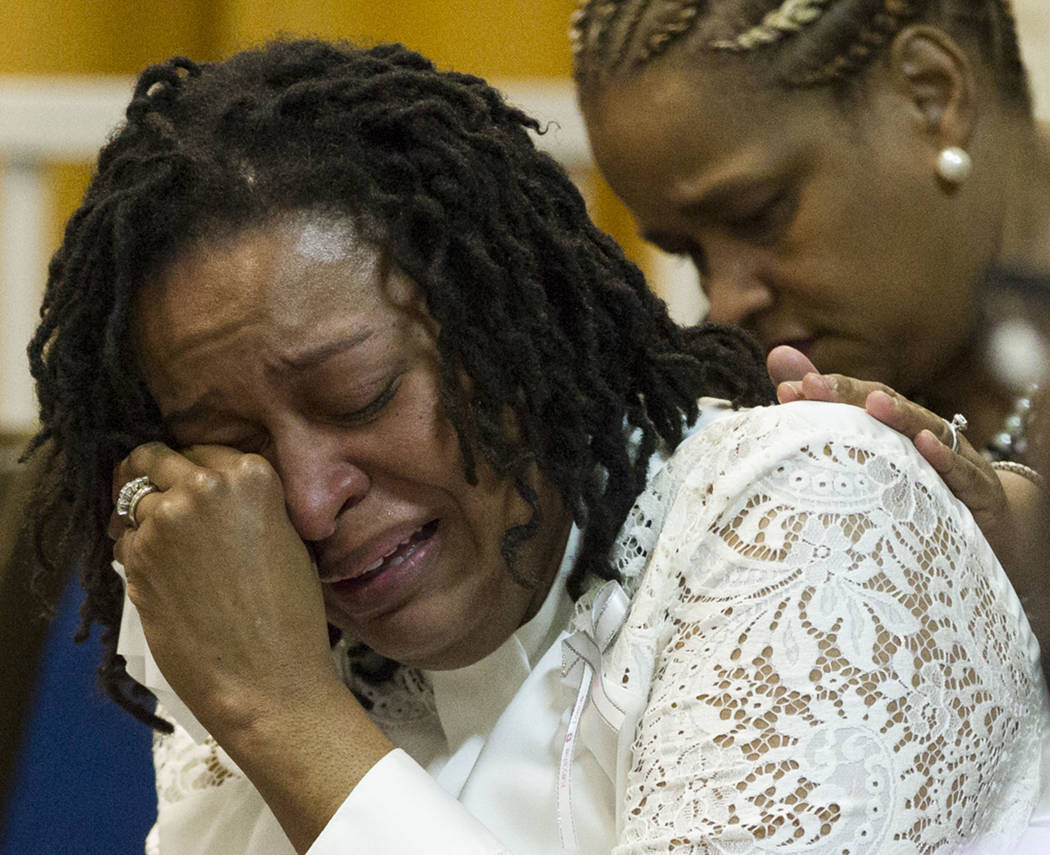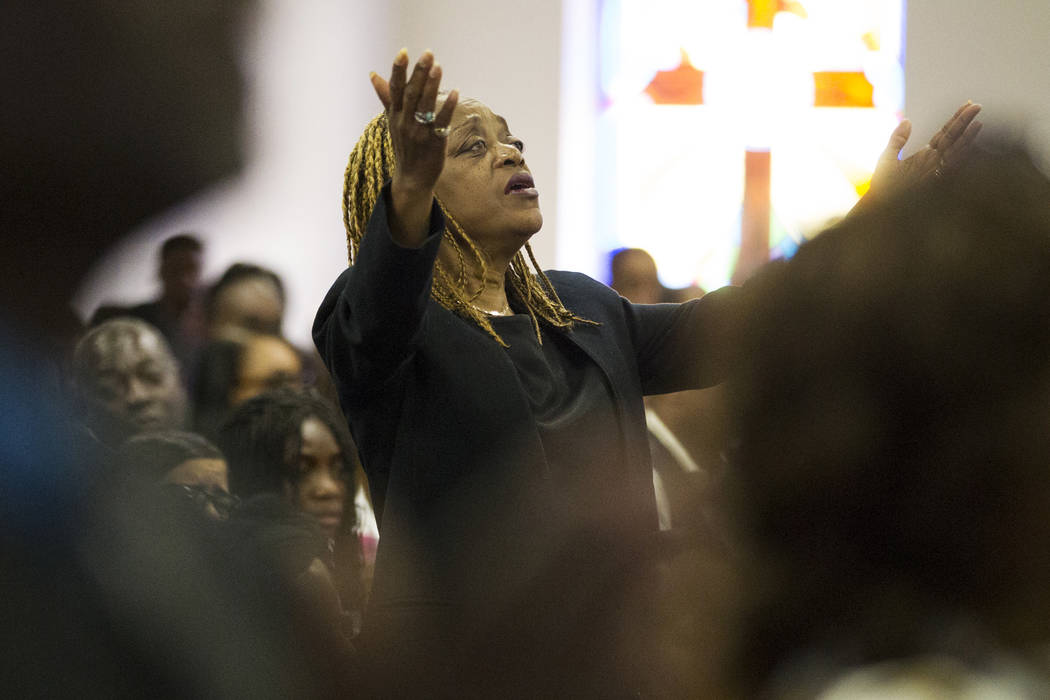 ANDREW RAY broke a back window to escape the flames and smoke engulfing his family's Las Vegas apartment.
His teenage daughters, Jada Ray and Iyana Bankston Wright, made it out by breaking a window, too.
Ray rounded the front of the building that January night. He tried to rip the bars from the security door separating him from his wife and 8-year-old daughter, who were still inside.
Flames leapt out the front windows of the cinder block building.
Ray couldn't get through. He collapsed on the ground in front of the single-story apartment, badly burned and suffering from smoke inhalation.
Iyana Bankston Wright, then 16, called her grandfather, a retired firefighter who was away in California. He asked if everyone was out.
"She said, 'I don't see my mom, and I don't see my baby sister,'" Charles Smith recalled.
Fire dispatchers took the call at 12:47 a.m. on Jan. 19, 2017. The caller reported "possibly two females trapped inside" a unit at the Westlake Apartments, 833 W. Lake Mead Blvd.
Firefighters arrived to find heavy flames. They forced open the security door and the locked main front door to find an apartment engulfed in smoke and flames.
Diana Bankston, 37, was dead on the living room floor. Kaysha Ray was on the floor in the hallway. Firefighters carried her nearly lifeless body out of the apartment so she could be rushed to the hospital.
Charles and Doris Smith drove through the night and heavy rain back to Las Vegas. By the time they reached University Medical Center, they knew the fire had killed their daughter.
But Kaysha, a tomboy who loved doing wheelies on her bike — even while wearing nice dresses — was still alive, unconscious and severely burned. A nurse told Charles that Kaysha could hear him, but the young "firecracker" who was always asking "Why?" was heavily sedated and couldn't speak.
She died of carbon monoxide poisoning at the hospital later that day.
Andrew Ray died at the hospital days later from injuries he suffered in the fire, making it the deadliest blaze in Las Vegas Fire Department history.
Older dwellings at risk
The Westlake blaze reflects the higher fire risk in Las Vegas' older, urban areas. A monthslong Las Vegas Review-Journal investigation found most deadly fires are clustered in areas with older homes and apartments, where current safety measures like sprinklers and interconnected smoke alarms are not required.
Many of these buildings have not been maintained, and their poor condition, security barriers, outdated safety standards and lack of code compliance can be fatal for the people who live there. Of the 42 fatal fires in the city of Las Vegas over the past decade, 36 occurred in the city's three oldest and most urban wards, leaving 39 people dead.
The fourplex buildings at the Westlake Apartments, in the Historic Westside, date to the 1960s.
Months before the fatal fire, a Westlake tenant called the Fire Department because her doorknob wouldn't work and she was stuck inside her apartment. Firefighters opened her door and noticed a back window was screwed shut, which wouldn't allow her to escape a fire.
The firefighters notified the department's Fire Prevention Division, and on May 13, 2016, Las Vegas Fire Inspector Scott Thompson inspected the Westlake complex. He met with the complex's maintenance man: Andrew Ray.
The complex failed the inspection. Thompson issued three violations and a notice to the management firm to make sure bars on windows had interior releases, to make sure exit doors were not chained shut and to have smoke alarms in every apartment, city records show.
Smoke alarms and new fire extinguishers were installed, and the complex came into compliance, a follow-up inspection with checks of random apartments found.
But when investigators scoured Ray's apartment after the January 2017 fire, no smoke alarms were found. A report issued after the investigation raised the possibility that Ray had taken the alarms down while painting the apartment following a grease fire in the kitchen.
"It bothers the heck out of me," Thompson said of the fire. "But I'm also glad I'd been there. People got out that wouldn't have."
'A lot of healing'
Days after the fire, a memorial of stuffed animals and flowers sat outside the boarded-up apartment, next to the charred fire extinguisher, still in its case. Hundreds of people packed the True Love Missionary Baptist Church for the funeral for Diana and Kaysha, steps away from where they'd lived. Las Vegas Mayor Carolyn Goodman and Alaina Criner, principal of Kelly Elementary School, where Kaysha was a student, spoke at the service.
The school dedicated a garden in the courtyard to Kaysha, where students help with upkeep and learn about which fruits and vegetables are in season and how to seed.
"A lot of healing has happened since then," Criner said. "Everybody touches the garden."
When Doris and Charles Smith visited the school on a recent morning, Doris stopped to hug familiar school employees, pointed out specific tiles that ring the garden and got her hands a little dirty in the garden.
"Her story will live on forever because of her garden," Doris Smith said.
The Smiths have filed a lawsuit accusing property owner 8Force Assets LLC, property management firm Platinum Elite LLC and several connected individuals and limited liability corporations of negligence.
Attorneys representing 8Force and Platinum Elite did not return multiple calls seeking comment.
Jada Ray, who survived the fire, is also represented in the lawsuit. Phone messages left with Naqvi Injury Law, which represents her, were not returned.
Scottsdale Insurance Company also has a pending lawsuit in U.S. District Court that alleges 8Force committed insurance fraud. The suit asks a judge to make the declaration that Scottsdale isn't responsible for defending or indemnifying 8Force.
History of problems
Past Las Vegas fire inspection reports indicate decades of issues with fire code compliance at the apartment complex at the corner of West Lake Mead Boulevard and H Street.
The one-story buildings have had several owners since they were constructed in 1963, Clark County records show.
In 1967, a city inspector found vacant units there to be in "deplorable condition." Unoccupied apartments had "battered" walls, unsecured electrical units and leaking copper pipes that led to a "repulsive odor."
"Due to the fire resistive material being removed and the large amount of combustible materials within the units, these apartments are considered an extreme fire hazard," the inspection report notes. "There have been seven fires in the complex in the last three years, attributed to children playing with matches."
In 1996, when the complex was known as J&J Apartments, an inspector found violations with fire extinguishers.
In 2011, a fire inspector directed the owners to submit a smoke detector affidavit, remove padlocks from exit gates and provide the city with a letter that said all security bars on bedroom windows could be opened from inside.
A January 2012 letter from the then-apartment manager said all occupied units had new, functioning smoke detectors, and those with security bars on windows could be opened "with no problems."
Starting over
Charles and Doris Smith are raising granddaughter Iyana Bankston Wright, now 17. She just started her senior year of high school, and Doris Smith sees her prom and graduation on the horizon.
All three are seeing a therapist weekly to help them deal with the loss of their family members. At home, their conversations about Diana, Kaysha and Andrew tend to be about happy times — never about the fire.
"We've started over — a teenager in this generation," Doris said. "But we're coping, day by day. She has good days and bad days."
Sometimes reminders of the tragedy happen at unexpected times. At a recent dentist's appointment, Iyana asked her grandmother to come back into the exam room with her. It's what her mom had always done.
Charles and Iyana cook together, and he has her create a menu for the days ahead. She isn't driving yet, but she's eyeing the Thunderbird her grandfather bought when he retired.
Jada Ray lives with her mother, but the two girls stay in touch. Jada was awakened by the fire and woke Iyana, Doris said.
"Thank God the fire didn't take all our children," Doris said.
Charles Smith saw more than three decades of Las Vegas fires before retiring from the department as a captain in 2006. He hasn't looked at the report on the fire that killed his family. He doesn't plan to.
Editor's note: A previous version of this story incorrectly stated the number of fatal fires that have happened in the city of Las Vegas since 2008. The city has had 42 fatal fires in the last decade. Of those, 36 have happened in wards 1, 3 and 5, killing 39 people.