Vegas Christmas party joyful despite NYPD cop deaths
December 20, 2014 - 9:09 pm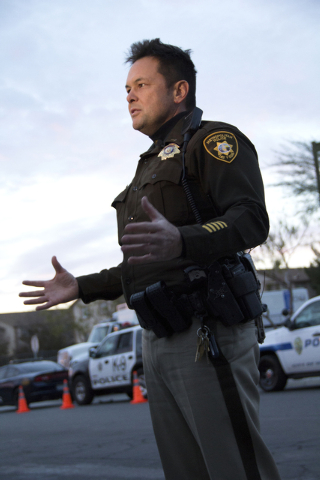 The sons and daughters of two Las Vegas police officers who were gunned down earlier this year shed "tears of joy" when they were given an early Christmas by local firefighters and police officers Saturday night.
The community worked together to put smiles on the children's faces after they endured Metro's "most tragic year," said Jayson Calhoun of the nonprofit organization Operation Fire HEAT.
And not a word was said about another deadly attack on police that occurred in New York just a few hours earlier, said Fred Wechselberger, president and treasurer of the Operation Fire Holiday Emergency Assistance Team.
Two NYPD officers were shot and killed while sitting in their patrol car Saturday. A social media post indicated it might have been in revenge for the police chokehold death of Eric Garner, an unarmed black man who was killed by a white New York police officer.
"Obviously it's a concern for us. Officers care for other officers," said Metro Lt. Ken Romaine. "We doubled-up after the killings of Alyn Beck and Igor Soldo, but we're not planning on doubling up at this time. Metro received word of the shooting at approximately 2 p.m. this afternoon and is still following the event."
Officers Beck and Soldo were shot to death while eating at CiCi's Pizza, 309 N. Nellis Blvd June 8. Their anti-government killers, Jerad and Amanda Miller, told neighbors they planned to murder cops, police said.
"He knew he wasn't going to survive that day," an official with knowledge of the investigation said of Jerad Miller. "Cops were going to die, and he was going to die."
Two hundred officers from Las Vegas area law enforcement agencies came in support of the Beck and Soldo families Saturday. They made it a point not to speak of the day's tragedy that happened in New York.
There was no room for melancholy. Attendees did not mention the fallen Las Vegas officers either, Wechselberger said. "We didn't wanna make it a somber celebration."
"There's not a day that goes by that we don't think of them," said Metro Lt. Bruce Miyama.
But the officers had been discussing the deadly New York shooting among themselves.
"They're obviously talking about it, because the horror of what happened earlier this year is still fresh. Anytime you have a similar tragedy, it brings back those emotions," Calhoun said.
"It's extremely personal to me. I had to call and make sure my brother was OK," added Calhoun, who said his brother is a an officer with the New York Police Department.
Engine 16 of the Clark County Fire Department, which responded to the call when officers Beck and Soldo were shot and killed, was parked in front of Metro's Northeast Area Command at Pecos Road and Las Vegas Boulevard, where officers huddled in a protective circle around the families.
Stacks of presents blocked the front door to the building, waiting to be opened by the children who arrived shortly after Santa exited the procession of law enforcement vehicles.
"They're bringing their family to our family," Calhoun said.
Metro officers guarded the area where the family gathered to shield them from anything that could potentially cloud what was intended to be a joyous moment. "They're very protective of their own," Calhoun said.
The children were overwhelmed by their gifts, Wechselberger said. They were surprised by the event, which was organized by HEAT.
"I didn't see any sadness at all," Wechselberger said about the early Christmas party. "All I saw was happiness."
The Operation Fire Holiday Emergency Assistance Team typically assists "children that lose their Christmas due to a catastrophic fire during the holidays," but organizers felt it was necessary to reach out to the Beck and Soldo families this year, Calhoun said.
Once the occasion came to a close, the families were taken to Opportunity Village for some stress-free fun.
"The killing in New York was the retaliation type, but the suspect has no Las Vegas ties. Las Vegas officers were advised to take caution and be vigilant," Romaine said.
Reuters and Review-Journal writer Chris Kudialis contributed to this report. Contact Kimberly De La Cruz at kdelacruz@reviewjournal.com or 702-383-0381. Find her on Twitter: @KimberlyinLV.