Vegas reaction mixed to calls to block Syrian refugees
November 17, 2015 - 8:23 pm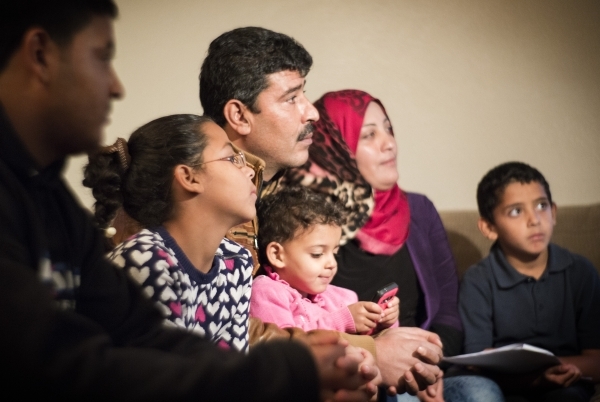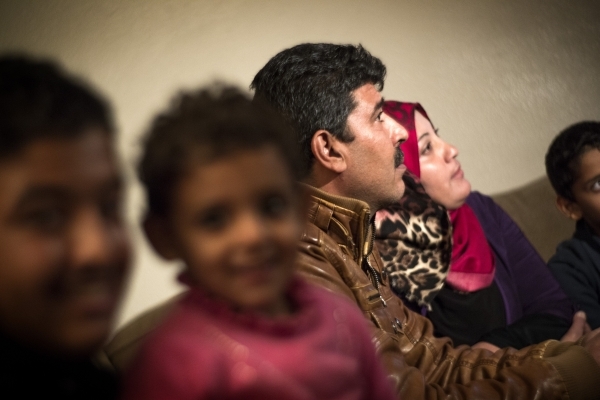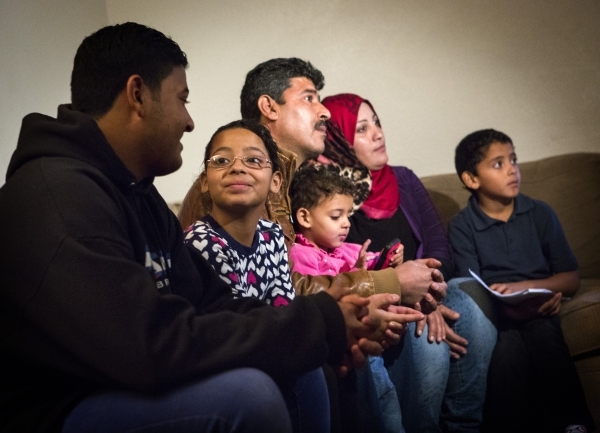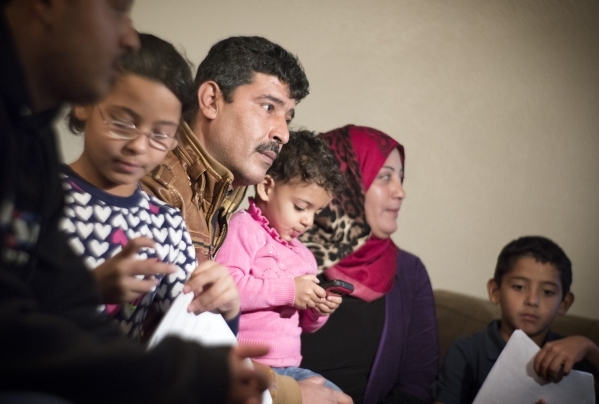 The Southern Nevada Syrian community and those helping newly arrived refugees had mixed reactions Tuesday to calls to block additional Syrian refugees from entering the United States after Friday's deadly terrorist attacks on Paris.
U.S. officials are examining possible enhancements to an already rigorous process for screening Syrian refugees, but the details are classified, a spokesperson with the State Department told the Las Vegas Review-Journal on Tuesday.
Officials remain committed to accepting 10,000 Syrian refugees in fiscal year 2016, which began Oct. 1.
A Syrian refugee family of seven who arrived in Southern Nevada in March said Tuesday that they went through intensive security checks, and those measures don't need to be more stringent as they are already thorough.
The family said it's not fair for other refugees, who are trying to reach a safe place, to suffer the consequences of those with bad intentions.
"It doesn't mean that everybody is the same" Safeera, a mother of five, said through a translator. Family members didn't feel comfortable disclosing their last name because they still have family in Syria.
Sandoval voices concerns
An estimated 4 million Syrians have fled their country since civil war erupted in 2011 and violence on the part of Islamic militants escalated. Most have gone to neighboring countries such as Turkey, Lebanon and Jordan. Hundreds of thousands more have sought asylum in Europe while many others have died on their journeys.
Gov. Brian Sandoval announced late Monday that Nevada wouldn't take any Syrian refugees until the screening process is reviewed.
Catholic Charities of Southern Nevada, which has taken the lead in the state for the refugee resettlement program, said in a statement Tuesday that it's too soon to know if Sandoval's action would affect the program's operation. The nonprofit also said it's too early to know how many Syrian refugees would be designated to resettled in the Silver State.
A call with governors was scheduled for Tuesday afternoon to discuss Syrian refugee admissions and security screening measures, said Mark Toner, deputy spokesman with the State Department. Results from that meeting weren't immediately available.
The U.S. has admitted about 2,165 Syrian refugees since Sept. 1, 2011, according to the State Department.
"Refugees are subject to the highest level of security checks of any category of traveler to the United States," a statement said. The screening involves several agencies such as the FBI's Terrorist Screening Center.
Syrian refugees go through an additional form of security screening.
"We will continue to consult with states to allay any concerns they may have about the program," said a "spokesperson" who the State Department declined to identify. "We are confident we can move forward with the plan to resettle Syrian refugees safely."
Las Vegas reaction
In a previous interview with the Review-Journal, Aslam Abdullah, director of the Islamic Society of Nevada, said the Syrian community in Southern Nevada is fairly small, consisting of about 15 to 20 families. That includes Muslim and Christian families.
Dr. Syed Rahman, co-founder of the nonprofit Imagine Foundation in Las Vegas, which has been raising money to help Syrian refugees, said officials need to ensure this country is safe, but the answer is not the outright refusal of refugees.
"This would be kind of a double tragedy. They are getting killed over there," Rahman, who is from India, said Tuesday. "We still need to have compassion. Why punish people who are already suffering? Nobody wants to become a refugee."
In the last five years, Catholic Charities saw its first Syrian refugee in September 2014, according to data from the charity's migration and refugee services program.
In fiscal year 2015, which ended Sept. 30, the organization resettled 2,214 refugees from all over the world in Nevada, and eight of them were from Syria including the family and a Syrian Asylee. It took the family about three years to come to the U.S. after fleeing that country. The family went to Jordan first, where they also underwent background checks.
Khaled, the father, said he wanted to get his family out of the dangerous situation. They don't plan to return to Syria because it's not safe.
"We are fleeing death," he said through a translator.
The mother said she is very thankful that her children — ranging in age from 2 to 15 — are now safe in this country and going to school.
She now lives with no fear.
Dr. Bassam Al-Owir, who is originally from Homs, a city in western Syria, said it's normal for people to fear what Syrian refugees might bring with them. He agrees that the screening process should be reviewed before allowing for refugees to enter.
"It's easy to get a fake passport to do some evil if we don't do our duty on extensive background checks," he said Tuesday. "They need to check everybody they are taking before they accept them as refugees."
Syrian-American Reem Sanadiki, who is Al-Owir's wife, said the Paris attacks were heartbreaking, and officials need to do whatever it takes to keep this country safe without ignoring humanitarian issues.
"They (refugees) are fleeing the war," she said.
Contact Yesenia Amaro at yamaro@review-journal.com or 702-477-3843. Find her on Twitter: @YeseniaAmaro