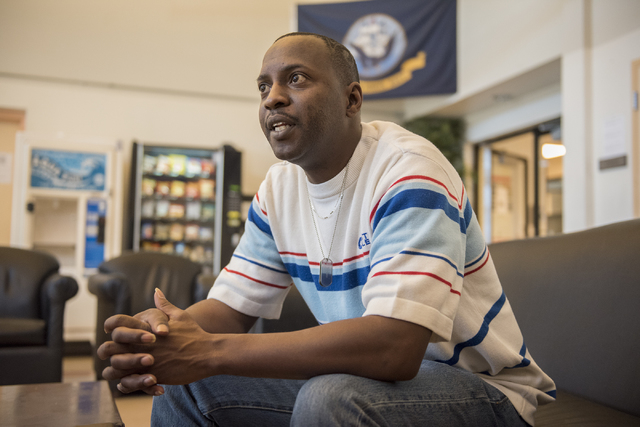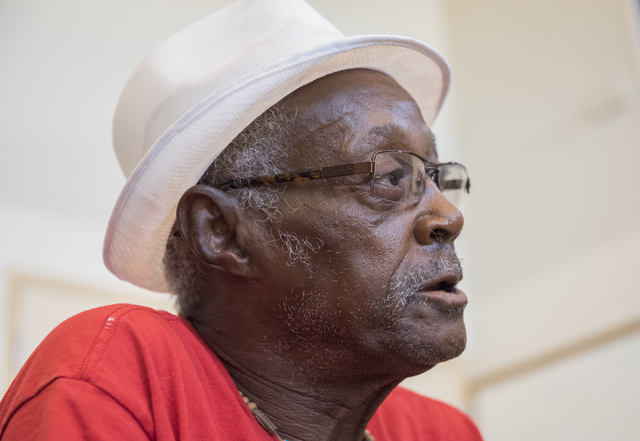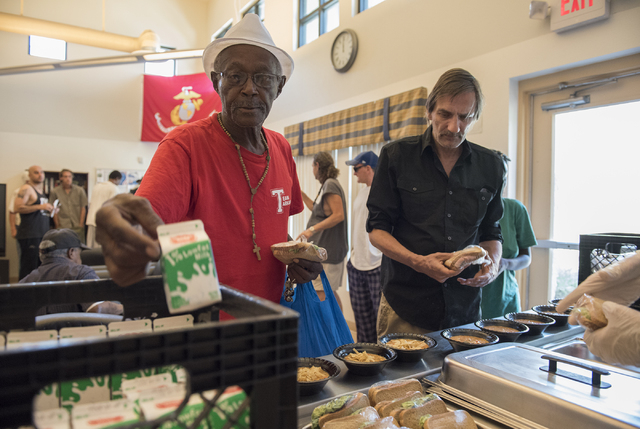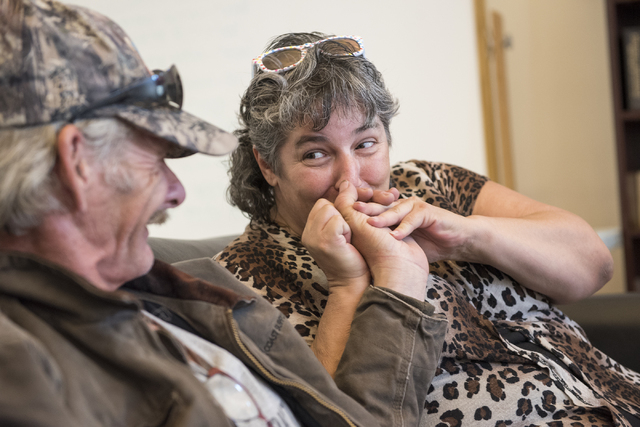 Air Force veteran Mark McGrath was among the ranks of Southern Nevada's 692 homeless veterans until he and his wife, Jennifer, made the move to permanent housing in April thanks to a HELP USA program.
"If it wasn't for this program we would still be sleeping in the desert," Jennifer, 45, said Thursday, sitting on a couch at the nonprofit's Genesis Apartments on North Main Street.
"We were across the street from the Salvation Army in a tent. So we went from having two backpacks. Now we've got a bed, we've got a couch, a TV. We've got dishes, and I've still got him," she said.
The couple will celebrate 24 years of marriage July 4, a thought that brought tears of joy to Mark's weathered face while she spoke about how they are trying to live independently again after a series of setbacks that included job losses and surgeries since the recession took hold six years ago.
A former F-4 fighter jet crew chief stationed at the now-closed George Air Force Base in Victorville, Calif., he moved to Las Vegas 25 years ago to work in the plaster trade. His last union job ended when his workplace was shut down in 2009, about the time Jennifer was laid off from her job in an auto parts store.
A caseworker for the VA Southern Nevada Healthcare System's Community Resource and Referral Center placed them in HELP USA's transitional housing program Dec. 1. They "graduated" April 21 under a program that allows them to pay 30 percent of his VA-supported income toward permanent housing while they build savings and seek employment.
They will start training today to learn how to use a computer to help them apply for jobs, something that wasn't feasible living on the street.
"It's tough when you're homeless," Jennifer said. "When you're homeless trying to find a job, nobody is going to hire you if you don't have a phone, if you don't have an address, if you can't shower, if you can't shave. If you have no clothes, you can't go to work."
The beige-fenced Genesis complex is where faces are put to the numbers that the Department of Veterans Affairs is trying to reduce to zero by year's end through community outreach and its partnership with HELP USA's Supportive Services for Veteran Families.
Steve Silverman, HELP USA's regional director for the Las Vegas office, said on average 170 veterans, including spouses, live at Genesis Apartments. They are provided transitional housing, meals, clothes and personal care items while they learn how to re-enter the job market.
"This is a nurturing environment so when they leave here, we make sure they're prepared to live on their own," he said. "Our success rate is 95 percent."
Many of the residents are unemployable. They are temporarily housed while they wait for VA disability and other benefits that can augment a move to permanent housing.
"We get tremendous support from our community," Silverman added.
Steven Karl Wilson, 40, an Army Reserve cook who was injured at Fort Irwin, Calif., while training for overseas deployment, receives about $1,600 a month from disability to help pay his living expenses at a leased apartment in the Las Vegas area. He said he is working with congressional aides to obtain release from active Reserve to pursue additional veterans benefits.
Veteran Richard Nathaniel Walker Jr., 74, found himself living on the streets after his wife died in January. Social workers steered him to HELP USA's program.
"They helped me find and finance an apartment," he said.
"You get a nest egg and they set you up so you can live independently," said Walker, a chemical warfare specialist who served in the Army from 1957 to 1961.
Through HELP USA and other programs like Veterans Village and joint VA-Housing and Urban Development efforts, the Southern Nevada community is chipping away to get the area's estimated 692 homeless vets into independent living situations.
The estimate is based on counts and a formula used to extrapolate the figure, according to Cynthia Dodge, program manager for the local VA Community Resource and Referral Center. Counts conducted from 5:30 a.m. to 8:30 a.m. Tuesday, Wednesday and Thursday turned up 312 homeless persons, of whom 60 are veterans.
Given that there are 350 homeless vets in transitional housing plus another 50 placed in shorter term, grant-supported beds, Southern Nevada's homeless veteran population continues to decline, keeping pace with a 44 percent decrease since last year.
"We're going to to make it because nobody is stopping here," Dodge said about her staff and volunteers who are working to meet the VA's goal of placing all homeless veterans into permanent housing. "They're tired, but we're going to make it happen."
Contact Keith Rogers at krogers@reviewjournal.com or 702-383-0308. Follow @KeithRogers2 on Twitter.