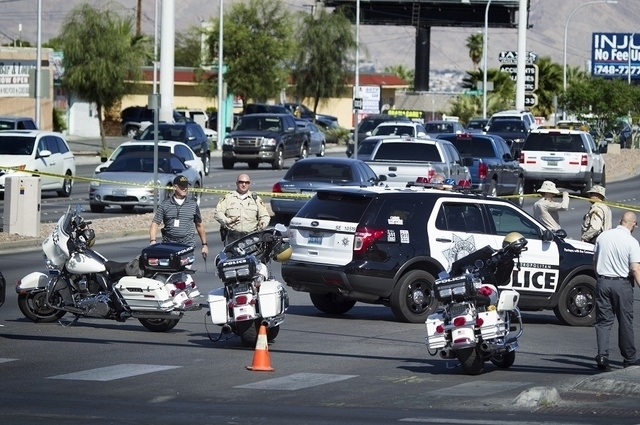 A candlelight vigil will be held Thursday night at the bus stop where a car hit and killed Maria Garcia and Alyssa Aisa.
Everyone is welcome at the gathering at the bus stop, located on the southeast corner of Sahara Avenue and Maryland Parkway. People are encouraged to bring a red rose for Garcia, 58, and a pink rose for Alyssa, 6, as well as a white candle, according to a prepared statement released on behalf of the family by Olive Media's Barry Mills Prickett.
The vigil starts at 7:45 p.m.
Prickett said services for Garcia and her granddaughter will be held at 2 p.m. Saturday at St. Joan of Arc Catholic Church, 315 S. Casino Center Blvd. The public is welcome to attend.
The family has asked for privacy while they grieve and make funeral preparations for Garcia and Alyssa, Prickett said, but the family is grateful for the outpouring of community support. A written statement will be issued by the family prior to the vigil.
Seven pedestrians were near the bus stop about 2:30 p.m. Monday, when a 2005 Volvo S60 heading east on Sahara veered onto the sidewalk. An 18-month-old girl also was injured in the crash but was released from the hospital, police said.
Police said Leonardo Ruesga, 20, of Las Vegas, drove off after the crash. He was booked into the Clark County Detention Center and faces charges including two counts of DUI and one count of leaving the scene of a crash, booking logs show. Ruesga told police he had been drinking and "ingesting illegal substances" before he was arrested, police said.
The family has set up bank accounts for community donations. Questions can be addressed by Prickett who can be reached at barry@olivemediaagency.com or 916-642-9689.
Contact Wesley Juhl at wjuhl@reviewjournal.com and 702-383-0391. Find him on Twitter: @WesJuhl.