Volunteers clean up UNLV-owned vacant land — PHOTOS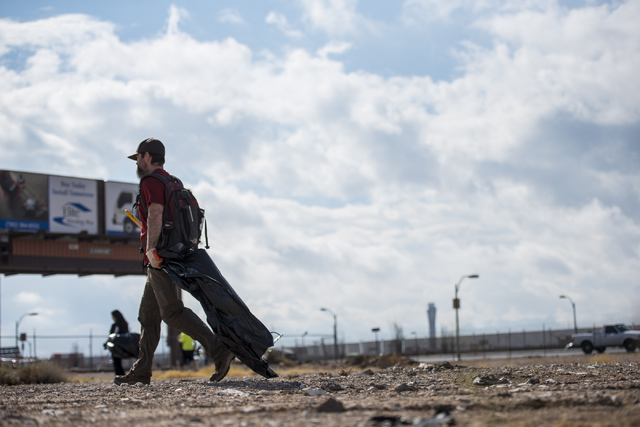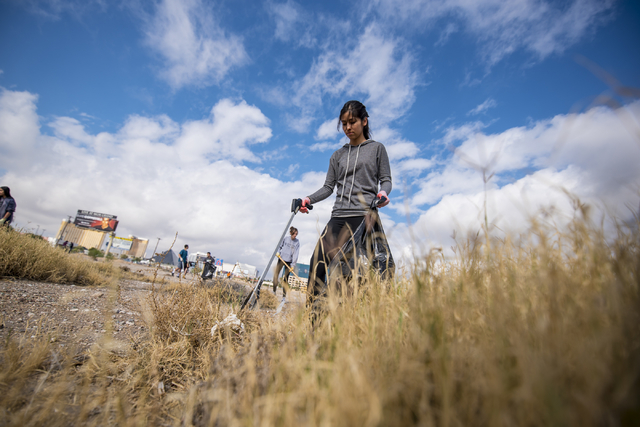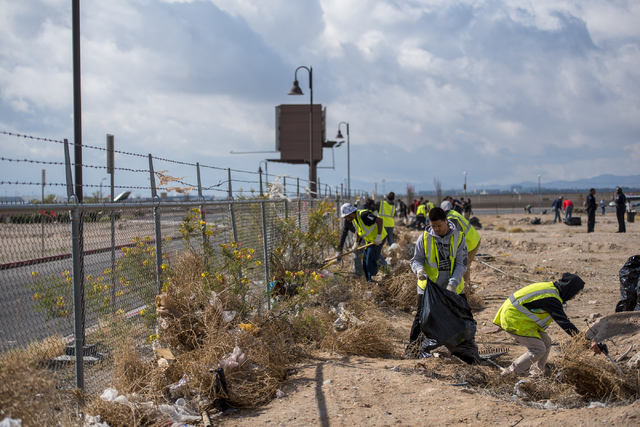 When the University of Nevada, Las Vegas purchased a 42-acre plot of vacant land on Tropicana Avenue in December, Clark County Commissioner Mary Beth Scow was the first to reach out to the academic institution.
"We've been concerned about this property for a long time," Scow said. "It was bank-owned, and there was a cement wall blocking the view into the property and several big trees that homeless people hid under."
"We wanted them to tear down the wall as soon as possible and work with them to get it cleaned up as soon as possible," she added.
On Saturday, Scow partnered with UNLV, the Outside Las Vegas Foundation and the Metropolitan Police Department's Convention Center Area Command to host a spring cleanup on the land located east of Koval Lane.
More than 150 volunteers registered for the morning event and spent three hours picking up trash and debris.
Safety was top of mind at the cleanup because the land was formerly home to dozens of homeless camps, Metro Sgt. Donnie Cox said.
Volunteers were instructed to wear gloves at all times and alert police officers if they found syringes or sharp items.
"There are a lot of young volunteers, and we don't want to take a chance," Cox said.
UNLV freshmen Shelby Cole and Stacy Lin were helping out Saturday as part of a hospitality course at the university.
"We have to volunteer four hours of service and write a paper at the end to reflect on how we helped the community," Lin said.
"It's meaningful to see everyone come together from different groups and organizations to help clean up the community," Cole added.
Fernando Rodriguez, an MGM Resorts International applications support analyst, worked alongside two colleagues Saturday.
The area has been a gateway for debris, he said.
"It's nice to see that something good is finally being done with it," Rodriguez said. "It would be nice to have a park here for people who work on the Strip to walk to and eat lunch. I'd like it to be anything but another casino."
It appears Rodriguez may get his wish. UNLV is looking at academic or athletic uses for the land, said university architect David Frommer, who is also executive director of planning and construction.
"Our primary focus right now is a campus village, which would incorporate administrative, graduate and clinical uses," he said. "Because the site isn't right next to campus, it would likely need to include more independent activities."
Frommer added, "It's also a tourism asset due to its visibility and access so a stadium is also another consideration."
Las Vegas Sands Corp. launched a proposal in February for a $1.3 billion domed football stadium that would house UNLV's football team and possibly a National Football League franchise.
Las Vegas resident Rob Grich signed up for the cleanup event to assess the plot of land.
"I thought it was a great idea to cleanup this site and see if it would be a good site for an arena," he said. "I think academics should take priority over athletics."
Frommer said UNLV is planning to bring its master plan before the Nevada State Board of Regents in September.
"We hope to have a lot of options and ideas for them to comment on and potentially approve," he said. "It means a tremendous deal from our perspective to have been able to purchase a parcel this size because it's rare to have one so close to campus."
UNLV Police Lt. Jeff Green said the police department will do all it can to ensure the land stays clean and vacant after Saturday.
"We're going to keep patrolling along with Metro to help keep homeless out," he said. "It won't stop it, but hopefully it'll minimize it."
It was nice to see the community coming together for UNLV, Green said.
"This is a great community effort," he said, looking around at the volunteers. "It really makes me feel good."
The Review-Journal is owned by the family of Las Vegas Sands Corp. Chairman and CEO Sheldon Adelson.
Contact reporter Ann Friedman at afriedman@reviewjournal.com or 702-380-4588. Follow @AnnFriedmanRJ on Twitter.