Water park operators in Las Vegas Valley say slides are safe
August 11, 2016 - 7:57 pm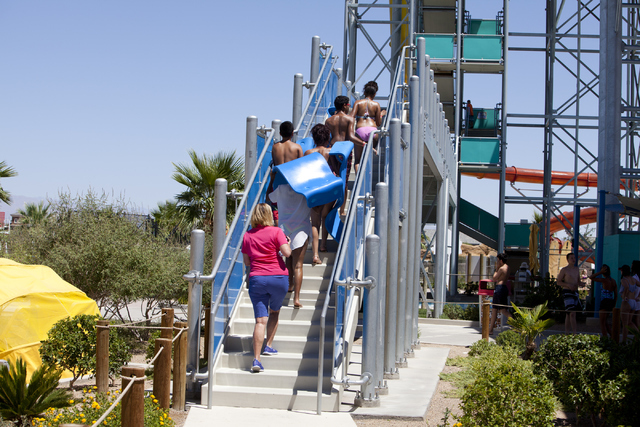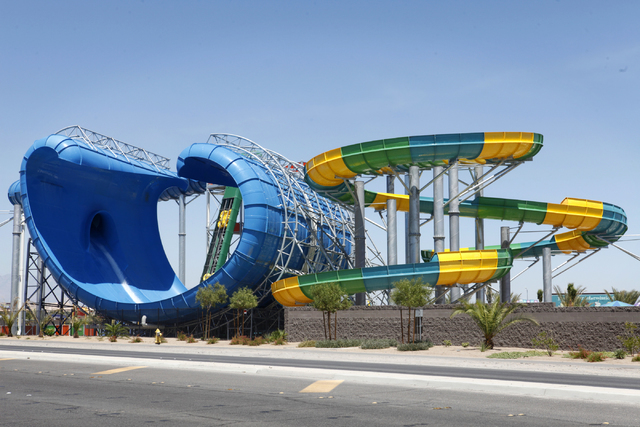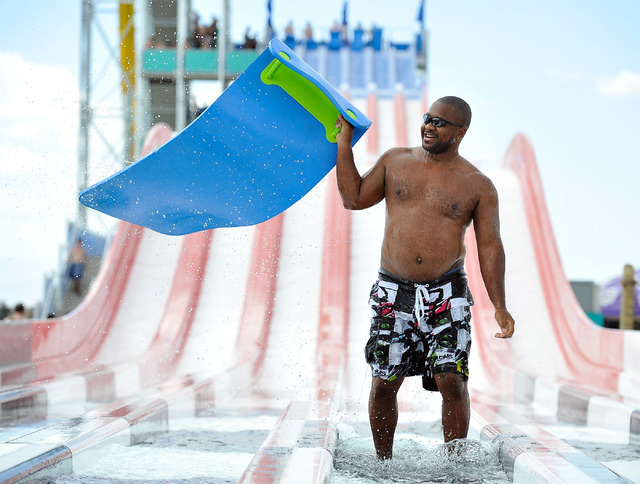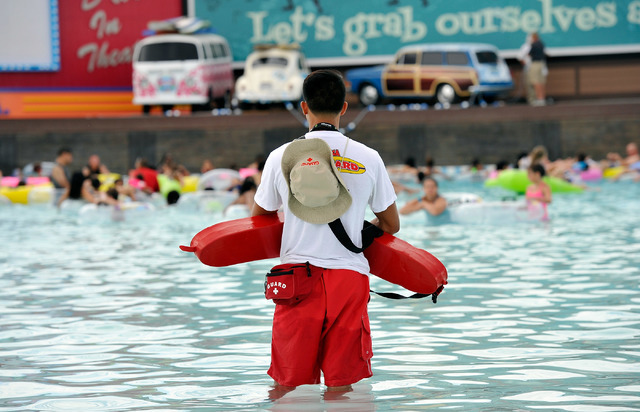 The death of a 10-year-old boy on a 17-story water slide in Kansas on Sunday may have scared some would-be water park patrons. But operators of the valley's two water parks said parents have nothing to fear.
"It was an unfortunate accident on an extreme slide," said Shane Huish, general manager at Cowabunga Bay in Henderson. "I don't think it's translatable to most parks in this country."
Huish said the tallest slide at Cowabunga Bay — a water park on Galleria Drive — is 62 feet, which is nearly 110 feet shorter than the 168-foot slide at Schlitterbahn Water Park in Kansas City, Kansas, where Caleb Schwab was decapitated, according to The Associated Press.
"We're saddened by it," Huish said of the Kansas accident. "Although the accident is tragic, it doesn't compare to anything we have here."
Huish said the park inspects all of its slides daily. With the water turned off, mechanics walk up and down the slides to ensure there are no objects in the way. They also check the pumps, the water flow and the filtration system.
Also, lifeguards ride down each slide before the public enters the park.
"It's normal operations for us," he said. "Safety inspections have been in place and they will continue."
Besides daily safety inspections, the park's slides have rider weight restrictions for single and double tubes, and height requirements on some of the rides. For example, the park's Point Panic water slide allows for a maximum of 264 pounds for a single tube, with a height requirement of 54 inches (4-foot-6), and 440 pounds for a double tube, where riders 42 inches and above must ride with someone at least 54 inches tall.
"Keeping our guests safe is our No. 1 priority," Huish said. "We do everything to make sure our guests are safe on all attractions."
In a statement, Takuya Ohki, general manager of Wet 'n' Wild in unincorporated Clark County, offered similar sentiments.
"The safety and well-being of guests and team members is the highest priority at Wet 'n' Wild Las Vegas," Ohki said in a statement. "Wet 'n' Wild Las Vegas works with leading professional slide manufacturers and conducts daily safety checks on every attraction to ensure the highest safety standards."
Both Henderson and Clark County said plans for building a waterpark would need to be approved before construction started.
Once construction begins, city and county inspectors, respectively, will inspect the park to ensure the park is being built according to plans and submitted specifications, similar to other building inspections. In their inspections, the city and county will ensure that the structure itself is safe and meets structural engineering standards, said Sam Palmer, acting director for Clark County Department of Building and Fire Prevention.
"We run them through the ringer," Palmer said. "We want to see it from the foundation, all the way to the top."
As an added layer of accountability, in Henderson, city spokesman Keith Paul said, a waterpark would also be required to pay for a private building inspector from a list of approved quality assurance agencies to conduct a special inspection of welds, steel and concrete, and submit a report to the city. That would be on top of the city's inspection.
The list is provided by the county, and the city uses it via an interlocal agreement, city spokesman Keith Paul said.
"We count on these people who have a very specific expertise in doing these inspections," Paul said.
Once the park opens, the owner is responsible for maintenance, and can use the quality assurance list as a resource.
Huish said the Kansas accident will likely be discussed at upcoming seminars and conventions within his industry to make sure it will not happen again.
"We're a close-knit group," he said. "This will be reviewed, dissected and analyzed to make sure nothing like this happens at any other water park."
Contact Natalie Bruzda at nbruzda@reviewjournal.com or 702-477-3897. Follow @NatalieBruzda on Twitter.
RELATED
10-year-old boy died of neck injury in Kansas waterslide accident
Lack of lifeguards cited in Cowabunga Bay lawsuit over near drowning
No job is too big, or small, for Wet'n'Wild Las Vegas manager