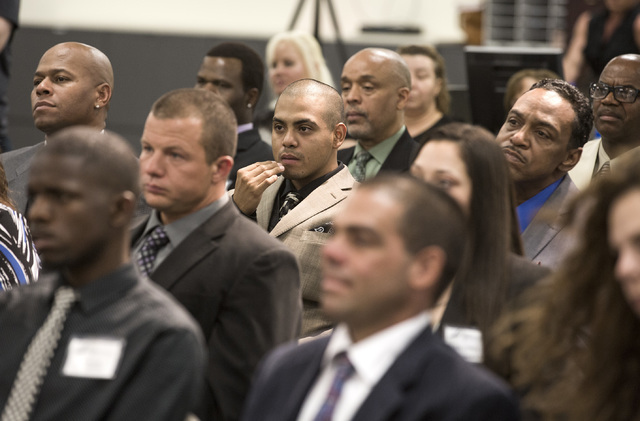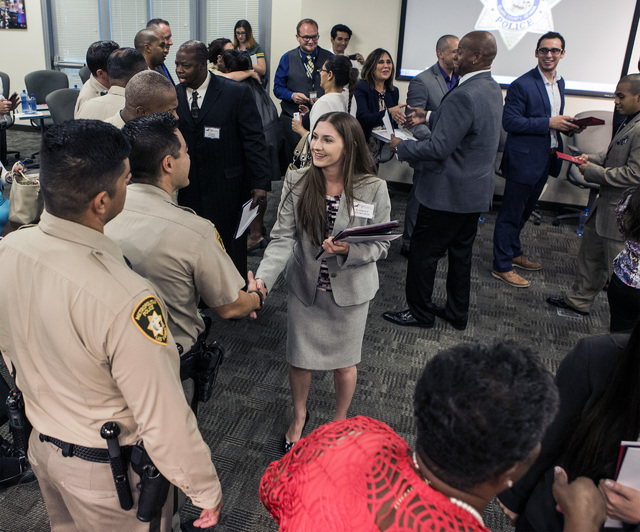 Within a wide meeting room at the Metropolitan Police Department headquarters, a group of 30 felons in business dress were greeted by booming cheers and applause from friends, relatives and officers in uniform Friday afternoon.
The men and women greeted by cheers were graduating Friday from HOPE for Prisoners, a program that works closely with Metro, faith-based leaders and local employers to help reintroduce recently released prisoners into society.
"How many of you feel like you saw yourself differently this week?" asked Barbara Loupe, a HOPE for Prisoners volunteer, during the ceremony. All of the graduates raised their hands.
About a third of the Friday graduates were women, but Jon Ponder, the program's founder, said each batch of graduates varies — by age, gender, race, creed and religion. Some have served 20 years; some have served two.
The program has a 75 percent success rate, which is better than the typical 50 percent success rate for similar programs across the country, said Chris Petko, a retired Metro lieutenant who now works as a staff member for the program. The program hosts graduations each month, but Friday's was the first time such a ceremony was held within a police facility, which Petko said illustrates the strong partnership the program continues to build with Metro.
Ponder agreed, adding that other cities and jurisdictions across the country are now looking at HOPE for Prisoners as a national prototype for re-entry programs.
Cheers for 30 grads of Hope for Prisoners, re-entry prgrm that works w Metro to reintroduce ex-prisoners into cmmnty pic.twitter.com/KTVJgg9fdJ

— Rachel Crosby (@rachelacrosby) July 22, 2016
"With all the hiccups across the country and what's going on in law enforcement in other cities, Metro has done a fantastic job," Ponder said. "They are literally bridging the gap for folks who are coming home from prison and back into their communities."
In the weeks after each graduation ceremony, each graduate is paired with a mentor, who is typically a Metro officer volunteering his or her time to help with family assistance, skills training and job-interview preparation, Petko said. Each graduate keeps the same mentor throughout the program's 18-month period.
During the Friday ceremony, Ponder reminded this month's graduates that he was a felon too, having served time for an armed robbery conviction. Once out of prison, he created the program and never looked back. He urged each new graduate to follow in his footsteps with the help of the program's resources.
Assistant Sheriff Todd Fasulo, who oversees Metro's law enforcement operations, said he was confident in the graduates and confident in Metro's push to help them back into society.
"We can't arrest our way out of our crime problems," Fasulo said.
Graduation happening now @ Metro HQ pic.twitter.com/3EYTYVS40M

— Rachel Crosby (@rachelacrosby) July 23, 2016
Rogena Horowitz, 57, watched from the audience as each of this month's graduates accepted his or her graduation certificate, then emotionally shook hands with program staff and volunteers. She was emotional, too.
That's because last month Horowitz received her own HOPE for Prisoners certificate, signed by Gov. Brian Sandoval, after she was released from prison in May. Since then, she's received a Pell grant for college, applied for more than 100 jobs and has three "solid" upcoming interviews.
"It's been a slow process, but it's only been two months," she said. "Doors are opening."
Contact Rachel Crosby at rcrosby@reviewjournal.com or 702-387-5290. Follow @rachelacrosby on Twitter.
As grads accept certificates, they're getting congrats from Hope for Prisoners staff/volunteers, officers in uniform pic.twitter.com/roLVX483pM

— Rachel Crosby (@rachelacrosby) July 23, 2016