Workers seal dozens of abandoned mines near Las Vegas
April 30, 2018 - 12:12 am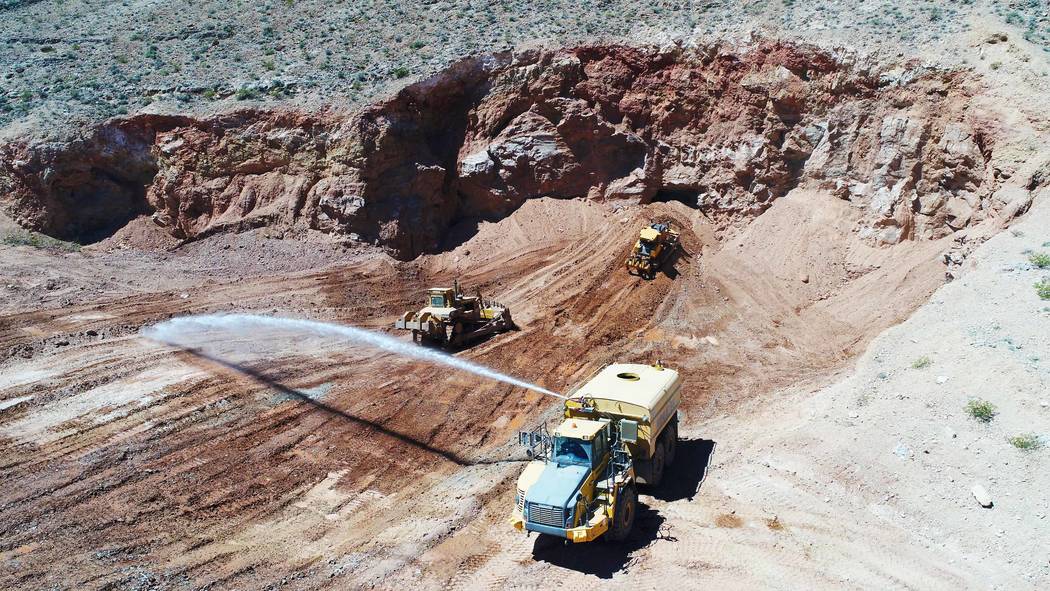 A construction crew has finished sealing off more than 40 abandoned mine openings in the hills above a growing southwest Las Vegas Valley neighborhood.
Workers completed the job on Thursday after filling in a few extra shafts for good measure.
"The project went really well," said Garrett Wake, Southern Nevada chief for the Nevada Division of Minerals. "It was done on time, so we're pretty happy about that."
Heavy equipment was used to permanently close 41 mine openings on land owned by Clark County west of Fort Apache and Warm Springs roads. Another six shafts were filled in on neighboring Bureau of Land Management property, including two that mine safety officials didn't know were there before the project began.
"We ended up finding a few extra ones that weren't in our system," Wake said.
The work on county land was paid for with $150,000 from the county and $100,000 from the Division of Minerals' Abandoned Mine Lands Program. Wake said separate funding was used for the work on BLM property.
Most of the shafts were left over from the Arden gypsum mine, which operated on Gypsum Ridge from 1909 to 1931.
In recent decades, Wake said, the mine's caverns and waste piles have become a dangerous draw for hikers, illicit parties and the occasional squatter.
Animals also used the openings.
The Nevada Department of Wildlife was called in to check for bats and other creatures before the shafts were sealed.
Wake said bats were living in a few of the openings, so they put up "exclusion netting" to keep the animals from roosting there long enough for the shafts to be closed.
"It wasn't something we planned for, but we took care of it and it worked out," he said.
They also discovered a bird nest inside one of the openings that might have shut down the project for several weeks if not for some recent regulatory changes by the Trump administration.
Christy Klinger, a biologist with the state Department of Wildlife, said language added within the past few weeks to the Migratory Bird Treaty Act allowed her to move the nest with eggs in it to a nearby spot outside the opening.
The nest belonged to a Say's phoebe, a common Mojave Desert bird. Klinger said she thought disturbing the nest would cause the mother bird to abandon it, but the bird continued to incubate her eggs after they were moved.
Wake said the old mine shafts are now considered permanently closed and no longer require warning signs, but members of his staff will revisit the site every few years to make sure none of the openings has "slumped in" or been dug out.
The county took ownership of 1,221 acres along Gypsum Ridge in 2003 as part of a federal lands bill that requires the property to be used for parks or trails.
County officials have long-range plans to build a network of hiking and equestrian trails — and maybe even a visitor center — in the area, but there is no specific timeline or funding for the project.
The last active mining claim on the property expired in 2012.
Contact Henry Brean at hbrean@reviewjournal.com or 702-383-0350. Follow @RefriedBrean on Twitter.