XpressWest cuts ties with company that was supposed to finance high-speed rail line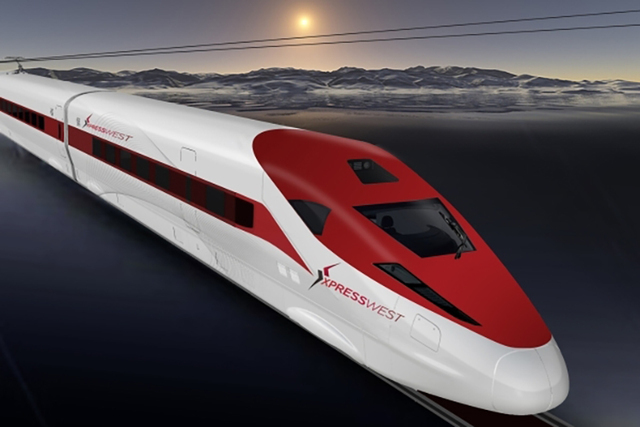 XpressWest, the company franchised to build a high-speed rail line linking Las Vegas and Southern California, said it cut ties with the Chinese company that was supposed to help finance the $8 billion project.
XpressWest and China Railway International struck a joint venture in September aimed at paying for the development, construction and operation of the dual-track line. In a statement, XpressWest executives said they terminated the partnership because China Railway had difficulty meeting performance deadlines and had trouble getting the authority to proceed with development.
"XpressWest is undeterred by this development and remains dedicated to completing its high-speed passenger rail project," XpressWest CEO Tony Marnell said in a statement. "XpressWest will now aggressively pursue other available development partnerships and options expected to result in a more efficient and cost-effective project implementation experience."
Tom Skancke, a Las Vegas transportation expert, said he doesn't think the broken deal will derail XpressWest's plans.
"I was shocked to see that, but Tony Marnell is a sharp, astute businessman and he's going to do the right deal," Skancke said. "He's invested a lot of his own money. If he doesn't think the deal us right, then he isn't going to do it."
In November, the Nevada High-Speed Rail Authority approved XpressWest's proposal to transport rail passengers from Las Vegas to Southern California by way of Victorville and Palmdale.
At the time, Xpress West said the project would be initially capitalized with $100 million in private investment to start construction, and the deal with China Railway International had provided access to other funding sources.
"We look forward to XpressWest finding the right partner for their project," Tina Quigley, a member of the High-Speed Authority and general manager of Regional Transportation Commission of Southern Nevada.
"I know they're passionate about getting it done," Quigley said. "We're looking forward to finding out what their next step is."
Construction for the first leg was supposed to start in fall, but that date was pushed to early 2017. Last month, XpressWest Chief Operating Officer Andrew Mack said the delay stemmed from a stalled regulatory process as the company works to close a financing plan by early next year.
Mack did not return phone calls seeking comment Thursday. China Railway International executives could not be reached.
XpressWest, formerly known as DesertXpress, already has regulatory approval to start the first phase, running about 185 miles from Las Vegas to Victorville, California, following the Interstate 15 right-of-way. Ridership projections are due in August. An environmental review is expected to be released a month later for the second phase, which would extend the track 50 miles from Victorville to connect with existing commuter rail service in Palmdale.
Eventually, the commuter rail would be upgraded to high-speed rail when California's system is completed. The third phase calls for directly linking Xpress West to California High Speed Rail. When completed, a round-trip ticket would cost about $100 for passengers traveling between Las Vegas and Southern California.
Moving forward, XpressWest executives said the biggest hurdle was a federal requirement that high-speed trains must be manufactured in the United States. No U.S.-based companies manufacture the trains.
"This inflexible requirement has been a fundamental barrier to financing high-speed rail in our country," XpressWest executive said in a statement. "For the past 10 years, we have patiently waited for policy makers to recognize high-speed rail in the United States is a new enterprise and that allowing trains from countries with decades of safe high-speed rail experience is needed to connect the Southwest region and start this new industry."
The mandate for American-made trains could be a roadblock for XpressWest, but Skancke said he believes the federal government could grant a waiver allowing the company to purchase trains built in Italy, Spain, Japan and elsewhere.
"This alignment has been talked about for 30 years," Skancke said. "I could definitely see a waiver for high-speed rail."
Contact Art Marroquin at amarroquin@reviewjournal.com or 702-383-0336. Find @AMarroquin_LV on Twitter.