85 wild horses captured, 4 euthanized in roundup near Las Vegas
Updated May 15, 2018 - 6:26 pm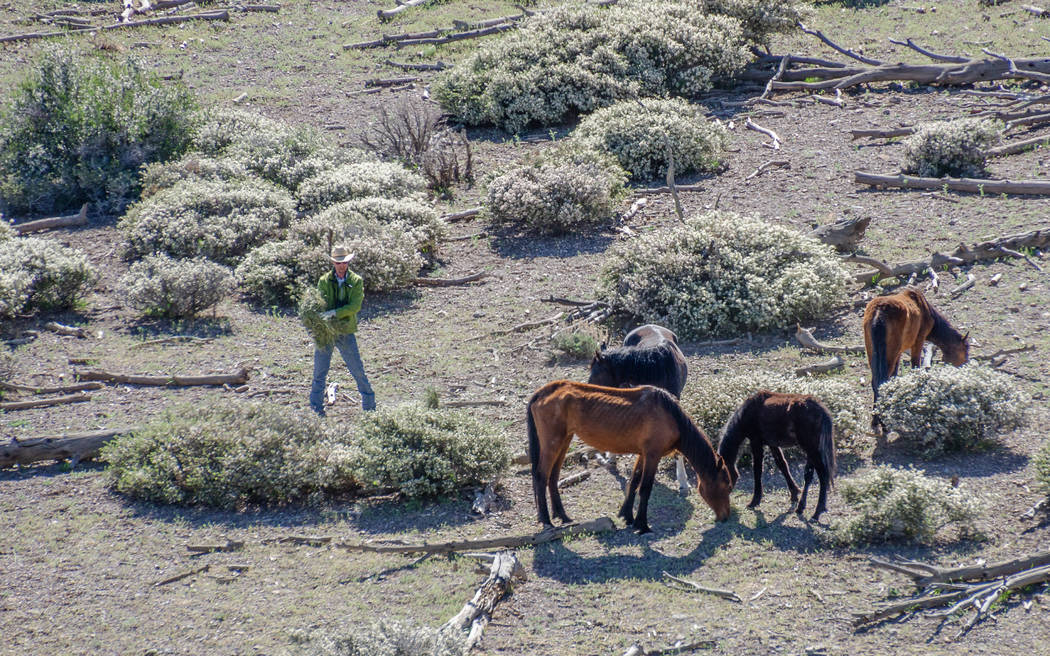 Federal authorities have gathered 85 wild horses and killed four of them during the first five days of their emergency roundup in the mountains west of Las Vegas.
As of Monday night, the operation led by the U.S. Forest Service was a little under halfway to its goal of removing 200 mustangs from the range around Cold Creek.
A contract livestock crew launched the emergency operation Thursday after the Forest Service and the Bureau of Land Management determined that poor range conditions had left the herd at risk of starvation.
Some nearby residents said they were sorry to see the horses go but glad to see them rescued before it was too late. Other locals and mustang advocates angrily oppose the roundup and reject the reasoning given by federal land managers.
There were multiple reports Tuesday of a Cold Creek resident who lured some of the horses onto his property and closed his gate behind them so he could turn the animals loose again after the roundup is over.
Forest Service spokeswoman Erica Hupp said agency officials were aware of the reports but not immediately pursuing them.
"Right now our focus is on getting the horses we can get," she said.
The animals rounded up so far include 41 studs, 37 mares and seven foals.
The Forest Service said three of the mares, all between the ages of 10 and 14, were euthanized because they were too emaciated to save. One of the foals was euthanized Saturday after breaking a leg.
Hupp said she did not know how the animals were put down, but federal guidelines call for wild horses to be killed "in a dignified and discreet manner," either with a fatal injection of drugs or a bullet to the head, generally while under the supervision of a veterinarian.
During the first few days of the roundup, cowboys lured the horses into corrals simply by walking up to them and offering them hay. The crew is now using riders on horseback to guide some of the harder-to-reach horses toward baited traps.
Some of the horses collected since Friday have already been trucked to a BLM holding facility in Ridgecrest, California, to be prepared for adoption or transfer to long-term housing off-range.
Horses not healthy enough to make the trip are being fed and cared for at a temporary holding facility at Oliver Ranch in Red Rock Canyon.
Hupp said a foal whose mother could no longer care for it has been placed into foster care at a local residence.
None of the captured horses will be returned to the wild.
Officials expected the roundup to last a week to 10 days, after which the herd around Cold Creek will be reduced to about 50 horses.
According to the BLM, the entire 370,000-acre Wheeler Pass Joint Management Area, which includes Cold Creek, can sustainably support no more than 66 wild horses and 35 wild burros.
The BLM removed 234 horses and euthanized 28 during an emergency roundup in the Cold Creek area in 2015.
The Forest Service has set up a webpage with details and daily updates from the current roundup at https://www.fs.usda.gov/detail/htnf/home/?cid=FSEPRD578852.
Contact Henry Brean at hbrean@reviewjournal.com or 702-383-0350. Follow @RefriedBrean on Twitter.
Looking to adopt?
Assuming they're healthy enough, the wild horses now being rounded up near Cold Creek will eventually be offered for adoption.
More information the Bureau of Land Management's wild horse and burro adoption program is available at https://www.blm.gov/programs/wild-horse-and-burro/adoption-and-sales.