Beatty waste dump fire blamed on rain-sodium reaction
December 31, 2015 - 4:05 pm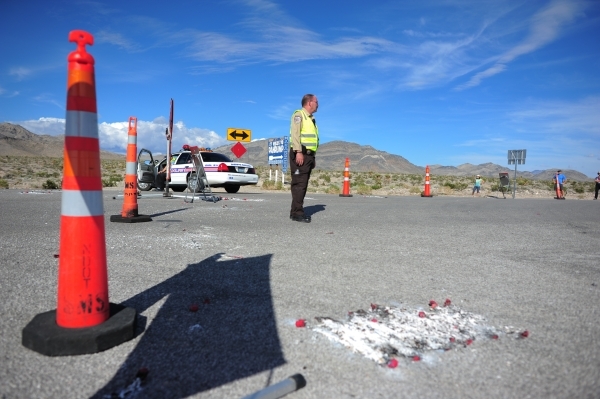 A fire at a low-level radioactive waste dump in Nye County that shut down a 140-mile stretch of Nevada's main north-south highway for almost 24 hours in October was caused by rainfall that seeped through a compromised cover and reacted with metallic sodium, according to a report released Thursday.
On Oct. 18, during heavy rainfall, the now-closed, state-owned landfill at the US Ecology dump near Beatty roared to life with explosions and fire. Beatty is about 115 miles northwest of Las Vegas, off of U.S. Highway 95.
A state probe of the incident was launched to consider if the fire was related to the wet weather, and if disposal records kept by the state in Carson City and at the site list any materials that could have reacted with water to cause the fire. Monday's report details how corrosion of the steel drums containing the metallic sodium allowed the packing fluid to seep out, leaving the metallic sodium exposed to underground elements.
The 305-page report released Thursday collects statements from staffers who were there, aerial maps, results of laboratory analyses and a 195-page study on low-level radioactive waste management from 1981 as an attachment.
The report lists a number of steps taken after the fire and gives recommendations for long-term fixes.
As of Nov. 17, the cap of the trench was scraped, and the materials were collected for processing and burial in a hazardous waste facility. The old, rusted-out drums were collected and reburied in the trench with a new cover and material added over the top to prevent moisture from getting in. The cracks on other trenches were filled and leveled, according to the report.
Recommendations for long-term fixes from the Nevada Division of Environmental Protection include setting up enhanced monitoring of the waste facility capable of handling remote video surveillance and radioactivity measurement. The agency suggested an evaluation of the various types of wastes placed in the site and a redesign of a more protective cover cap.
Records reviewed after the fire revealed that the site contains different kinds of waste mixed together. A report from the state fire marshal's office said 89 boxes of records from archives from 1962 to 1979 demonstrate that chemical, mixed and radioactive waste was buried prior to current regulations on low-level radioactive waste, according to the report.
Officials from the Department of Public Safety, the agency that released the report, did not return calls or emails seeking clarification Thursday.
US Ecology General Manager Bob Marchand took a video of the incident that state officials later released to the Review-Journal.
Marchand and a security officer heard "sounds of bangs," then saw smoke "coming from a fenced area labeled Radioactive Materials. They also observed debris ejected out of the crater fifty to sixty feet into the air. This occurred for several hours," according to the report by Nevada Department of Public Safety officer Martin Azevedo. Several damaged 55-gallon drums were found around the crater and two were outside the fence.
The 40-second cellphone video was taken from a berm atop Trench No. 11 overlooking the soil cap of Trench No. 14. Trench No. 14 is where containers of low-level radioactive waste were buried in part of a pit the size of a football stadium in the 1970s.
For 30 years — from 1962 through 1992 — the dump operated by US Ecology and its predecessor, Nuclear Engineering Co., on state land leased to the companies was one of a few graveyards in the United States for disposing of low-level nuclear waste along with sites in Barnwell, S.C., and Richland, Wash.
The Beatty dump, as it is sometimes called, occupies a stark, treeless stretch in the Amargosa Desert. It looks harmless from U.S. 95 with the appropriately named Bare Mountains off in the distance.
US Ecology continues to operate a 40-acre landfill for hazardous waste adjacent to the 40-acre landfill for low-level radioactive waste that closed Jan. 1, 1993. That's when US Ecology was forced to shut its gates to nuclear waste haulers because of a federal law that required individual states to open their own dumps or join compacts with other states for regional disposal of low-level radioactive waste.
Contact Wesley Juhl at wjuhl@reviewjournal.com and 702-383-0391. Find him on Twitter: @WesJuhl