Business group files suit challenging minimum wage initiative
December 16, 2015 - 4:44 pm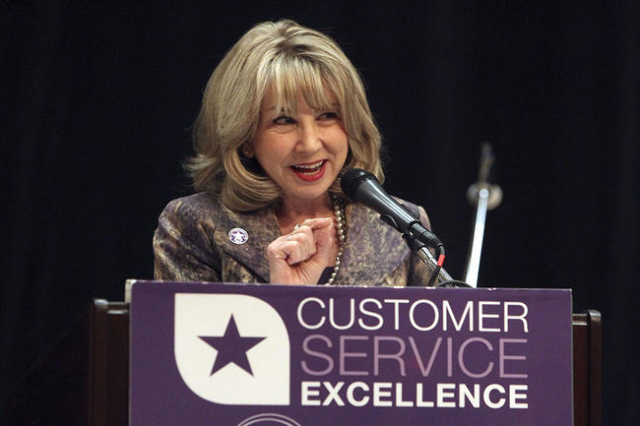 CARSON CITY — A coalition of business groups filed a lawsuit Wednesday challenging an initiative that seeks to gradually raise Nevada's minimum wage.
The suit filed by the Committee to Preserve Nevada Jobs, a coalition of three chambers of commerce, argues the proposed constitutional amendment goes beyond changing the minimum wage and will impose new regulations and penalties harmful to employers.
"Nevada is still recovering from the Great Recession. While our unemployment rate has steadily ticked downward, we are still higher than the national rate of 5 percent," Kristin McMillan, president and CEO of the Las Vegas Metro Chamber of Commerce, said in a statement.
"This initiative would change Nevada's business climate and send the wrong message to employers who want to hire workers and create jobs."
McMillan called the initiative a "job-killing proposal, pure and simple."
Other members of the business committee are the Las Vegas Latin Chamber and the Chamber of Reno, Sparks and Northern Nevada.
A group called the Committee to Raise the Minimum Wage in Nevada filed the petition in November.
The Rev. Neal Anderson, an officer of the advocacy group, has said the intent is to provide workers with a livable wage and raise them out of poverty.
Nevada's minimum wage is $8.25 an hour, or $7.25 if the employer offers health insurance. The initiative, if approved, would increase the minimum wage to $9.25 in late 2018. The rate would increase 75 cents each year until it reached $13 in 2024.
The measure would also abolish the existing two-tiered rate system.
Backers need to gather 55,000 signatures by June 21 to qualify for the November ballot.
Among other things, the lawsuit filed Wednesday agues the petition's description of effect is misleading and inadequate and exceeds its stated intent.
Otto Merida, president and CEO of the Las Vegas Latin Chamber, called the measure "dangerous."
"If passed, it would also impose mandatory damages of three times actual damages, plus it would require even the smallest businesses to pay plaintiff attorney fees," he said in a statement.
Contact Sandra Chereb at schereb@reviewjournal.com or 775-687-3901. Find her on Twitter: @SandraChereb