Drop in traffic tickets has Supreme Court near broke, chief justice says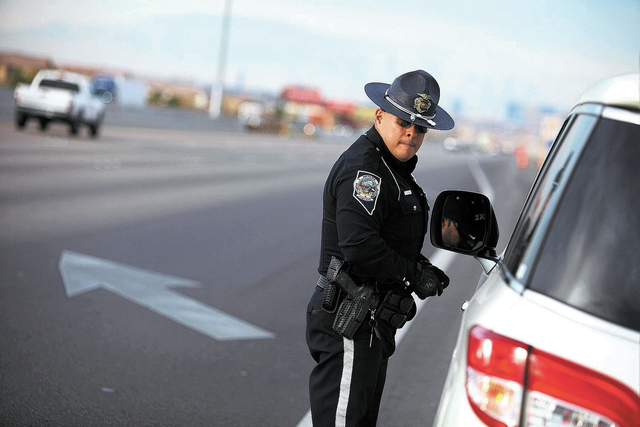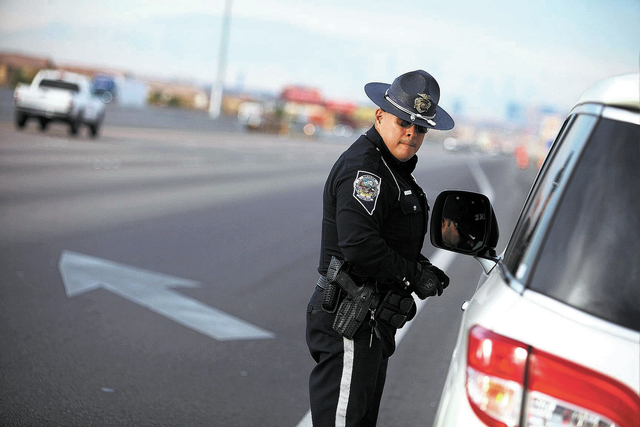 CARSON CITY — A trend of fewer traffic tickets being written by police around the state may be a boon for motorists, but it is creating a financial crisis for the Nevada Supreme Court.
Chief Justice James Hardesty recently told a panel of state lawmakers the court will go broke by May 1 if the Legislature does not provide emergency funding to keep it functioning.
The court receives millions of dollars each year for its budget from assessments on traffic and parking tickets that range from $30 to $120 per citation.
But the number of tickets written by law enforcement agencies around the state has been declining steadily, partly because state troopers have focused on violations more likely to lead to crashes. In 2010, there were 615,267 citations issued statewide. In 2014, that number fell to 484,913, a decline of more than 21 percent in a five-year period.
As a result, revenue from the assessments is dropping fast, too.
"If this is not addressed by May 1, the court will not have sufficient cash to operate," Hardesty said in his testimony to lawmakers. "I believe the Legislature has a constitutional obligation to fund the judicial branch of government. Do you want me to close the judicial branch of government at the state level on May 1?"
The court is short $700,000 in its budget this year and needs a bailout from the general fund, Hardesty told a joint Senate Finance and Ways and Means subcommittee March 11. A bill to fund the shortfall should be introduced in the next few days.
State Sen. Pete Goicoechea, R-Eureka, asked Hardesty what the court could do cut back spending to reduce the deficit.
"There is absolutely nothing the Supreme Court can do with that," Hardesty replied.
The court has made efforts to reduce spending, including keeping positions vacant, to help as much as possible, he said. The upcoming two-year court budget is also short by $1.4 million because of the lower assessment revenue, Hardesty said.
Total revenue to the court from the assessments was expected to reach $26.3 million in the upcoming two-year budget, but is now projected at $24.9 million, creating the $1.4 million shortfall. That shortfall will be made up partly by using court budget reserves, but another $700,000 will be needed from the general fund in the upcoming budget, too, Hardesty said.
As to why the number of citations is declining, Hardesty said courts have been told police are writing fewer tickets for traffic violations in every county. The Las Vegas Justice Court, for example, fell below 10,000 traffic cases a month three times in 2014. Total traffic filings in the court dropped to 168,852 in fiscal 2014 from 202,940 in 2013, a 17 percent drop, court statistics show.
"I'm not faulting law enforcement; either they are understaffed or they have changed policies," Hardesty said. "Now with all due respect to the citizens of Nevada, I don't think anyone is driving better. I think the truth is is that we're seeing less traffic violations because law enforcement's priorities have changed and it has changed dramatically."
The Nevada Highway Patrol said its troopers have caught more people committing some offenses, such as drunken driving and cellphone use, but NHP citations are down overall. Troopers issued 222,935 citations in 2014, nearly 30,000 fewer than in 2012. That's an 11 percent drop.
Part of the reason, police said, is the NHP Strategic Plan's emphasis on violations that could cause crashes, including distracted driving and driving under the influence. Police also believe enforcement and the Zero Fatalities education program have changed drivers' behavior, while completion of some major highway projects has made traffic move better.
The declining number of citations has implications for the budgets of state agencies beyond the Supreme Court. Revenue to the state and the court from the assessments are expected to reach just over $22 million a year in the new budget.
By contrast, the assessments brought in $30 million in fiscal 2010 and nearly $29 million in fiscal 2011, information provided by the court shows.
The drop in assessment revenue was originally projected at 3 percent, but is now expected to reach 10 percent in the coming budget, Hardesty said.
The decline is also affecting the state's specialty courts, which are designed to keep offenders out of prison by offering treatment for drug and mental health issues, as well as services targeted at groups including veterans. The assessment drop and lower local funding add up to a $1.4 million shortfall for those courts, Hardesty said.
But Gov. Brian Sandoval has proposed in his budget filling that gap with $1.4 million in general funds. Sandoval has also proposed putting $3 million more in state general funds into the specialty courts each year, enough to treat another 800 to 900 people. Hardesty said the specialty courts have succeeded in diverting people from prison.
"They are huge to the success of the criminal justice system," he said. "The default position is to incarcerate them."
Contact Capital Bureau reporter Sean Whaley at swhaley@reviewjournal.com or 775-687-3900.