Four inducted into Nevada Newspaper Hall of Fame
September 30, 2017 - 9:36 pm
Updated September 30, 2017 - 9:38 pm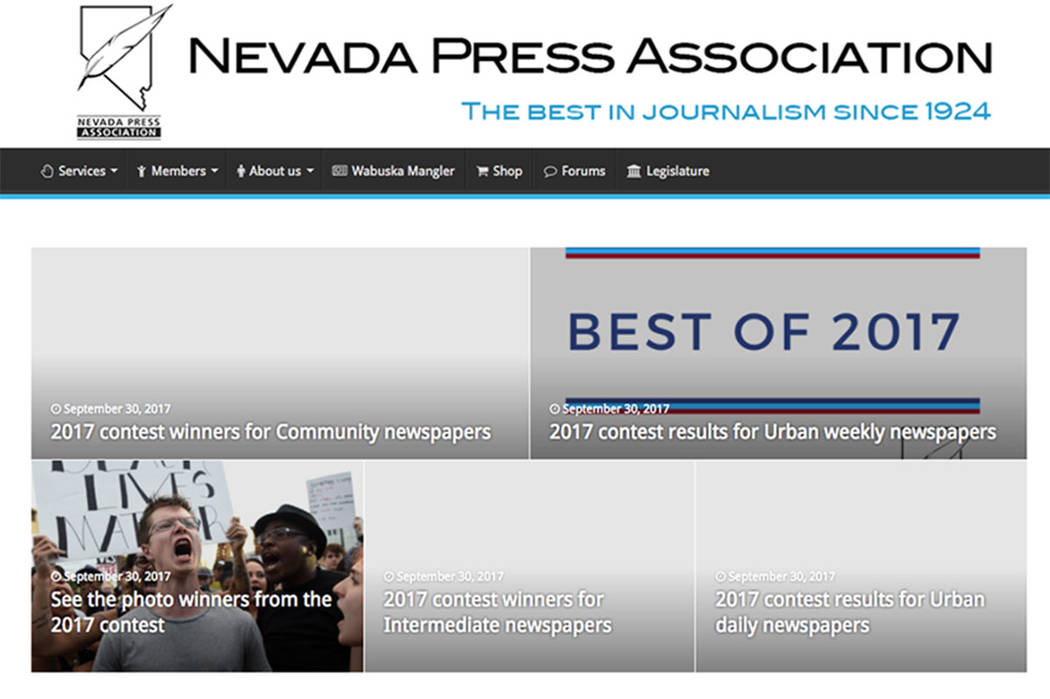 The Nevada Press Association on Saturday inducted four new members into the Nevada Newspaper Hall of Fame — Myram Borders, Bill Roberts, Alf Doten and A.L. Higginbotham.
Borders, now retired, was a journalist for 36 years, including 25 as Las Vegas bureau manager for United Press International. She broke news, fought for Nevada's Open Meeting Law and mentored young reporters.
In 1967, Borders was tipped that Elvis Presley was marrying Priscilla Beaulieu at the Aladdin Hotel in Las Vegas. She went to the hotel and spotted Nevada Supreme Court Justice David Zenoff, who confirmed the news. The wedding occurred at 1 a.m. and Borders was the only reporter there.
Roberts, who died in 2015, was a Tonopah native and mainstay for three decades for Central Nevada Newspapers, which he formed in 1975 with his parents and his wife, Bobby Jean. The newspaper group included some of Nevada's most historic newspapers — the Tonopah Times-Bonanza and Goldfield News, Reese River Reveille and Eureka Sentinel.
Doten and Higginbotham were longtime figures in the history of Nevada journalism and were inducted as part of the Newspaper Hall of Fame's effort to recognize some of the industry's figures from the past.
Doten moved to Nevada in 1863 to participate in the silver boom but soon began work as a reporter on the Como Sentinel, Virginia Daily Union, Virginia City Territorial Enterprise and Gold Hill Daily News, which he bought in 1872 and guided to a legacy as one of the leading newspapers of the Comstock.
Higginbotham, who died in 1967, taught journalism at the University of Nevada for 43 years and assisted in founding the Nevada State Press Association in 1924.
Contact Briana Erickson at berickson@reviewjournal.com or 702-387-5244. Follow @brianarerick on Twitter.