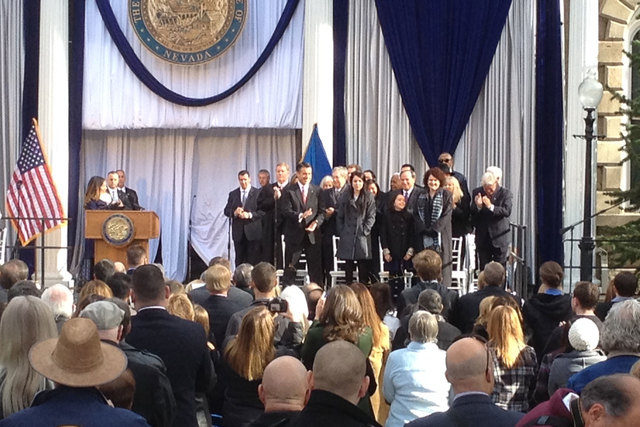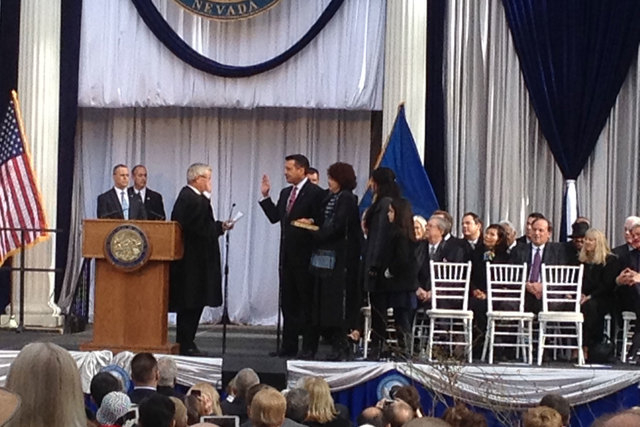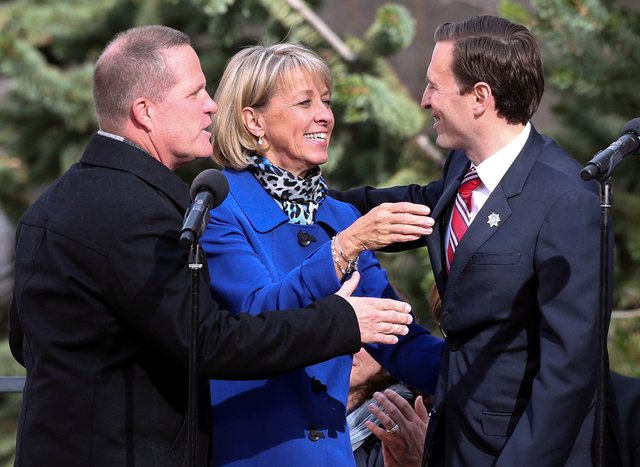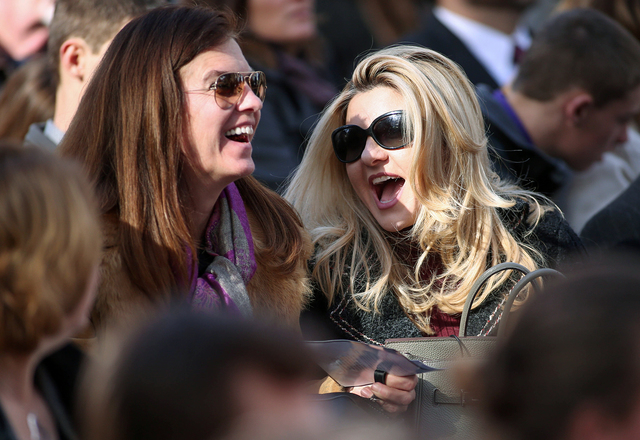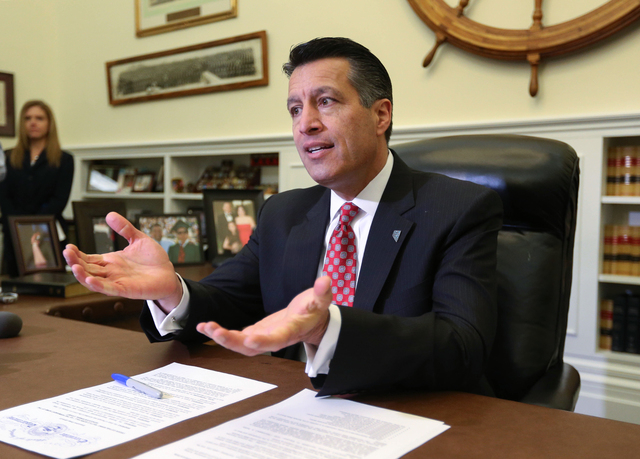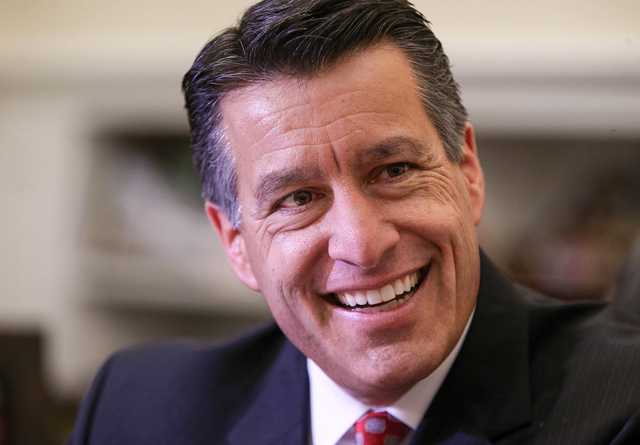 CARSON CITY — Gov. Brian Sandoval and five new constitutional officers, all Republicans, were sworn into office Monday in a ceremony on the steps of the state Capitol.
Sandoval, who easily won a second term in the Nov. 4 general election, made the event about Nevada's schoolchildren, saying he will dedicate his next four-year term to helping the state's children succeed.
Sandoval asked that all Nevadans work together to ensure future families inherit a legacy of "leadership, vision and courage."
The entire ceremony was presented by students from Nevada's public, private and charter schools, and the theme was "generations to come."
Mark Hutchison also was sworn in as lieutenant governor; Adam Paul Laxalt was sworn in as Nevada's new attorney general; Barbara Cegavske became the new secretary of state; Dan Schwartz became the new treasurer; and Ron Knecht became the new controller.
Also sworn in were Supreme Court Justices Mark Gibbons and Kris Pickering, who won new terms on the court without opposition.
A crowd of several hundred attended the event, which was marked by mild temperatures. The Capitol grounds were nearly silent because traffic had been diverted from surrounding roads for the event.
In his inaugural remarks, Sandoval said the schoolchildren who presented the program are the final chapter in Nevada's sesquicentennial celebration held throughout past year.
Sandoval pointed to the state's job growth and economic diversification efforts, including landing the Tesla Gigafactory in Storey County, as examples of how the state has improved in his first term.
But Sandoval said Nevada needs to do more to improve its schools and universities.
In 10 days, Sandoval will present his budget in his state-of-the-state address. On Feb. 2, the 2015 legislative session will begin. Sandoval has said over the course of the past several months that he wants to increase funding to public education.
But he faces a challenge even with Republican control of both the state Senate and Assembly. The new 25-member Assembly GOP majority is in the midst of a leadership crisis pitting more moderate members against those who are adamantly opposed to any new taxes.
Members of the two groups of the GOP caucus, including Assembly Speaker-designate John Hambrick, who has support from moderates, and Assemblywoman Michele Fiore, a conservative who was removed from her leadership positions by Hambrick, attended the ceremony.
Hambrick last month indicated he would hold a caucus meeting Monday but decided against doing so. Members of the conservative faction also expected to meet Monday, but that meeting was canceled.
After the ceremony, Sandoval signed two executive orders, one establishing the Governor's Business Roundtable for Education Policy Reform and the other naming the old state Senate Chamber in the Capitol as "Battle Born Hall" to serve as the permanent home of the state's 150th anniversary celebration.
Sandoval spoke briefly about the orders in his office, saying the roundtable will help him in his commitment to improving public education over the next four years. He did not provide any details of his plans to improve public education, which will come when he presents his budget on Jan. 15.
The roundtable will develop policy recommendations, including more efficient allocation of public funding, and identifying areas in need of improved curriculum to meet the highest achievement standards for all Nevada students.
"We are bringing representatives from all our specific sectors throughout our economy to come together to talk about how we can improve our schools, provide that curriculum of the future so that as we develop this new Nevada economy we will have that workforce," he said.
While citing some education successes in his first term, including $50 million in new funding for English Language Learners approved in the 2013 session, Sandoval said Nevada must do more to improve public education.
"We have to do better. I know that; I acknowledge that," he said. "In the next four years I will do everything I can to make sure they have opportunity and the skill sets so they can be successful," he said.
Nevada Democrats wasted little time in faulting their opposition.
"While we anticipate Governor Sandoval will talk about increasing education funding in his speech today, the inconvenient truth is that the candidates Brian Sandoval swept into office are focused on everything but improving education," Zach Hudson, communications director for the Nevada State Democratic Party, said in a statement. "From restricting women's access to preventative healthcare, to making it harder to vote for senior citizens and military families, to threatening to sue President Obama over his immigration executive action, the Republicans Brian Sandoval and his running mate Mark Hutchison brought into power are focused on a reckless ideological agenda that will not create a single job or help a single student in public schools."