Henderson waits awhile on property tax hike measure
September 7, 2014 - 9:16 pm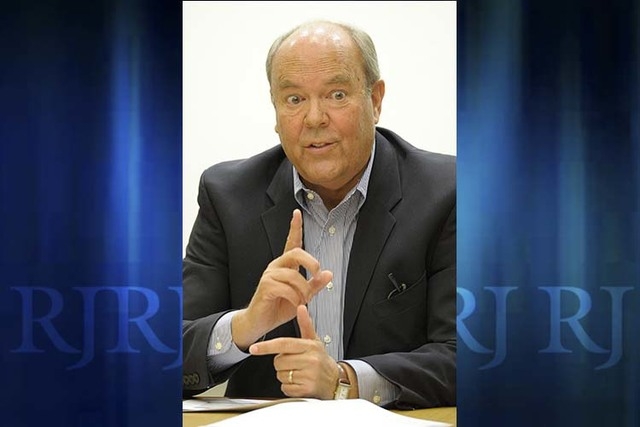 The Henderson City Council is waiting to see whether the state Legislature adjusts or repeals a state property tax cap next year before discussing a municipal ballot question. That means it will be at least 26 months before city residents can vote on raising property taxes to help the city address a $17 million infrastructure deficit.
But is it really the Legislature, which Councilman John Marz said probably will place the decision on overriding the 3 percent tax cap back with the council if they do anything, or something more politically motivated?
Resident Robert Anderson said during the Tuesday council meeting that the city should move ahead with the ballot question next year but understands doing so would not be "politically convenient for some of the council."
Next year is a municipal election, with council members Sam Bateman, Gerri Schroder and Debra March expected to seek re-election. It doesn't take a lot of understanding of politics to see how partnering those campaigns while supporting a tax question on the same ballot might not be politically prudent.
— Arnold M. Knightly
ARMY MINDS THINK ALIKE
Veterans Affairs Secretary Robert McDonald's new policy to recruit "the best and brightest" health professionals parallels legislation by Rep. Joe Heck, R-Nev.
It's not surprising considering their military minds.
Heck, an Army Reserve colonel and emergency room doctor, huddled at the North Las Vegas VA Medical Center with McDonald, a 1975 graduate of the U.S. Military Academy in West Point, N.Y. They met after the chief of the scandal-rocked agency outlined his plans for reforming the VA in his first speech to a veterans group, the Disabled American Veterans, at their national convention in August in Las Vegas.
That's when Heck mentioned his pending VA recruitment legislation to McDonald, the former Army officer that President Barack Obama appointed and the Senate approved to take over the VA Cabinet post from another West Point graduate, Eric Shinseki. The embattled former Army general resigned in May after public outcry as scandals surfaced about cooking the scheduling books to award bonuses to VA staffers while veterans experienced unacceptable long waits for health care.
VA officials have blamed the systemic problem of long waits and canceled appointments on a shortage of doctors and health care professionals. So in a recent speech to medical students at Duke University, McDonald pledged to recruit the "best and brightest" in the medical field.
"In order to provide timely access to care, we need to build capacity by hiring more clinicians. We need the best doctors and nurses serving veterans, and that is why I will be out recruiting, leveraging the existing relationships and affiliations VA has with many academic institutions," McDonald said.
In a statement Aug. 29, Heck said his proposed "VA Credentialing and Privileging Improvement Act" dovetails with McDonald's national recruitment effort because it would require the VA to accept the credentials of Department of Defense physicians and expedite the granting of clinical privileges.
Heck said McDonald's plan "demonstrates the solutions-based approach he is bringing to the VA. This policy will bridge the access-to-care gap for our veterans while maintaining the high quality of care they deserve."
— Keith Rogers
HOME MEANS NEVADA TO TESLA
It will probably come as no surprise that Tesla Chairman and CEO Elon Musk is quick on his feet. When he began his remarks Thursday at a media event in Carson City to announce the location of a 5 million-square-foot battery plant in Northern Nevada that will generate 6,500 high-paying jobs, he used the dreaded "ahh" pronunciation of the Silver State.
As most Ne-VA-dans will tell you, that pronunciation has a tendency to grate on the ears of locals. The miscue came despite 10 minutes of opening remarks by Gov. Brian Sandoval, who mentioned the state by name multiple times.
To a hearty round of applause from the crowd, Musk started off by thanking Sandoval and the "Nev-AH-da" Legislature for their support. But to his credit, and amid some laughter, he quickly corrected himself, pronouncing the name of the state the way most Nevadans prefer.
It probably didn't hurt his relationship with residents when Musk later described Nevada as "a real get-things-done state."
Musk said the lithium ion battery plant is a crucial part of the company's efforts to build a mass-market affordable electric car.
And even if he forgets at some future point and reverts to the long-A pronunciation, Musk probably will be forgiven. If approved by the Legislature, the gigafactory battery plant proposed for east of Reno will be one of the biggest economic development projects in Nevada history. Nevada beat out four other states, including Texas and California, to win the coveted project.
— Sean Whaley
PHONING IT IN
The Las Vegas City Council spent five hours Wednesday on the proposed $200 million soccer stadium in downtown's Symphony Park.
Six of the seven council members were in the City Hall meeting room, while Councilman Ricki Barlow was patched in by phone. At several junctures, there were strange sounds amplified in the meeting room from Barlow's phone, leading some council members to wonder what exactly Barlow was up to.
Apparently the noise was not coming from Barlow's phone but instead from a second phone that was wrongly patched into the council meeting. The confusion about the phone noise offered a few moments of comic relief to a serious stadium meeting that ended with the council delaying a decision on a nonbinding stadium deal until October.
— Alan Snel
Contact Alan Snel at asnel@reviewjournal.com or 702-387-5273. Find him on Twitter: @BicycleManSnel. Contact Sean Whaley at swhaley@reviewjournal.com or 775-687-3900. Find him on Twitter: @seanw801. Contact Keith Rogers at krogers@reviewjournal.com or 702-383-0308. Find him on Twitter: @KeithRogers2. Contact Arnold M. Knightly at aknightly@reviewjournal.com or 702-477-3882. Find him on Twitter: @KnightlyGrind.