Interior Secretary Zinke says he'll tour Nevada national monuments in July
Updated June 26, 2017 - 8:08 pm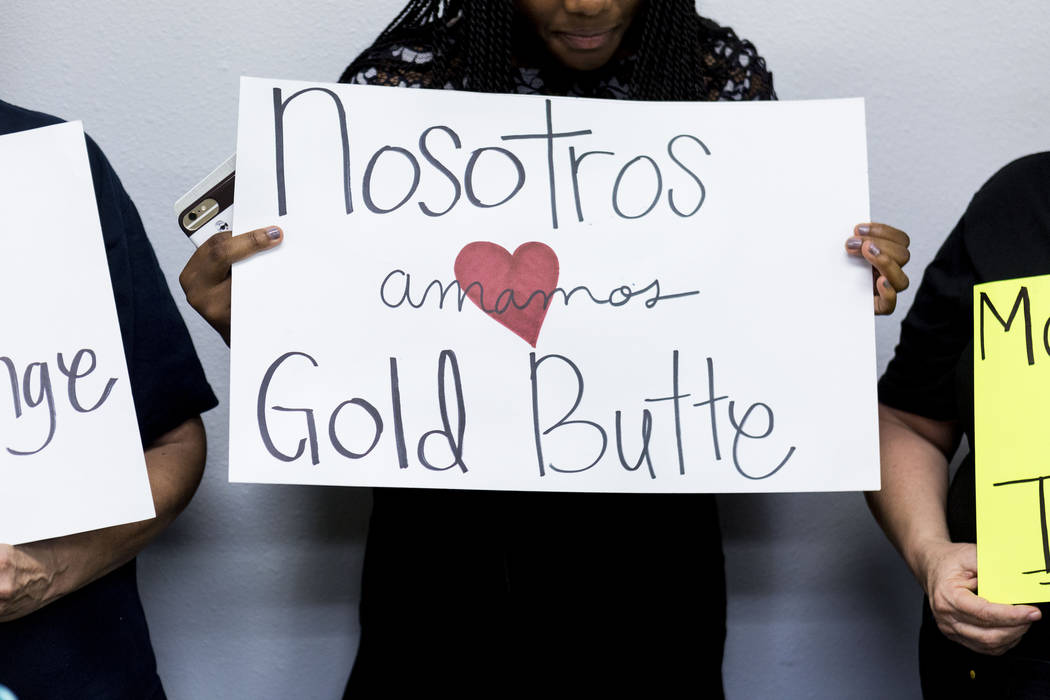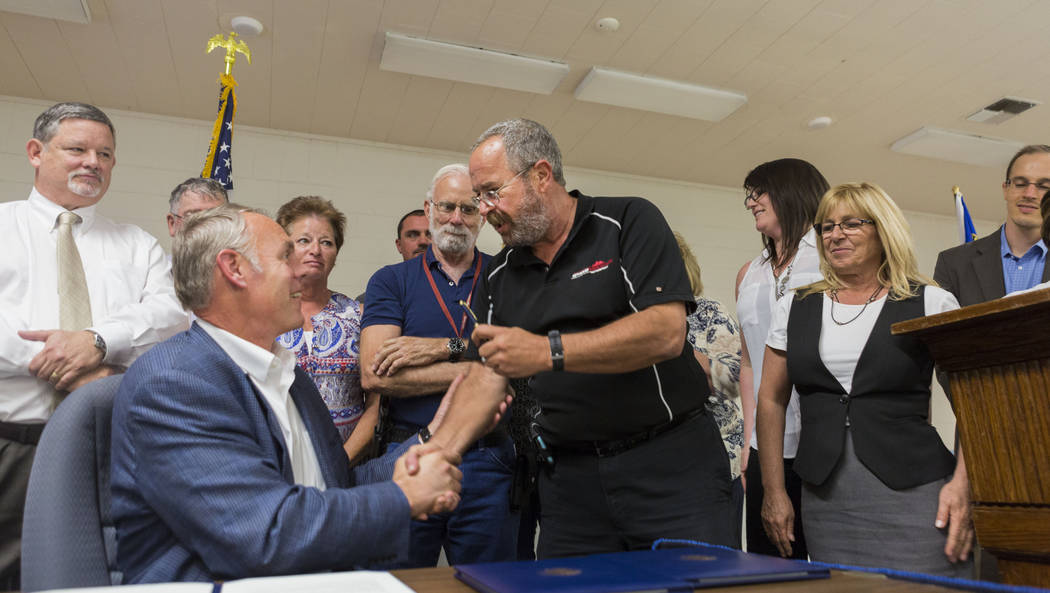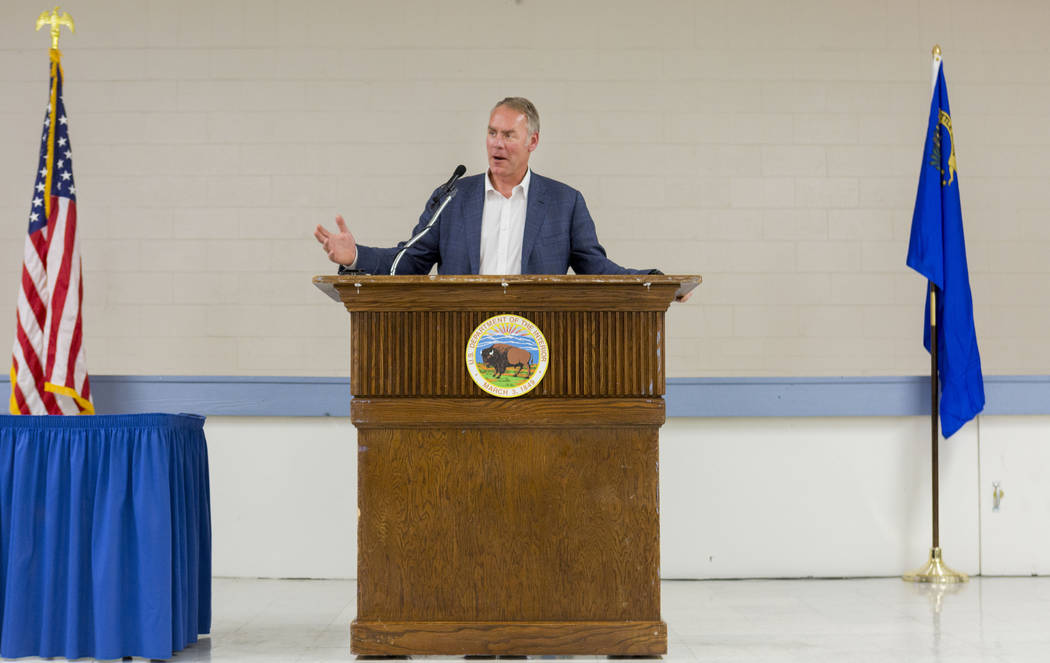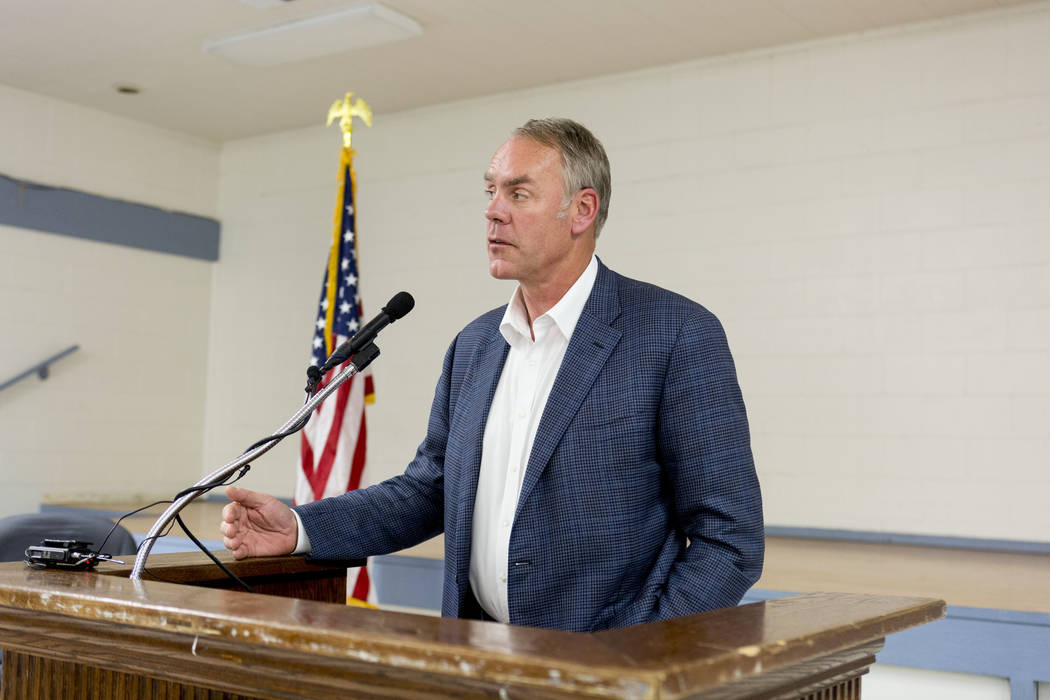 PAHRUMP — Interior Secretary Ryan Zinke didn't stop at any national monuments during his first official visit to Nevada, but he promised to return for a tour of Gold Butte and Basin and Range before the end of July.
During an event in Pahrump on Monday, Zinke said he wants to see the two Nevada monuments from the ground and talk to stakeholders before he decides whether the designations should be reduced, rescinded or left intact.
He said he doesn't have any "preconceived ideas" about the two Obama-era monuments, though he indicated that his recent recommendations on Bears Ears National Monument in Utah provide a blueprint for what might happen here.
He is recommending, among other things, that the boundaries of Bears Ears be redrawn to reduce the size of the almost 1.4 million-acre monument.
Zinke stopped at the community center in Pahrump, 60 miles west of Las Vegas, to meet with state and local officials and hand out some federal money.
After a closed-door discussion with the rural representatives, Zinke announced that more than 1,900 local governments nationwide are slated to receive $464.6 million in payments in lieu of taxes, or PILT, in 2017.
More than $26 million of that money will go to Nevada, which has the highest percentage of federally controlled land in the country.
The PILT program is designed to help offset property tax losses in local jurisdictions with nontaxable Federal lands within their boundaries.
"Some people in the East consider this welfare for the West," Nye County Commission Chairman Dan Schinhoffen said. "But with 98 percent of our land owned or managed by the federal government, we don't see this as discretionary. We feel like we should get it every year, or we should be sending them a tax bill."
After his announcement, Zinke signed letters authorizing PILT payments of about $893,000 for Lincoln County and $3.15 million to Nye County.
Schinhoffen said that's only about 33 cents per acre of federal land, but it will cover almost 10 percent of the general fund budget for a rural county that struggles to pay for its ambulance services and small-town hospitals.
Nye County has received similar PILT payments in each of past five years, something Schinhoffen grudgingly credits to the past efforts of former U.S. Sen. Harry Reid, D-Nev.
No dates have been set for Zinke's upcoming Nevada monument tour, but he said he expects it to happen during latter half of next month and involve stops at Gold Butte and Basin and Range.
Zinke said he also plans to consult with state and county officials, business groups, tribal representatives and others.
Darren Daboda, chairman of the Moapa Band of Paiutes, expects to be included in those meetings.
At a press conference called by conservation advocates in Las Vegas on Monday morning, Daboda said both monuments are an important part of "who we are as a culture," but the Trump administration has yet to acknowledge the tribe and its interests.
"It's like we're fighting all over again," he said. "People still don't understand our concerns."
Zinke's ongoing review includes 22 monuments nationwide that were established by presidential decree since 1996. He is due to deliver his final report and recommendations to President Donald Trump by late August.
Contact Henry Brean at hbrean@reviewjournal.com or 702-383-0350. Follow @RefriedBrean on Twitter.