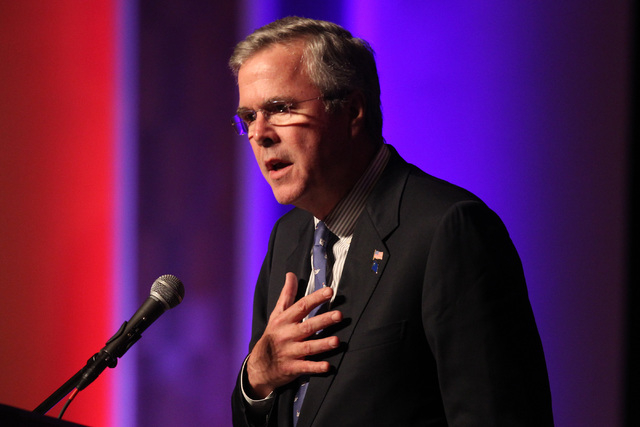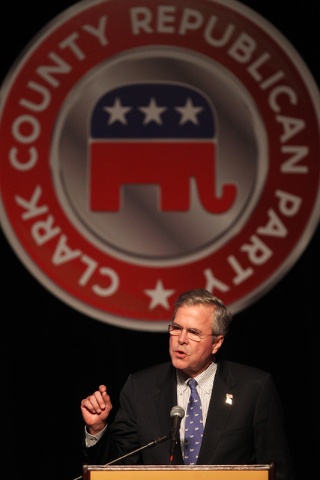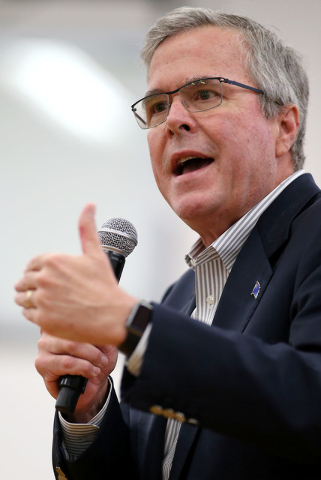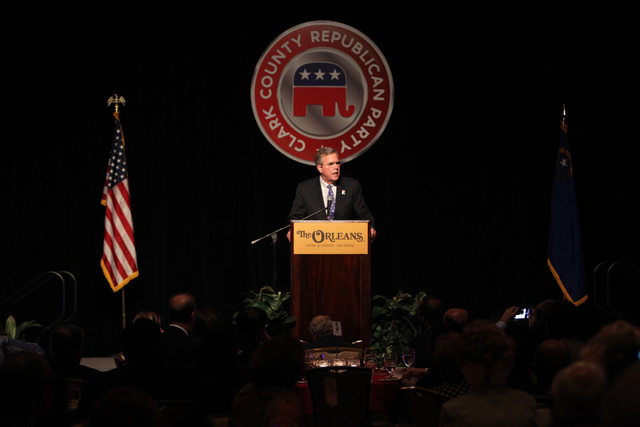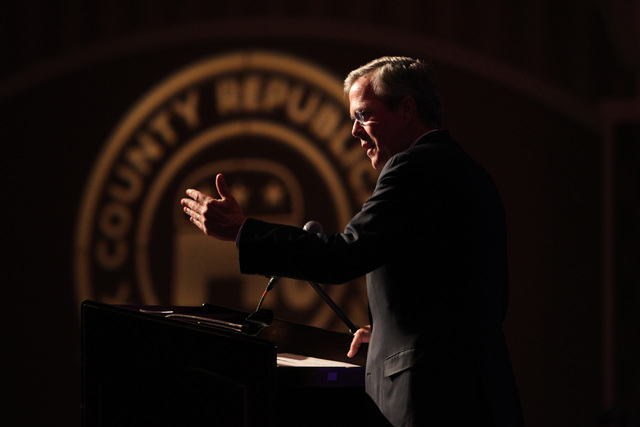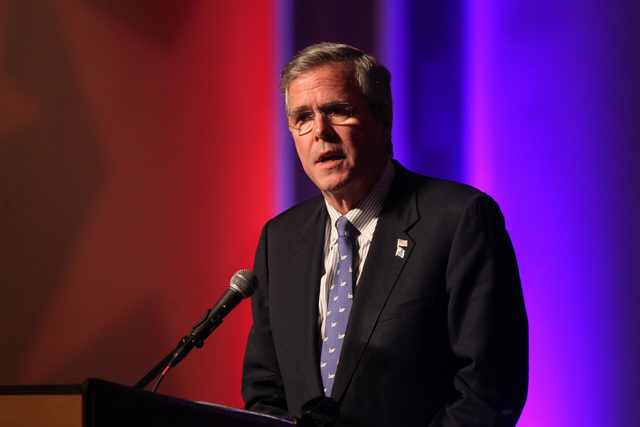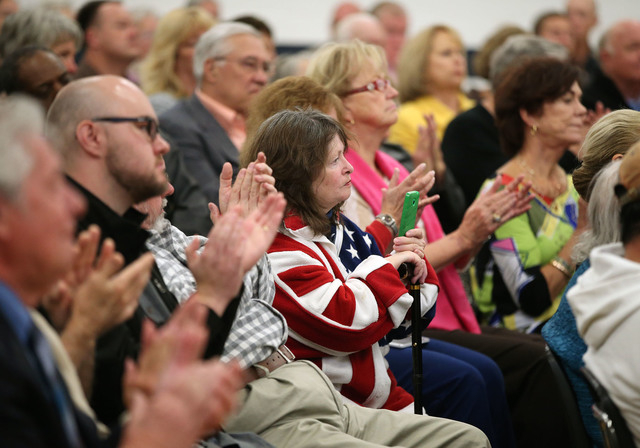 Likely Republican presidential candidate Jeb Bush said Wednesday he does not believe that the stalled Yucca Mountain nuclear waste repository will end up being the burial site for the country's nuclear waste.
"I think we need to move to a system where the communities and states want it," the former Florida governor told reporters after a morning town hall in Reno, the first of two appearances in Nevada. "It's a system where instead of having it forced down the throats of people, that there is a consensus inside the communities and states that they want it and they proactively go for it.
"So whether that is going to be here or some other state over the long haul, we need to have a long-term solution for sure," Bush said.
But Yucca Mountain, Bush said, is not going to be the site.
Bush didn't repeat his Yucca Mountain thoughts in headlining the Clark County GOP Lincoln Day dinner Wednesday night. Instead, he spoke in broad strokes about his experience as a businessman and as governor of Florida, and said the United States needs to be a world leader.
If the U.S. fixes a burdensome regulatory system, Bush said, "we will lead the world for a long, long time."
Bush, in his remarks to reporters in Reno, appeared to misspeak at one point, accidentally declaring his candidacy, saying: "I'm running for president in 2016 and the focus is going to be about, if I run, how do you create high-sustained economic growth."
The qualifier at mid-sentence seemed to take back any actual announcement. The difference between considering a run and actually jumping into the race is important. Once candidates formally enter the presidential race they face tighter restrictions on raising money.
In Las Vegas, he stressed he's not a declared candidate — while also sounding like a candidate in several mentions of presumed Democratic front-runner Hillary Clinton.
Bush said he's different from "the liberal agenda that Hillary Clinton and Barack Obama believe in."
Bush, who met with Gov. Brian Sandoval before the event at Reno's Evelyn Mount Northeast Community Center Gymnasium, praised Nevada's GOP governor. Sandoval is said to be on Bush's short list as a potential vice presidential running mate should Bush declare and win the GOP presidential nomination.
But Bush said such talk is premature. He has not yet declared his candidacy.
"I'm a big Brian Sandoval fan," Bush said. "I think he's been a great governor and a great leader and I enjoy our friendship, and it's way premature for someone who is considering running to be talking about that."
Bush said he cut more than 2,000 separate line items in Florida's budget totaling $2.5 billion, shrinking state government's workforce, and focused on personal income growth.
In Florida, Bush said, personal income grew at 4.5 percent per year with his approach, while government growth was only about 2 percent per year.
He also criticized the Obama administration's policies for creating "uncertainty and massive regulation."
The country's economy isn't growing as it should, Bush said.
Under President Obama, Bush said, "We've had the weakest recovery in modern times."
"We've now made it harder and harder for people to rise up," Bush said.
Bush also called for the United States to be a force for good against terrorism abroad, stressing the persecution of Christians in the Middle East.
Bush also tied Clinton, who served as Secretary of State under Obama, to the president's policies abroad, saying "She was a partner with Barack Obama."
While Bush did not take questions in Las Vegas, he did while in Northern Nevada.
In Reno, Bush also addressed his controversial remarks about Iraq, which have received a lot of critical press attention since Sunday. Bush was asked whether he would have invaded Iraq in 2003 — as his brother, President George W. Bush, did — knowing what is known now about the intelligence failures. Bush said he would have authorized the invasion, but has since said that he misunderstood the question.
Bush said hypotheticals about past events are not useful. The question is what lessons are learned from such decisions, he said.
"Talking about the future is more than fair," Bush said. "Talking about the past and saying how you would have do something after the fact is a little bit tougher and it doesn't necessarily change anything."
But he did say in response to a question at the town hall that there were intelligence failures leading up to the 2003 invasion of Iraq.
Looking back, anyone would have have made different decisions, Bush said.
"There's no denying that."
Bush said he will make up his mind soon about whether to run.
He differentiated himself from his brother, President George W. Bush, by saying 2016 is different than 2000.
"The world has changed dramatically," Bush said. "The whole country is different. I'm a committed conservative."
Contact Sean Whaley at swhaley@reviewjournal.com or 775-687-3900. Find him on Twitter: @seanw801.
Contact Ben Botkin at bbotkin@reviewjournal.com or 702-405-9781. Find him on Twitter: @BenBotkin1.
Jeb Bush says NSA spying the 'best part' of Obama administration
Jeb Bush reportedly marked 'Hispanic' on his Florida voter form