Lake Mead likely to skirt shortage line for another year
August 16, 2016 - 1:40 pm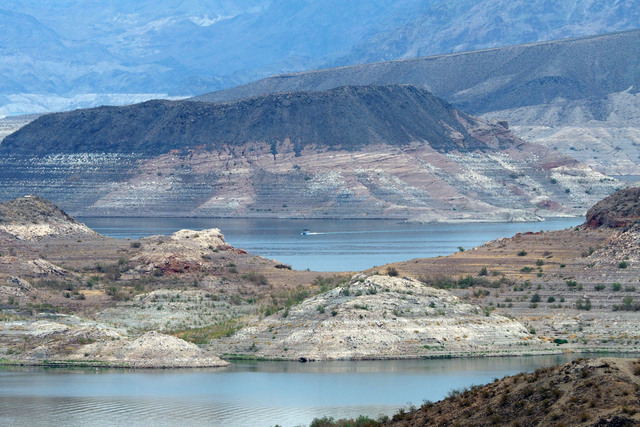 Despite sinking to a record low in early July, Lake Mead should be just full enough on Jan. 1 to avoid an unprecedented federal shortage declaration for at least one more year.
Decisive projections released Tuesday by the U.S. Bureau of Reclamation call for the reservoir east of Las Vegas to start 2017 with a surface elevation of about 1,079 feet above sea level. That's roughly 4 feet above the line that would force Nevada and Arizona to cut their Colorado River water use.
Under guidelines adopted in 2007, the bureau uses its August projections for Lake Mead to determine whether to declare a shortage. If the lake's surface was expected to be below elevation 1,075 on Jan. 1, Nevada would be forced to cut its river use by 4 percent while Arizona would take an 11 percent cut.
Federal forecasters now expect that to happen in 2018, when Lake Mead is projected to start the year at elevation 1,074, just below the shortage line.
The reservoir that supplies 90 percent of the Las Vegas Valley's drinking water bottomed out at elevation 1,071.61 on July 1, its lowest level since May 1937, when the lake was filling for the first time behind the newly completed Hoover Dam.
The lake has ticked back up by almost 3 feet since then, but it remains about 40 feet lower than it was in August 2012.
Even if a shortage is declared, Las Vegas water officials said the community has already conserved more than enough water to easily absorb a 4 percent cut.
Water officials in Nevada, Arizona and California hope to further delay the first official shortage on the Colorado through a series of voluntary cuts now being discussed.
By the end of the year, the three states hope to finalize a landmark deal under which Arizona would shoulder the largest cuts and California would accept reductions to its river use for the first time.
As it stands now, California is not required to take any cuts to its 4.4 million acre-foot share of the Colorado, by far the largest annual allotment among the seven states that share the river.
Nevada gets the smallest share of the river at 300,000 acre-feet annually. One acre-foot of water is enough to supply two average Las Vegas Valley homes for just over a year.
Contact Henry Brean at hbrean@reviewjournal.com or 702-383-0350. Find @RefriedBrean on Twitter.
RELATED
Lake Mead still shrinking, but lower consumption offers glimmer of hop