Lake Tahoe's clarity decline blamed on rainy weather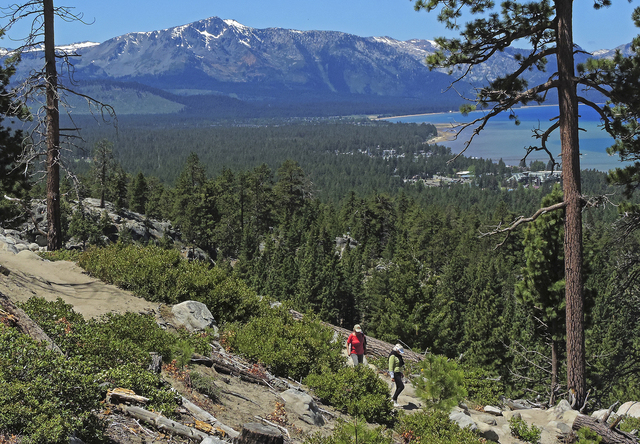 CARSON CITY — Lake Tahoe's famed waters lost clarity in 2015, due in part to warmer waters and more rain than snow the previous winter, researchers said Tuesday.
The annual report released by the Tahoe Environmental Research Institute, a part of University of California, Davis, said Lake Tahoe's clarity declined by 4.8 feet from the year before to an annual average of 73.1 feet.
Clarity is determined by lowering a 10-inch white plate, known as a Secchi disk, into the water and measuring the depth at which the disk remains visible from the surface.
Scientists said the decline is not considered part of a long-term trend but rather normal fluctuations that occur year to year.
The lake is still 9 feet clearer than the lowest average of 64.1 feet recorded in 1997. That year, President Bill Clinton hosted the first Tahoe Summit, which brought international attention to the unique ecological challenges facing the lake known as the "Jewel of the Sierra."
Geoffrey Schladow, director of the research center, said that while drought years tend to mean clearer water conditions, clarity is also influenced by the type of precipitation.
The annual precipitation in 2015 was 18 inches, and only a fraction of that — roughly 5 percent — fell as snow.
"In 2015, the runoff water into the lake was warmer than the previous year on account of the low snow-to-rain ratio," Schladow said in a release. "As a consequence, fine particles flowed in closer to the surface where they impacted clarity, rather than plunging to the deeper parts of the lake."
Scientists have been taking clarity measurements at Lake Tahoe since 1968, when the disk was visible to a depth of 102.4 feet.
Federal and state environmental regulators have set 97.4 feet as a target goal for Tahoe's clarity.
Contact Sandra Chereb at schereb@reviewjournal.com or 775-461-3821. Find @SandraChereb on Twitter.