Las Vegas 'tortoise gulag' paroles last inmates
October 11, 2014 - 11:07 am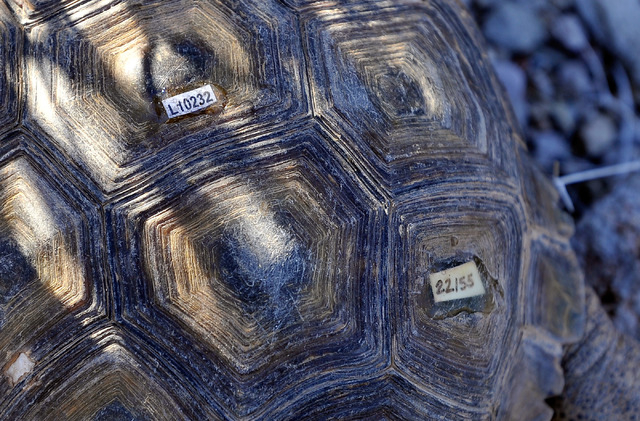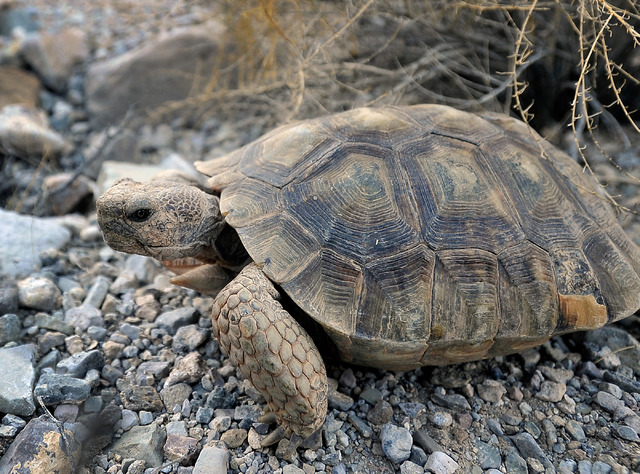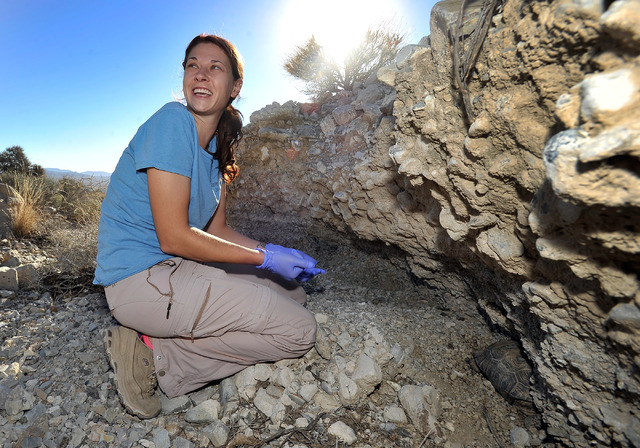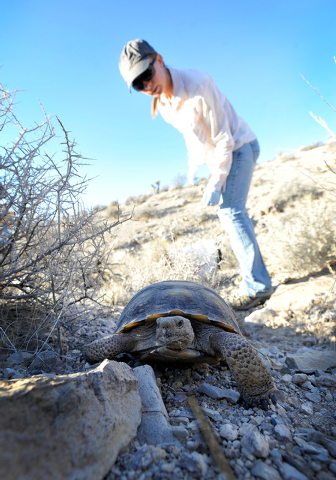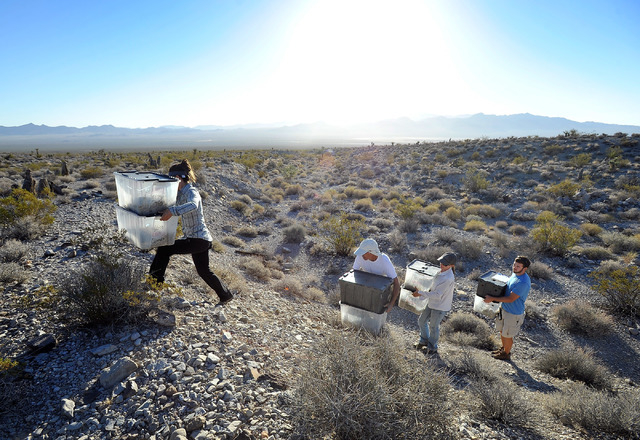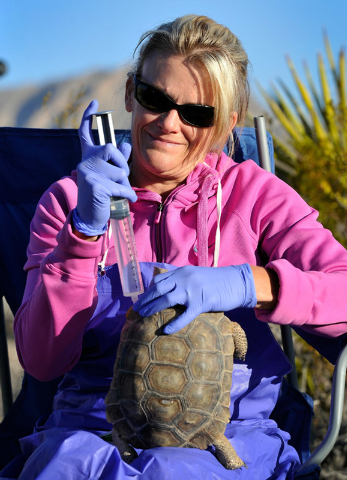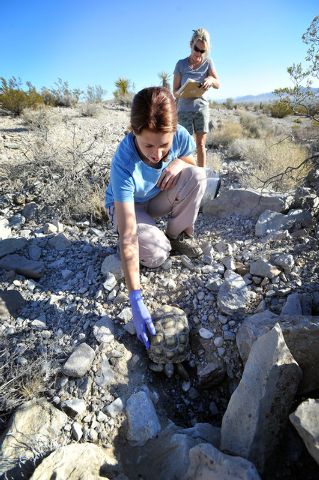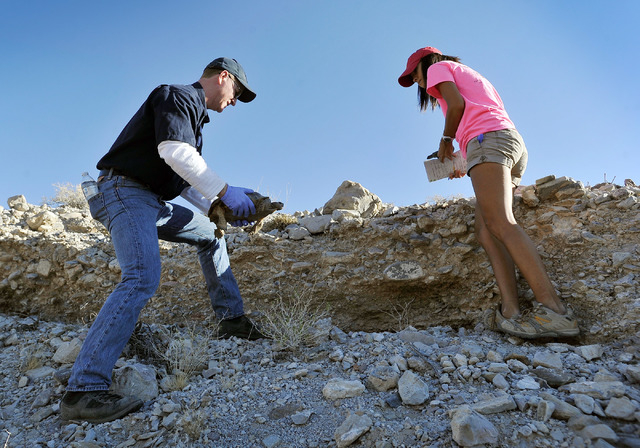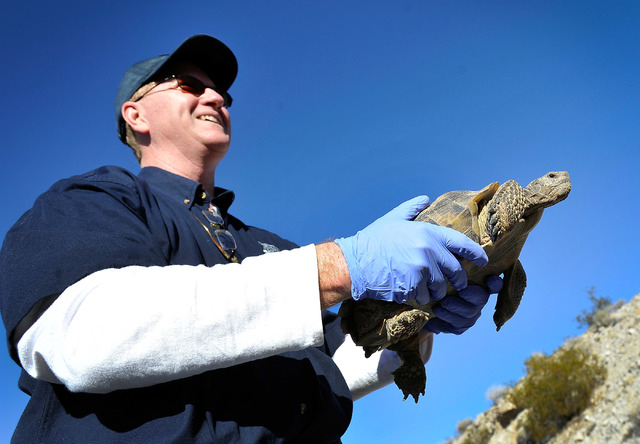 JEAN — After years — perhaps a lifetime — in cushy captivity, desert tortoise No. 6349 spent his first five minutes of freedom hunched motionless under a bush in a rocky dry wash 40 miles southwest of Las Vegas.
Finally, as his human handlers backed away, 6349 poked his head out of his shell and started to explore his new home — slowly, of course.
He had no way of knowing it, but he marks the end of an era. He was part of the final batch to be set free in the wild before the Desert Tortoise Conservation Center shuts down for good in December, after more than 20 years at the southwestern edge of Las Vegas.
The U.S. Fish and Wildlife Service announced plans to close the 220-acre center last year, after its federal funding was eliminated. Since then, the center's contract operator, the San Diego Zoo's Institute for Conservation Research, has been working with its partners to empty the facility, mostly by releasing healthy tortoises into the wild.
The center was caring for roughly 1,400 of the animals as recently as 18 months ago. Today, all that remain are about 50 adults awaiting shipment to a new exhibit at the Springs Preserve, a research facility in Battle Mountain and the Best Friends Animal Sanctuary in Utah.
Another 40 hatchlings born at the center will sleep through the winter in covered outdoor pens at the site and be released into the wild next year, said Mike Senn, assistant field supervisor with the Fish and Wildlife Service in Southern Nevada.
Senn said no tortoises have been euthanized — or will be — because of the closure of the center, though some animals have been humanely killed over the past two years because they were too sick to save.
He estimates that about 30 percent of tortoises that came into the center had to be put down for medical reasons.
Since 1989, the desert tortoise has been listed as threatened under the Endangered Species Act.
The conservation center was established in the 1990s as a place for developers to put tortoises removed from job sites in booming Clark County, but it soon became the valley's de facto shelter for unwanted pet reptiles.
Last year, the center announced it no longer would accept former pets and strays, which were pouring into the facility at a rate of about 1,000 a year, overwhelming its budget and research mission.
The center's closure in two months will end what has, at times, been a troubled and patchwork effort to save the tortoise, even as researchers were trying to better understand the species and the reasons for its decline.
That led to mistakes.
During the center's first decade or so, thousands of tortoises were euthanized under a policy that called for the destruction of any animal showing signs of a deadly upper respiratory tract disease considered a threat to the species. It was later learned that tortoises could test positive for the disease but never develop it, either because they had been exposed and recovered or because they could carry it without ever showing symptoms or passing it on. That led to a change in the disease protocol that dramatically reduced the number killed.
Senn said the center's procedures for determining which tortoises to release have also improved greatly over time and so have survival rates. Early in the program, he said, "They were releasing whatever — anything that wasn't dead."
Longtime local conservationist John Hiatt said the center's legacy will be decidedly mixed. He said "it seemed like a good idea" to have a holding area for tortoises that otherwise would be literally bulldozed in the name of development.
"But in the final analysis, it just wasn't a long-term or permanent solution," he said, especially after it became a shelter for a pet tortoise population far larger than expected.
The center has a nickname in the environmental community: "The tortoise gulag."
"That's what a lot of people referred to it as because tortoises went there and were put into little pens and that was it," Hiatt said.
Friday's release took place in an area west of Interstate 15 south of Jean known as the Large Scale Translocation Site. Of the more than 10,000 tortoises released from the conservation center since 1997, most of them have come to this 27,000-acre swath of federal land where the species' population density is much higher than it would be under natural conditions, Senn said.
Federal officials and their state and local partners also have established other tortoise release areas at the base of the Spring Mountains south of Pahrump and in the canyons and desert south of Boulder City. A few years ago, a group of test subjects equipped with tracking devices was set loose at the Nevada National Security Site.
Studies conducted in recent years suggest former pet tortoises, even those born in captivity, survive in the wild at about the same rate as the natural population.
"It doesn't take them very long to go out and be a real tortoise again," Senn said. "They have that instinct."
On Friday, it took about 25 biologists and volunteers less than an hour to release 53 tortoises. The crew spent longer driving to the site than it did emptying the animals from their plastic tubs.
No. 6349 was set free by Daniel Essary, a research assistant from the San Diego Zoo, who could find himself out of a job in December. Essary figures he has released roughly 250 tortoises into the Nevada desert over the past five years, and he noticed something familiar about the way 6349 reacted to its release by hiding in his shell.
It's impossible to know for sure, but Essary said he would bet that 6349 wasn't always a guest of the government or a backyard pet.
"I'm pretty sure he's had his time in the wild before," he said as he watched the tortoise begin to move.
Contact Henry Brean at hbrean@reviewjournal.com or 702-383-0350. Find him on Twitter: @RefriedBrean.