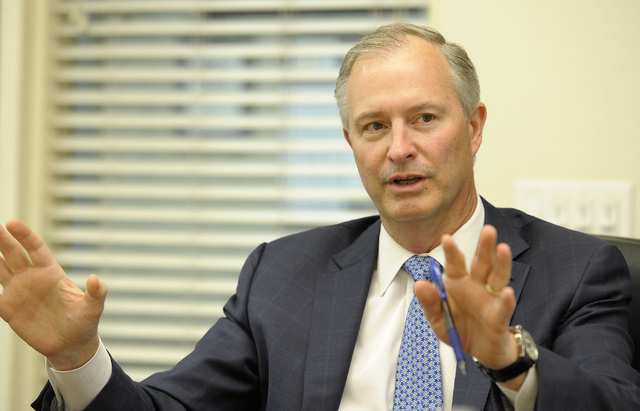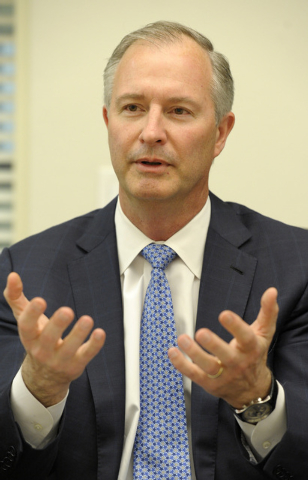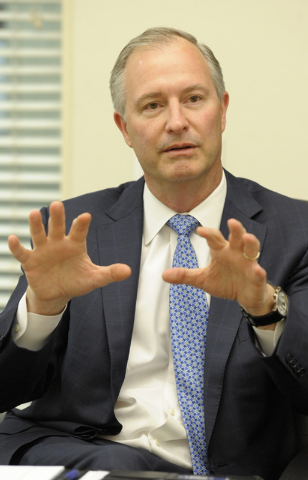 Bolstering Nevada's economy, Gov. Brian Sandoval's Office of Economic Development helped create 4,771 jobs last year — three times the number in 2011 — and is on pace to beat that figure in 2014, the director of the office said Friday.
The 116 state-recruited companies that created those jobs plan to more than double their workforce within three to five years, according to the office. For every job added to Nevada's economy in recent years, officials said, one was created by the economic development office. Some 51 of those new and expanding companies were located in Clark County.
"If the economic development (office) wasn't there, those jobs wouldn't be in Nevada," director Steve Hill said in a wide-ranging interview with the Las Vegas Review-Journal editorial board.
During the first quarter of 2014, Hill said, the office assisted in creating about 1,500 new jobs. The manufacturing sector has accounted for most of the job growth, or about 41 percent last year.
If Nevada wins the competition to lure a $5 billion Tesla Motors battery plant to Reno, the jobs attributed to the economic development office would skyrocket. The electric car manufacturer would put 6,500 people to work at its new plant in 2015.
Reno and San Antonio, Texas, are said to be front-runners in the competition, but Hill said he couldn't talk about it.
Despite the good news, Hill said officials don't know how many business operators who might be interested in relocating or expanding in Nevada have decided to wait until after the November elections, when voters will decide whether to approve a 2 percent margins tax on businesses.
Asked if companies have mentioned the proposed tax increase during recruitment efforts, Hill said, "We've had some."
"A company that's going to have a lot of transactions is going to be hit very hard by the margins tax and I'm sure would be turned off by that," said Hill, the first director of the governor's Office of Economic Development, which was created in 2011.
The proposed tax would even hit companies that aren't making a profit but have reported more than $1 million in annual revenue.
Sandoval has said the margins tax, known as the "Education Initiative" or Question 3 on the Nov. 4 general election ballot, would devastate Nevada businesses and the recovering economy.
The Nevada State Education Association, the teachers union, got the issue on the ballot to raise as much as $700 million a year to fund education. Proponents argue 87 percent of Nevada companies wouldn't have to pay the tax.
Under the governor's economic development office, Nevada decided to focus on nine sectors for job growth. They include aerospace and defense, agriculture, information technology, energy, health care, logistics and operations, manufacturing, mining and the Silver State's mainstays, tourism and gaming.
Hill said the state is seeking long-term job growth. As an example, Nevada is one of six states that will host drone, or Unmanned Aerial Vehicle, tests. The Federal Aviation Administration picked Nevada last year for the program.
The state was selected in part because military drones have been operating for two decades here, including from Creech Air Force Base north of Las Vegas. Nevada expects to see a drone-related workforce of about 15,000 people in the next decade as part of what is expected to become an $11 billion industry nationwide.
The University of Nevada, Las Vegas and the University of Nevada, Reno are developing drone programs to produce a trained workforce for the industry, another trend in the state's economic development efforts.
Companies looking to relocate or expand in Nevada often focus on whether there are enough trained workers, Hill said, and so the universities are working more closely with the economic development office to marry up education programs to expected job growth in industries the state is focusing on to diversify the economy.
Asked if Nevada's poor overall K-through-12 education system is dissuading companies from considering Nevada, Hill said businesses are more interested in whether adult workers are properly trained and available.
"They want to know if they can get a workforce that can do the job with a reasonable amount of training," Hill said.
The amount of land and buildings available for companies also can be a make-or-break issue, Hill said.
In Nevada, nearly 85 percent of the land is owned by the federal government, a fact that has prompted lawmakers and public officials over the years to propose that the state move to gain more control over the state.
In 2013, Sandoval signed Assembly Bill 227 creating a task force to study whether it is feasible to return some federal land to Nevada control. A preliminary report issued in April said a transfer of 4 million acres of U.S. Bureau of Land Management land could add from $31 million to $114 million a year to Nevada coffers.
The revenue would come from the sale and lease of resources on the lands, including through mining and grazing and development of alternative energy sources such as solar and geothermal. The land would become "state trust lands" with revenues set aside primarily to support public schools.
Nevada has only 3,000 acres of such "state trust lands," a pittance compared to other Western states such as Arizona and New Mexico, which each has about 9 million acres of such lands, the task force report said.
Hill said the housing crisis in Southern Nevada was deepened by limited private land with the price rising from $200,000 an acre in 2003 to $800,000 an acre in 2005. Now, the price has dropped to about $400,000 an acre.
In the end, however, Hill said this is a political issue for Sandoval and other state and federal public officials to decide.
The public lands issue gained national headlines recently after Bunkerville rancher Cliven Bundy refused to remove his cattle from BLM land where he has grazed his animals without paying federal fees for about 20 years. Armed militias came to his aid and the BLM halted a roundup of the cattle to avoid violence.
Asked if negative headlines about "gun-slinging cowboys" hurt Nevada's reputation among businesses seeking to relocate here, Hill at first joked, "A lot of people love gun-slinging cowboys."
Turning serious, he said, "It's not all that helpful when it happens" that Nevada makes negative news. But he said the effect is usually temporary and can be countered, much like Las Vegas' "Sin City" reputation.
"People are probably not seriously swayed by something that's temporary," said Hill, who noted he is from Dayton, Ohio, and thinks Nevada has a lot more to offer. "I'd sure rather sell Vegas than Dayton" to new businesses, he said.
Contact Laura Myers at lmyers@reviewjournal.com or 702-387-2919. Find her on Twitter: @lmyerslvrj.