Nevada Treasurer Marshall opposes voter ID
August 20, 2014 - 12:12 pm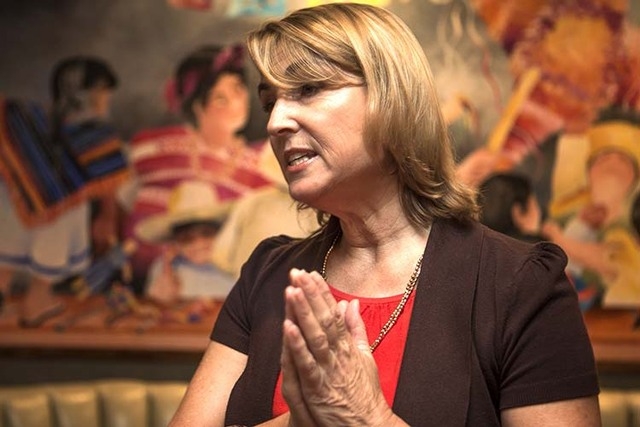 Nevada Treasurer Kate Marshall, a Democrat running for secretary of state, on Wednesday said at a Hispanic event that she opposes requiring voters to present proof of identity before casting ballots because it's too costly and not necessary.
Marshall also said the Silver State isn't technologically ready to offer same-day voter registration, something the Democratic Party has long pushed to boost turnout, especially among the young, minorities and casual voters.
It would cost the state $5 million to $7 million to require voter IDs, according to a fiscal study during the most recent legislative session in 2013, said Marshall, who noted the state is still slowly recovering from the deep recession.
"There is not $5 million hanging around," Marshall said in an interview. "If we did have $5 million lying around, I would put it toward education and not toward a problem that we don't have."
Marshall suggested cases of voter fraud were rare so there's no need to require identification at the polls. Now, poll workers check the signatures of voters against what the government has on file. If the signatures don't match, voters may be asked to show identification, but would be allowed to cast provisional ballots if they affirm they are registered to vote.
A good part of the cost is because Nevada would have to provide voter IDs since charging any sort of "poll tax," including the cost of making IDs, is unconstitutional. After voting rights were extended to all races in the late 19th century, many Southern states imposed poll taxes, disenfranchising many African-Americans, Native Americans and poor whites.
Marshall didn't mention voter ID or same-day registration in her remarks to Hispanics in Politics, whose influence has grown over the years as Latinos gained power in elections. Hispanics now make up about 18 percent of the electorate. Instead, she focused on what she has done as treasurer, including starting college savings accounts for kindergartners.
In June, Marshall's GOP opponent, state Sen. Barbara Cegavske, R-Las Vegas, told the same Hispanic group that she favors requiring voter IDs with photos to prevent fraud and ensure the integrity of elections.
Cegavske has backed such bills in the Democrat-controlled Nevada Legislature, although they have failed.
"I've always been in favor of identification," Cegavske said in June. "I have no problem showing my identification when I go to vote."
Cegavske said that if elected on Nov. 4 she would consider introducing a voter ID bill during the 2015 legislative session if no lawmaker proposes a similar bill.
"We need to have something that everyone feels secure about," Cegavske said. "I don't want to disenfranchise anybody, but I don't know anybody who doesn't have identification."
Even if people don't drive they usually have other forms of ID they use to get Social Security checks or food stamps or for other programs that require photo identification, Cegavske said.
Cegavske has opposed same-day voter registration. Marshall said Nevada's election system doesn't have the technology to check a voter's information on Election Day and so, for now, she is opposed to the idea. The Clark County Elections Department provided the information.
Both candidates back the two-week early voting period in Nevada with people able to cast ballots at any polling station until the end of the business day on the Friday before Tuesday's election. About two-thirds of Nevadans cast early ballots. On Election Day, voters must go to their designated precinct sites to vote.
Marshall began her speech before the Hispanic group by noting she's of Mexican heritage. Her grandfather fled to the United States in 1921 after being on the losing side of the revolution, according to her campaign.
She told her family history in Spanish and then English to a breakfast audience of about five dozen people at Dona Maria Tamales Restaurant in downtown Las Vegas. She referred to notes when speaking Spanish.
Marshall said her grandmother sold Levi jeans and her grandfather cleaned fireplaces when they came to the U.S. Their hard work paid off and her family rose into the ranks of the middle class and college educated.
"Because of them, I had the opportunity to go to college," Marshall said. "I build on what they gave me and I give it to my children and they have more. And that's the way it works" in America. "We are all immigrants at some level."
Contact Laura Myers at lmyers@reviewjournal.com or 702-387-2919. Find her on Twitter: @lmyerslvrj.