'Nevada's best-kept secret' offers hiking, camping and stargazing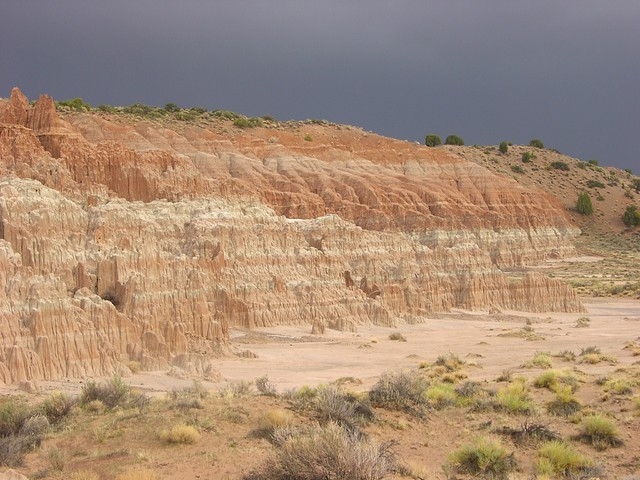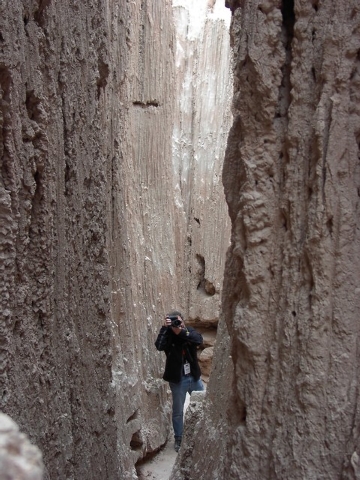 Editor's Note: Nevada 150 is a yearlong series highlighting the people, places and things that make up the history of the state.
Some say the best time to see Cathedral Gorge State Park is in the middle of the summer on a moonless night.
That's when thousands of stars emerge over the rugged Lincoln County landscape in the cool, high-desert air.
There isn't a big city within 100 miles, so the sky is ink black, and the millions of pinpoints of light are a visual feast.
But in the daylight hours, Cathedral Gorge — one of Nevada's four original state parks — is quite a sight, too, with its rocky towers and blend of stone goblins. If you get up close and personal within the maze of short slot canyons and passageways, you will get yet another perspective.
"We think we're Nevada's best-kept secret," said Dawn Andone, the park's interpreter.
Andone said that while there is no bad time of year to visit the park, spring and fall are the most popular because the temperatures are perfect for hiking and camping. In the middle of summer, it hits about 100 on the hottest days.
Located about 165 miles northeast of Las Vegas on U.S Highway 93, the Great Basin Highway, between Caliente and Pioche, Cathedral Gorge is a compact, 1,600-acre park that is a desert photographer's dream.
From afar, visitors see stone spires above the passageways carved into the crumbly bentonite clay, formed by eons of erosion. Within the slot canyons, the walls tower like oversized hallways.
The place is crawling with lizards, mice, gophers, kit foxes, kangaroo rats, rabbits, coyotes and an occasional deer.
"When I first saw it, it reminded me of the Badlands of South Dakota," said Kristen Lucibello, a Utah State University student who stopped at the park on her way to Las Vegas. "That was one of the first national parks I had ever been to, so there was a nostalgia factor."
Lucibello and a friend started at Miller Point, the highest spot within Cathedral Gorge, and took the 1-mile Miller Point Trail to the heart of the park. Park personnel have made a walk into the gorge safe by building a steel-frame stairway to the canyon floor.
"There were lots of families there with little kids, so we all felt pretty safe," she said.
But the real fun is in exploring the small caves and crevices cut through the rock.
"There was one place where we got separated, and we had to call out to try to figure out where each of us were," Lucibello said. "Great pictures and a lot of fun."
In one section of the park, known as the Moon Caves, is a formation affectionately known by locals as the Rabbit Hole, a crawl-on-your-belly slide through a passage to an open area surrounded on all sides by rock walls.
There are 5.5 miles of trails in the park and a 22-site campground, each with a picnic table, grill and ramada. There's fresh water at the campground, flush toilets, showers and a grassy group camping area. This year, the park has added electrical hookups.
Day use is $5 for Nevada residents and $7 for out-of-state visitors, while camping is $15 for Nevadans and $17 for out-of-staters. There's a $10 fee added for the electrical connection.
Andone said the park gets about 40,000 visitors a year, and even on the busiest of weekends, the campground rarely fills. She said park officials aren't sure whether the electrical hookups will add to visitor volume.
The park is expecting heavy usage for two fall activities designated as Nevada 150 events. A series of Dutch oven cook-off events make their way to Cathedral Gorge on Sept. 20 while the annual Park to Park Pedal, featuring highway bicycle rides for all levels, is scheduled Oct. 11.
"When the park gets close to filling, we try to find a place for everybody and if we can't accommodate, there are four other state parks that aren't too far away," she said.
Cathedral Gorge is one of five state parks clustered within 50 miles of each other in Lincoln County, and the park is less than a half-hour from food and supplies at Pioche, Panaca or Caliente.
Contact reporter Richard N. Velotta at rvelotta@reviewjournal.com or 702-477-3893. Follow him on Twitter @RickVelotta.

Celebrating the Silver State