Nevada's delegates launch bill to fast-track high-speed rail project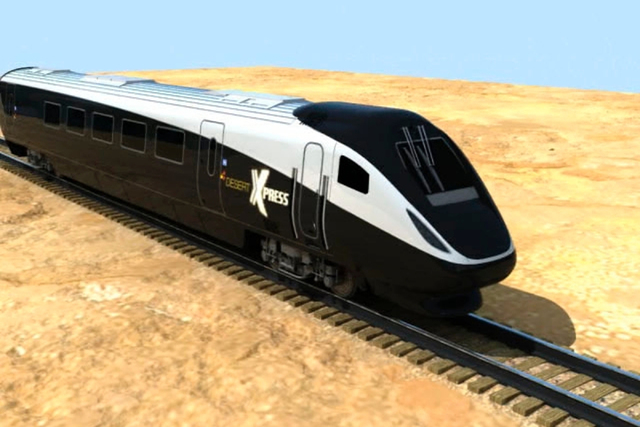 WASHINGTON — Members of Nevada's congressional delegation on Thursday announced the introduction of legislation that they hope will fast-track the XpressWest project to provide high-speed passenger rail service between Las Vegas and Southern California with stops in Victorville and Palmdale.
Under bills introduced in both the House and Senate, 520 acres of the Mojave National Preserve would be transferred to the Bureau of Land Management from the National Park Service.
That transfer is needed to ease construction of the preferred route for the XpressWest project because the Park Service lacks a clear process to allow infrastructure development, according to a press release.
"This shorter and more economically efficient route avoids unnecessary impacts on wildlife and habitat while also preventing the need to tunnel under hills, which is required by alternate routes," the release stated.
The bills were introduced in the Senate by Nevada Republican Dean Heller with Senate Democratic leader Harry Reid of Nevada as the co-sponsor, and in the House by Nevada Republican Rep. Joe Heck with fellow Nevada Republicans Cresent Hardy and Mark Amodei as co-sponsors.
"We need an 'all of the above' approach when it comes to addressing our transportation needs and enhancing tourism opportunities for Las Vegas," said Heller, who introduced the bill previously, a common practice in Congress.
"The XpressWest rail project will promote economic development and significantly boost tourism to Nevada, benefiting our state for years to come."
Reid cited his past support for high-speed rail in Nevada.
"Allowing the border of the Mojave Preserve to be pulled back from the freeway in exchange for more vital inholdings within the Preserve is also a win for conservation," he said.
Heck focused on allowing the XpressWest project to pursue the most economically efficient route by the "simple land transfer."
In November, the Nevada High-Speed Rail Authority unanimously approved the high-speed rail project offered by XpressWest, a train company based in Las Vegas.
With that vote, the company became the state's franchisee and gained the state as its advocate for the proposal.
Contact Jim Myers at jmyers@reviewjournal.com or 202-783-1760. Find him on Twitter: @myers_dc