Officials see need to reduce national visa backlog for undocumented immigrant crime victims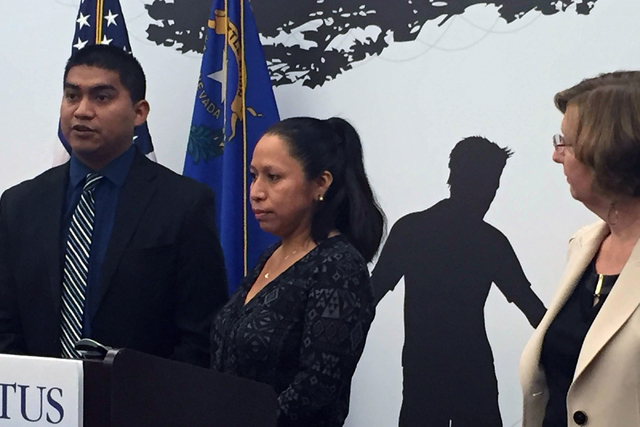 Congresswoman Dina Titus, D-Las Vegas, and Legal Aid Center of Southern Nevada Executive Director Barbara Buckley called attention Friday to a national backlog of visas for undocumented immigrant victims of crime.
Federal legislation passed in 2000 allows victims of certain crimes, including undocumented immigrants, to be eligible for visas. The law is intended to create more cooperation between immigrant victims of crime and law enforcement. Such crimes must be certified by agencies such as law enforcement authorities.
To qualify for the U visa, certifying agencies must confirm that an applicant has been a victim of a qualifying criminal activity and that the victim has been, or will likely be, helpful to an investigation.
Once it's been certified, U.S. Citizenship and Immigration Services reviews the application. If approved, the victim can be issued a visa that allows them to stay in the country legally for up to four years and apply for permanent residency.
Aida Lopez, 45, is applying for a U visa after she said she was threatened outside her home last month. As she was walking to the door of her home in the early morning hours, Lopez said she was threatened at gunpoint by two men who wanted to force their way in. As she got closer to her door, the automatic light came on, and the men left.
"They thought someone inside had turned on the light," she said in Spanish.
Once inside, the mother of five told her children what had happened. They then called the police and filed a report.
The federal government caps the issuance of U visas at 10,000 per year, which has resulted in a backlog nationally.
As of December, about 62,000 applications were still waiting to be processed, according to the most recent USCIS data available. While waiting, some applicants are given temporary protection from deportation.
The immigration services agency does not release application data broken out by region, agency spokeswoman Maria Elena Upson said.
According to data obtained by Reuters in 2014 through a Freedom of Information Act request, 844 U Visas were certified by law enforcement in Las Vegas between 2009 and 2014.
On Friday, Titus said she would introduce legislation to raise the cap and decrease the backlog.
Buckley, whose center has helped with hundreds of applications, said immigrant crime victims are not always aware that they can apply for such relief. Many victims are hesitant to report crimes out of fear of losing custody of their children, Buckley said.
Rocio Gonzalez, a paralegal with the center, said it currently has about 200 active U visa cases dating back to 2014. Since January, the center has seen an increase in applications and is currently opening about 15 new cases a month, Gonzalez said.
Requests for 2015 data on U visa certifications by the Las Vegas Metropolitan Police Department were not available by deadline.
Contact Alexander S. Corey at acorey@reviewjournal.com or 702-383-0270. Find him on Twitter: @acoreynews