Sandoval to stay out of GOP squabble in Assembly
December 12, 2014 - 3:58 pm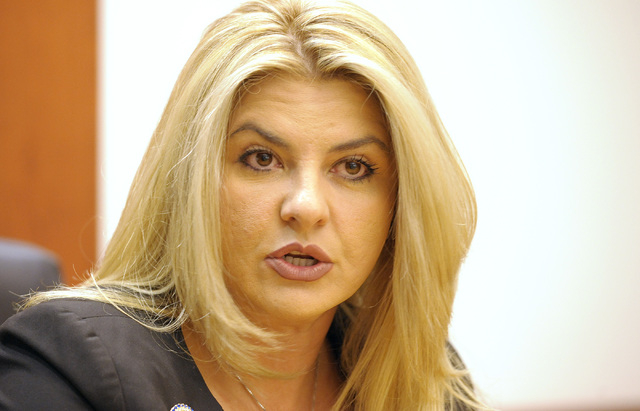 CARSON CITY — Gov. Brian Sandoval said Friday he is not getting involved in the ongoing Assembly leadership dispute, and that he will work with whoever ends up in control when the Legislature gets to work on Feb. 2.
The Assembly Republican caucus is in turmoil, with two camps, one of conservative lawmakers and the other of more moderate members, at odds over the leadership of the 42-member house.
"I have a profound respect for the Legislature," Sandoval said. "They're sorting it out."
Sandoval said he has met with Speaker-designate John Hambrick and Majority Leader Michele Fiore, both R-Las Vegas.
"Ultimately I'm going to work with whoever is going to be the leadership that they choose," he said. "They understand we need to get to work. There are a lot of big issues that need to be addressed."
Sandoval said he is aware of the talk of a potential arrangement between some moderate Assembly Republicans and the 17 Democrats to lead the Assembly.
"I am not aware of anything specifically," he said. "I have not talked to a single legislator about that. But I don't think it is a state secret that that is out there. This is legislative business and I am going to leave it up to them."
Sandoval said he and lawmakers of both parties have to come together to solve the many challenges facing the state, from education to transportation to the budget.
The Assembly has been in turmoil since Republicans took control for the first time since 1985 in the Nov. 4 election.
The 25 members of the GOP caucus initially selected Ira Hansen of Sparks to lead their group and the Legislature as speaker, but he stepped down after comments he made as a newspaper columnist came to light that critics said were racist and homophobic.
Last week the caucus picked Hambrick to lead the caucus and Assembly.
Fiore has come in for criticism for tax liens placed on her home health care business, and on Wednesday Hambrick briefly removed her as chairwoman of the Taxation Committee. He reversed himself the next day. She remains majority leader and chairwoman of the committee.
While they are just rumors at this point, Hansen said he believes it is entirely possible that some moderate Republicans will attempt to join with Democrats to forge a new leadership team when the 2015 legislative session begins.
Adding to the challenges facing Sandoval and the Legislature is the number of newly elected and appointed members who have no previous legislative experience. Fifteen new Assembly members, 13 of the Republicans, were elected Nov. 4. Two other new members will soon be appointed to replace incumbents who have resigned. There are also two new members of the 21-member Senate.
Contact Capital Bureau reporter Sean Whaley at swhaley@reviewjournal.com or 775-687-3900. Find him on Twitter: @seanw801.