Tourism group turned to world-class composer with Nevada roots
December 28, 2014 - 7:30 pm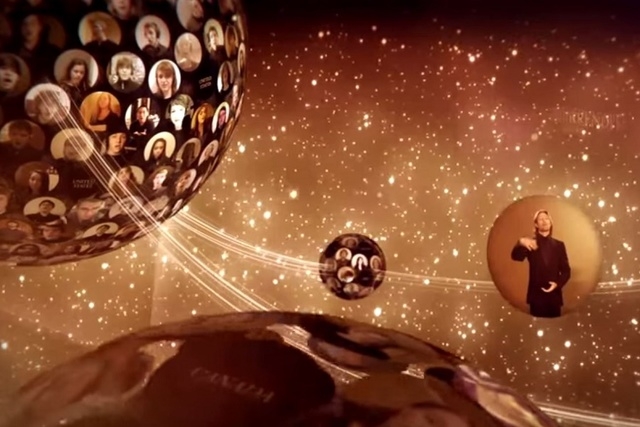 Eric Whitacre is a world-class, Grammy Award-winning composer who grew up in rural Nevada, went to school at UNLV and makes about a dozen speaking appearances a year.
So how did that qualify him to speak to the state's tourism community about connecting with people?
To understand that, you have to understand a little about Whitacre, who turns 45 on Friday and who has won wide acclaim for his "virtual choir" projects that have touched thousands of average people seeking a way to create something larger than themselves.
Whitacre, who lives in London with his family, is optimistic that some of his musical theories will not only change people's appreciation of the arts but lead scientists on pathways to better health care.
His great-grandfather arrived in Nevada in 1903 to work on the railroad in Tonopah. His grandfather on his father's side was a state senator while his grandfather on his mother's side worked the mines of Yerington.
Whitacre was an admitted pop-star wannabe while growing up in Winnemucca, Gardnerville and Yerington. He loved music but got kicked out of the Douglas High School marching band because he couldn't read music.
His love of music remained strong when he arrived at UNLV and even though he still couldn't read music, he auditioned for a choir. He reasoned that because he had a decent baritone voice and there were a few cute sopranos in the group, which was going on a choir tour (read "all-expenses-paid trip") to Mexico, he'd give it a try.
"For girls and tequila," he said, "I figured I could do about anything."
His acceptance into the group led to a transformational rehearsal.
When the group rehearsed the kyrie from Wolfgang Amadeus Mozart's "Requiem," Whitacre's life changed forever.
"Suddenly, within seconds, I found myself with a hundred other people part of this music that until that moment I couldn't have imagined existed, music of sophistication and dread, as if I were in the middle of a cosmic Swiss watch," he said.
"It was as if my entire life I had been seeing in black and white and suddenly everything was in shocking technicolor. I remember breathing with everybody, first giggling, then trembling and then finally with tears in my eyes as I realized that for the first time I was hearing my real name and I felt certainly for the first time in my life that I was part of something larger than myself. I left that person a transformed person and I became the world's biggest choir geek."
ON TO JUILLIARD SCHOOL
Whitacre was composing pieces by the third year of "my seven-year undergraduate degree program" that included "a few victory laps."
At 21, Whitacre wrote "Go, Lovely Rose" for his UNLV choral group and dedicated it to UNLV music professor David Weiller, who Whitacre considers his mentor and to whom he paid tribute in his Grammy acceptance speech after winning the 2012 award for "Light & Gold," his first album as composer and conductor.
Whitacre applied to and was accepted by the Juilliard School, one of the few programs that reviewed portfolios and not grade-point averages.
Whitacre has written for the London Symphony Orchestra and Chorus and collaborated with Hans Zimmer on the "Mermaids Theme" music from "Pirates of the Caribbean: On Stranger Tides." But he has never forgotten his Nevada roots, writing music for Weiller and adjunct professor Jocelyn Jensen, who conducts the Las Vegas Master Singers.
Whitacre became a virtual superstar in 2009 with his "virtual choir" concept. It was that year that Whitacre said he received "an electronic message in a bottle," a fan video from a woman named Britlin Losee, singing a piece.
"I came up with this half-baked idea," he said. "What if we could get everyone to sing this way? So I just threw it out there. Without even thinking, I posted a blog about the idea."
The challenge was coordinating singers recording YouTube videos to the precise speed and dynamic sought by the conductor.
Whitacre created his own YouTube video of him conducting one of his pieces, "Lux Aurumque."
"It was a weird day in the studio with me conducting the music in my head," he said.
He offered the sheet music for free online and invited singers to perform their individual choral parts on a YouTube video. He received 185 videos from 12 countries.
The final-product response was unbelievable. At a time when YouTube was in its infancy, the finished product got 1 million views in a week. Since its debut, its been viewed 4.6 million times.
"People were contacting me asking, 'How can I be a part of this?' " he said.
'IT'S ABOUT PEOPLE'
It led Whitacre to expand the project. His second effort drew 2,052 videos from 58 countries, with the youngest singer 6 years old and the oldest, 96.
Whitacre had technicians clear out the background noise in the videos to preserve the pure sound of the vocalists.
"We had one video where the guy's mom was yelling from outside the room, 'What are you doing in there?' and we were able to clean that up," he said.
Nearly two years ago, Whitacre conducted Virtual Choir 3.0 and got 3,746 videos from 73 countries.
One of the participants was from Cuba, where emailing large computer files is restricted by the government. Whitacre and his team instructed the participant how to cut the work into smaller pieces.
"He was unable to send a 24-megabyte file so we sent him instruction on how to break them into 1-megabyte files," he said. "He emailed all of them and we stitched them back together so Cuba was represented."
It was the post-performance comments that struck Whitacre of the significance of the work.
One of the performers was legally blind, but he was able to get close enough to the monitor to be able to see Whitacre conduct the piece, giving him his first opportunity to participate in a large choral group. Another participant recorded her part as she held the hand of her dying mother in a hospice, dedicating the performance to her.
"It's all about connecting with others," he said. "Is there anything more human than to reach out and find people in a like-minded community?"
Musicians feel that connectivity when they work as a chorus, Whitacre said.
"At its core, it's about people," he said. "One of the best lessons I ever got as a conductor came from a mentor who said to me, 'You're not conducting a machine … you're conducting human beings.'"
MUSIC PLAYING OTHER ROLES
That's why Whitacre believes music will be at the forefront of future medical breakthroughs as a stress reducer and a bonding agent. Studies, he said, show that choruses breathe together and their heart rates synchronize producing a form of oxytocin, the so-called love hormone that stimulates social and sexual behavior. Whitacre is researching the topic for a book.
And, that aspect of togetherness is also what Whitacre thinks is a perfect tie to the tourism industry.
"In the end, it's always the same," he said he said in an interview after his recent appearance before the Governor's Conference on Tourism in Reno. "How do you connect to the actual person and not make these monolithic, machinelike tourism packages. They're so inhuman.
"It's more than thinking outside the box. It's going back to core fundamentals. What's the reason you're doing this? Is it really just to get people here or is it to touch and connect with people here?"
Quality, not quantity impresses Whitacre on the tourism front, which is why he's a fan of Steve Wynn.
"Wynn has impeccable taste, which isn't something you see very much in Las Vegas," he said. "In Las Vegas, the magnitude is impressive, but the humanity is gone. It feels like you're being intimidated out of your money instead of inviting you to come have this experience."
And in the big picture, it's creating something bigger than yourself.
Contact reporter Richard N. Velotta at rvelotta@reviewjournal.com or 702-477-3893. Find him on Twitter @RickVelotta