Two years of hard work lead to Nevada GOP 'surprise' sweep
November 6, 2014 - 6:26 am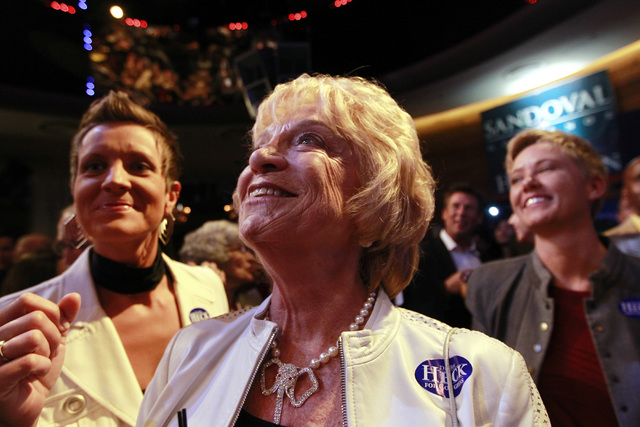 The Republican sweep that put the GOP firmly in charge of Nevada's state government and the Legislature while ousting a Democratic congressman was no fluke.
It was two years in the planning, led behind the scenes by popular GOP Gov. Brian Sandoval, who funded much of the successful effort, and bolstered by a Republican organization that ran a ground game rivaling the Nevada Democratic Party's machine, which sputtered and stalled this year.
"Gov. Sandoval being on the top of the ticket served as a rising tide that lifts all ships," the governor's campaign manager, Jeremy Hughes, said Wednesday.
But it was much more than Sandoval's public persona that helped the GOP win stunning victories up and down the ticket.
Sandoval never really had to campaign against little-known Democrat Bob Goodman, leaving time to focus on helping other Republicans win even as he finished in a landslide, taking more than 70 percent of the vote.
Key to the GOP campaign was Nevada Engage. Launched in May 2013, the group began identifying and registering conservative voters 15 months before Tuesday's election. It registered more than 30,000 voters statewide, many of them new, including nearly 7,000 in Clark County. The effort focused on conservatives, including voters registered as nonpartisan, Libertarian and even as Democrats, said insiders familiar with the program.
Then last month, a related entity, the Engage Nevada Action PAC, was created to ensure those newly registered voters actually cast ballots for conservative candidates. Sandoval's re-election campaign donated $125,000 to the PAC's get-out-the-vote effort in October alone.
This was a first for Nevada Republicans. Never before had the state seen a conservative group specifically formed to drive voter registration and get out the vote. It's something progressive groups have been doing for years,.
Chris Carr, president of Nevada Engage, said he began with one canvasser, but the outreach effort grew to 90 paid conservatives who went door-to-door and ran phone banks to register voters. Nevada Engage kept in contact with the voters to ensure they cast ballots on Election Day.
"That was the difference this year," Carr said. "There was a conservative third party engaging conservative voters, actually doing face-to-face interactions at the door. On top of the national (GOP) wave, that's a recipe for success for conservatives. The community model works. We tried to replicate what they (Democrats) were doing."
Meanwhile, Sandoval's New Nevada PAC spent $1.3 million, donating directly to GOP candidates such as Adam Laxalt for attorney general, as well as to the Nevada Jobs Coalition, which ran ads attacking Democrats running for the state Senate. The governor's PAC gave $425,000 to the coalition in October alone.
The Nevada Jobs Coalition spent $599,700 on TV ads on state-level races this year, paying for 442 spots, according to the Center for Public Integrity. The group targeted state Sen. Justin Jones, D-Las Vegas, in Senate District 9. He lost to Republican Becky Harris, throwing control of the Nevada Senate to the GOP with an 11-10 seat advantage.
SIDESTEPPING DYSFUNCTION
The Nevada Republican Party has been sidelined for a couple of years after a takeover by supporters of former U.S. Rep. Ron Paul, a Libertarian icon who twice ran for president. Sandoval's political operation has in effect replaced the state party's functions with the the governor setting a more moderate course.
Meanwhile, county-level party organizations in Clark County and around the state recruited volunteers to walk precincts and phone voters aligned with the GOP's values and issues.
"It's been a lot of rebuilding bridges," said Nick Phillips, the political director of the Clark County GOP, referring to internal rivalries that split the GOP into factions. "Having community buy-in is what it takes to win elections."
In two of the closest races Tuesday — for attorney general and for the 4th Congressional District — the Democratic candidates almost survived the GOP wave. But both of the Republican campaigns shifted resources at the last minute, after seeing early vote trends putting the GOP far in the lead.
In the attorney general's race, Democrat Ross Miller was winning Washoe County by 5,000 ballots in early voting, said Robert Uithoven, a top adviser to Adam Laxalt's Republican campaign. Laxalt knew Miller would win Clark County, and he was counting on the GOP-heavy rural vote to make up the difference. But he also needed to compete in Washoe.
During the final 72 hours before the election, Uithoven shifted get-out-the-vote efforts to Washoe, hiring canvassers to contact voters — 40,000 in Washoe alone and 80,000 statewide. As a result, Laxalt won Washoe on Election Day by 3,000 votes, although Miller still got more votes overall in both Washoe and Clark counties. In the end, Laxalt beat Miller by 4,868 votes statewide, or 46.21 percent to 45.31 percent.
"We knew we were bleeding Republicans in Washoe in the early voting, so we had to focus on the ground game there," Uithoven said. "I think it made all the difference in the world."
HARD WORK
Laxalt is the first candidate in modern times to win a statewide election while losing Clark and Washoe, the two most populous counties in Nevada, according to Uithoven. He said Laxalt ran his campaign as if he were running for sheriff in each of Nevada's 17 counties. In fact, he was endorsed by 15 sheriffs after meeting each one.
"He ran a typical Laxalt campaign — boots on the ground and hard work," Uithoven said, referring to Laxalt's grandfather, former Nevada Gov. and U.S. Sen. Paul Laxalt. "Adam got out to every ranch and rodeo, Elk club and Basque dinner house and worked it the old-fashioned way. To lose Washoe and Clark and win statewide is pretty amazing."
In the 4th Congressional District, freshman U.S. Rep. Steven Horsford, D-Nev., lost to Assemblyman Cresent Hardy, R-Mesquite, by 3,635 votes, or 48.53 percent to 45.75 percent. The district covers Democrat-rich northern Clark County and all or part of six rural counties, where Republicans prevail.
Hardy's campaign knew Horsford would win Clark County, so it focused on Nye County to make up the difference. In the end, Horsford won Clark by only 1,910 votes as many Democrats skipped the low-turnout election. Hardy more than made up the difference in Nye, winning 2,570 more votes than Horsford.
Greg Ferraro, an adviser to Sandoval, said several factors led to the GOP rout: Sandoval's popularity; the improved ground game; the national anti-Democratic mood; and the overwhelming rejection of ballot Question 3, the business margins tax. Sandoval opposed the measure, saying it would devastate small businesses and cost thousands of jobs. It lost with 78.75 percent voting no.
Ferraro added, however, that the GOP can't rest on its laurels because politics tends to run in cycles. The last time Republicans swept all top offices was in 2002, he noted, and he said he expects Democrats to fight back in 2016.
"Last night wasn't totally unique," he said of the GOP dominance. "Waves come and go."
Contact Laura Myers at lmyers@reviewjournal.com or 702-387-2919. Find her on Twitter: @lmyerslvrj.