Woman at center of brain death case dies in Reno
January 5, 2016 - 5:23 pm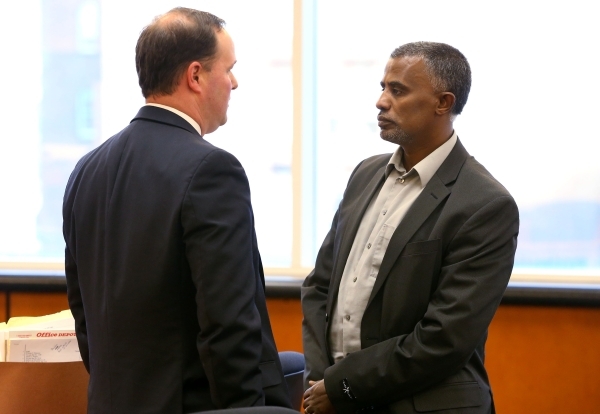 CARSON CITY — A Las Vegas woman who became the focus of a legal battle over whether doctors could remove her from life support has died, a lawyer for the family said Tuesday.
Aden Hailu died at 4:30 p.m. Monday at St. Mary's Regional Medical Center, where she had been kept on life support since spring, attorney David O'Mara said.
O'Mara said Hailu's father and guardian, Fanuel Gebreyes, was told his daughter died of heart failure.
"It's our understanding and Mr. Gebreyes was told she coded, her heart stopped and attempts to resuscitate her were obviously unsuccessful," O'Mara said.
Her case has been the center of a legal battle over what protocols are necessary before doctors declare someone brain dead.
Hailu, a University of Nevada, Reno student, went to the hospital April 1 with abdominal pain. Doctors said she suffered extremely low blood pressure and lack of oxygen to the brain during surgery. She never regained consciousness.
Within two weeks, three electroencephalogram tests, or EEGs, were conducted. All showed brain function. A doctor concluded she was not brain dead at the time but was "rapidly declining."
Dr. Aaron Heide, a neurologist who treated Hailu at the hospital, said her condition deteriorated by late May, and he declared her brain dead after she was unresponsive, lacked brain activity based on reflexes and eye movements and could not breathe on her own.
He said the test results unequivocally confirmed brain death, and doctors notified Hailu's father on June 2 that they intended to remove her from a ventilator and life support.
Gebreyes filed for an emergency temporary restraining order, leading to court hearings in the summer and an appeal to the Nevada Supreme Court.
In November, justices unanimously ruled that standards used by the hospital to make a determination of brain death might not satisfy state law and ordered the hospital to keep Hailu on life support. Justices ordered more hearings, and last week Washoe County Family Court Judge Frances Doherty ruled the hospital could perform more tests to try to detect brain wave activity.
The family also tried to find another facility and doctor to treat Hailu, although those efforts were unsuccessful.
O'Mara on Tuesday said he is unaware that any further testing was conducted.
St. Mary's spokeswoman Jamii Uboldi said the hospital would have no immediate comment, citing patient privacy laws and respect for the family.
O'Mara said his office and St. Mary's are "actively working together" to have an autopsy conducted.
Another hearing had been scheduled Jan. 22 before Doherty. O'Mara said it's too early to determine the next step in the legal process.
"Our No. 1 concern is to allow the family to grieve," he said.
Contact Sandra Chereb at schereb@reviewjournal.com or 775-687-3901. Find her on Twitter: @SandraChereb