4 challengers take aim at incumbent Wood in NLV Ward 3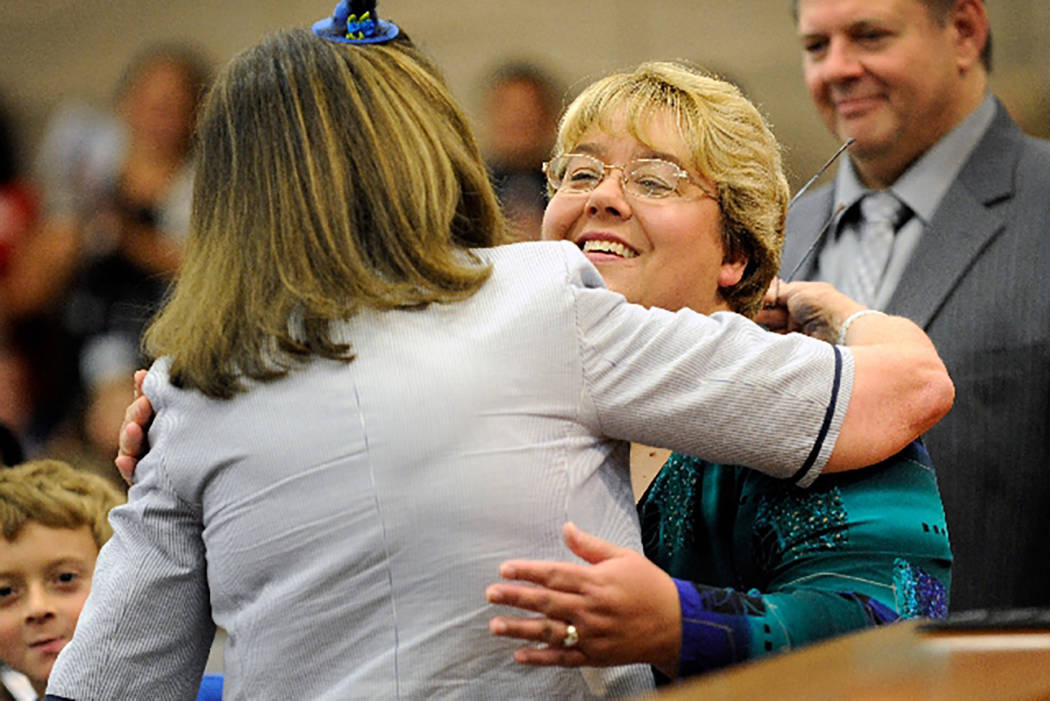 North Las Vegas City Councilwoman Anita Wood faces an uphill battle as she seeks a third consecutive term, with challenges from a former Clark County commissioner, a retired police lieutenant, a youth pastor and a political newcomer backed by the mayor.
The five candidates will duke it out in the April 4 primary election to represent Ward 3, which runs along the city's western edge and encompasses the Crossroads Towne Center, a Department of Motor Vehicles office and part of the Aliante master-planned housing community.
If a candidate fails to win by more than 50 percent, the top two vote-getters advance to the June 13 general election.
The candidates agree that rapidly growing housing developments at Ward 3's northern end must be tempered with improving older neighborhoods to the south, near Cheyenne Avenue.
More police officers, firefighters and city workers must be hired to address day-to-day quality-of-life issues, while libraries and recreation centers need to stay open longer, they said.
Nearly 62,000 people live in Ward 3, about 51,553 of whom are registered to vote, figures provided city officials show.
ANITA WOOD
Two years into Wood's first term, there was talk that the state was on the brink of taking over the cash-strapped city. The council pared down costs by laying off employees and outsourcing jobs, and is finally on the road to recovery, she said.
"I've sat here and I've seen North Las Vegas in the worst of times and helped her get through that difficult time," Wood said. "I'm running again to see her through the best of times now."
Among her accomplishments, Wood helped create a task force in 2014 to target squatters who move into empty houses. If she is re-elected, Wood said she wants to continue ridding the city of squatters, along with attracting new restaurants to North Las Vegas — including her personal favorite, Olive Garden.
Wood, who raised $51,000 last year in anticipation of running for a third term, faces a pair of serious challengers. Mayor John Lee, a longtime ally, has endorsed political newcomer Scott Black.
She also faces a tough battle from Tom Collins, a former state lawmaker who served 10 years on the Clark County Commission.
"People have the right to run," Wood said. "Right now, it will come down to the voters who know that we need someone with a proven track record, is scandal-fee and committed to doing this job full-time, and I am that person."
SCOTT BLACK
Black, a registered Republican who owns a graphic design company, is supported by Lee, a longtime Democrat.
Despite the contrasting political views, both men got to know each other by attending the same church. And, Black's campaign manager, Tom Letizia, has assisted with Lee's previous political races and is on the mayor's re-election supporters committee.
"We're putting party differences aside for the common good of building up North Las Vegas," Black said. "I think the mayor's support makes me a viable candidate, but it adds a measure of pressure to do a good job if I'm elected."
Lee said that he holds no grudges against Wood, adding that Black is "a young, intelligent man with a business background" and has "got the time to actually serve and put a lot of hours into the city."
Black said he wants to help attract large companies to develop open swaths of vacant land at the Apex Industrial Park on the north side of the city. He also wants to create "good-paying jobs" and find a way to pay for additional police officers, road improvements and fire stations.
"The city is on the right track with a lot of momentum, and I want to keep that going," Black said. "I don't want to be on the sidelines, I want to be a part of that success."
TOM COLLINS
Known as the "Cowboy Commissioner," Collins brings both political experience and personal baggage to the race for Ward 3.
Elected to the state Legislature as an assemblyman in 1992, Collins went on to serve 10 years on the Clark County Commission before stepping down in August 2015 "due to family matters."
He has also been convicted of disturbing the peace and reckless driving. He most recently pleaded no contest to driving under the influence in January 2016.
"I never claim to be perfect," Collins said. "But I always claim that I will work hard for you."
Shortly after leaving the County Commission, Collins repeatedly told supporters and media outlets that he planned to challenge Lee's mayoral re-election. Instead, he opted to run for the Ward 3 council seat because "my consideration of running for mayor made John more guarded toward me."
Collins, whose legal name is Clarence Weldon Collins Jr., said he had experience in getting parks and recreation centers built during his term on the county commission, representing a district that included Ward 3 and North Las Vegas' western end.
If elected, Collins said he would focus on adding crosswalks to the city's busiest intersections, expanding operating hours for recreation centers and repaving pockmarked roads.
"North Las Vegas is back on track to becoming a modern community," Collins said. "We need to make sure to get good-paying jobs and offer services for the community."
WILSON "WILL" CRESPO
As a police officer, Wilson Crespo spent his 25-year career patrolling the streets of North Las Vegas and rose through the ranks to become a lieutenant before retiring in 2015.
Crespo said he wants to find ways to fund upgrades for roads and parks, while also finding tax incentives for small businesses interested in moving to North Las Vegas.
The easiest way to hire additional police officers, Crespo said, is to reopen the North Las Vegas Jail. The city was in the midst of a budget crisis in 2012 when city officials struck a deal to send inmates to the Las Vegas Detention Center and close the jail.
"We have a good police department, but it could be better if we give them the resources that they need," said Crespo, who once served as vice president and treasurer for the union representing roughly 40 police lieutenant and sergeants in North Las Vegas.
"One of the biggest complaints I get is that people don't see enough police officers in Ward 3, and that makes them feel unsafe," Crespo said. "I know that when you bring crime down, businesses will want to move into your city."
ENDER AUSTIN III
As the youngest candidate, Ender Austin III, 31, said he wants to focus on providing opportunities for children living in North Las Vegas, finding ways to engage residents and attracting jobs to the city.
"The city has done a good job of coming back from the brink of insolvency, but we haven't done as much to help families improve their quality of life," said Austin, a youth pastor at Bethesda Church of God in Christ. "I haven't seen anything progressing as much as I'd like."
Although cities do not oversee school districts nor individual campuses, Austin said he would like to see education programs offered by the city's libraries and recreation centers, with expanded operating hours.
Austin also said he wants to work with the Regional Transportation Commission of Southern Nevada to bring additional bus lines into North Las Vegas, and "enhance engagement" with the city's representatives in county, state and federal government.
While a proponent of bringing additional companies into the city, Austin said the "process has to be holistic by focusing on how it will impact the community, not just making more money for business owners."
"I represent a voice not being heard as a young parent," Austin said. "I am a fresh face and willing to bring good ideas to City Hall, and I think that's vital."
Contact Art Marroquin at amarroquin@reviewjournal.com or 702-383-0336. Follow @AMarroquin_LV on Twitter.
NORTH LAS VEGAS CITY COUNCIL WARD 3
Anita Wood (incumbent)
Age: 53
Occupation: Housewife
Education: Bachelor's in comparative literature, Occidental College
Past political experience: Elected to North Las Vegas City Council in 2009. Also served on several city advisory boards.
Three priorities: Economic growth; eliminate the problem with squatters; continue the Junior Leadership partnership with local high schools.
Scott Black
Age: 46
Occupation: Owner of LogoZoo, a graphic design company.
Education: Master's in Business Administration from University of Phoenix.
Past political experience: First time running for elected office; 20-year leader with the Boy Scouts of America.
Three priorities: Attract companies to North Las Vegas; create good-paying jobs; increase public safety and public services.
Tom Collins
Age: 66
Occupation: Retired
Education: Attended some college classes, did not graduate.
Past political experience: Elected to the Nevada Legislature as an assemblyman in 1992, serving during five regular and four special sessions; elected to the Clark County Commission in 2005 and resigned in 2015.
Three priorities: Quality of life issues; public safety; safe neighborhoods.
Wilson "Will" Crespo
Age: 50
Occupation: Retired North Las Vegas Police Department lieutenant.
Education: Attended some college classes, but did not graduate.
Past political experience: First time running for elected office. Previously serves as vice-president and treasurer for the North Las Vegas Police Supervisors Association.
Three priorities: Hire more firefighters and police officers; quality of life issues; provide incentives to attract small business owners.
Ender Austin III
Age: 31
Occupation: Youth pastor at Bethesda Church of God in Christ.
Education: Attended some college classes, did not graduate.
Past political experience: First time running for elected office.
Three priorities: Education; community engagement; economic development.