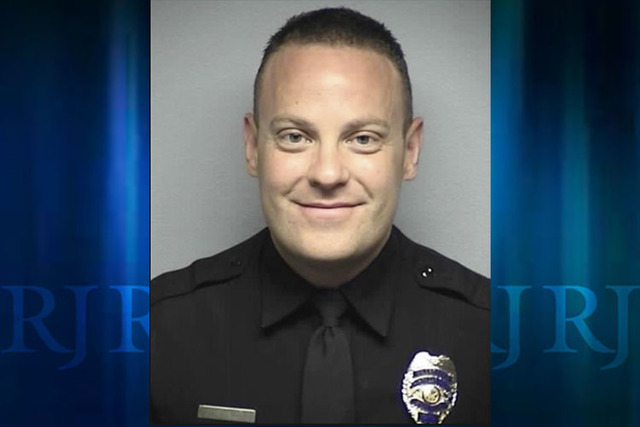 Less than a week since North Las Vegas police officer Chad Parque was killed in a wrong-way crash, the community continues to mourn and memorialize the detective.
A Wednesday fundraiser at Buffalo Wild Wings, 190 W. Craig Road, near Craig Ranch Regional Park, was a "complete success," North Las Vegas police spokeswoman Ann Cavaricci said Wednesday.
As of 8 p.m., the restaurant was still packed, she said, so the fundraiser — originally scheduled to run between 11 a.m. and 7 p.m. — was extended to 11 p.m. All money raised will be donated to Parque's family through the Injured Police Officers Fund.
Parque died early Saturday after suffering critical injuries in the Friday crash. The wreck happened about 2 p.m. on Martin Luther King Boulevard, just north of Carey Avenue, when a woman driving south in the northbound lanes hit Parque head-on.
Parque, 32, was a 10-year veteran of North Las Vegas police and was on duty at the time of the crash.
The woman who hit Parque was hospitalized at University Medical Center with injuries that were not life-threatening, and two people in a third car, which hit Parque's vehicle just after the initial collision, were not injured.
It's still unclear why the woman was driving on the wrong side of the road.
On Tuesday, a memorial was set up near North Las Vegas police headquarters, 2332 Las Vegas Blvd. North, by "officers who loved detective Parque," Cavaricci said.
The memorial reads, "Rest in peace hero, husband, father, son, friend, brother, confidant, guardian." Since it was created, fellow officers and residents throughout the valley have dropped off flowers, stuffed animals and cards for Parque's family.
A memorial has been created to honor Det Chad Parque. Those wishing to pay their respects may do so at the #NLVPD, 2332 N. Las Vegas Blvd. pic.twitter.com/1v3tAVTvd7

— NLVPD (@NLVPD) January 11, 2017
On Monday, just two days after Parque died, Cecilia Oleson, 38, bought a group of four North Las Vegas officers lunch in an attempt to help in her own way. The gesture was noticed by Facebook page "America Going Blue," which often posts photos and stories about law enforcement throughout the country, and as of Wednesday the post had been shared through the page more than 2,000 times.
"We took care of them, absolutely," said Oleson, who manages the Millside Restaurant and Tavern at 5710 Losee Road, where she said North Las Vegas officers often eat lunch and dinner. Oleson said she'd seen Parque stop by for meals at least once a week, too.
When the officers came in to eat Monday, "There was a big difference," Oleson said. They seemed "somber," and were "definitely mourning him." So Oleson gave them a note instead of a check once they finished their meal.
"I am so sorry for the loss of detective Parque," the note read. "I know this doesn't change anything, but I wanted to buy the 4 of you lunch as my sincere thanks for putting your lives on the line for our safety."
Oleson said the four officers were "very gracious," adding that they also "tipped the server appropriately."
"Buying them lunch doesn't make up for what they lost; that's what makes me feel so horrible about this," she said. "I'm just grateful I was able to try and make their day a little bit."
Funeral services for Parque will be held Tuesday.
Contact Rachel Crosby at rcrosby@reviewjournal.com or 702-387-5290. Follow @rachelacrosby on Twitter.