Company donates $15K for protect-bicyclists billboard
December 1, 2017 - 12:46 pm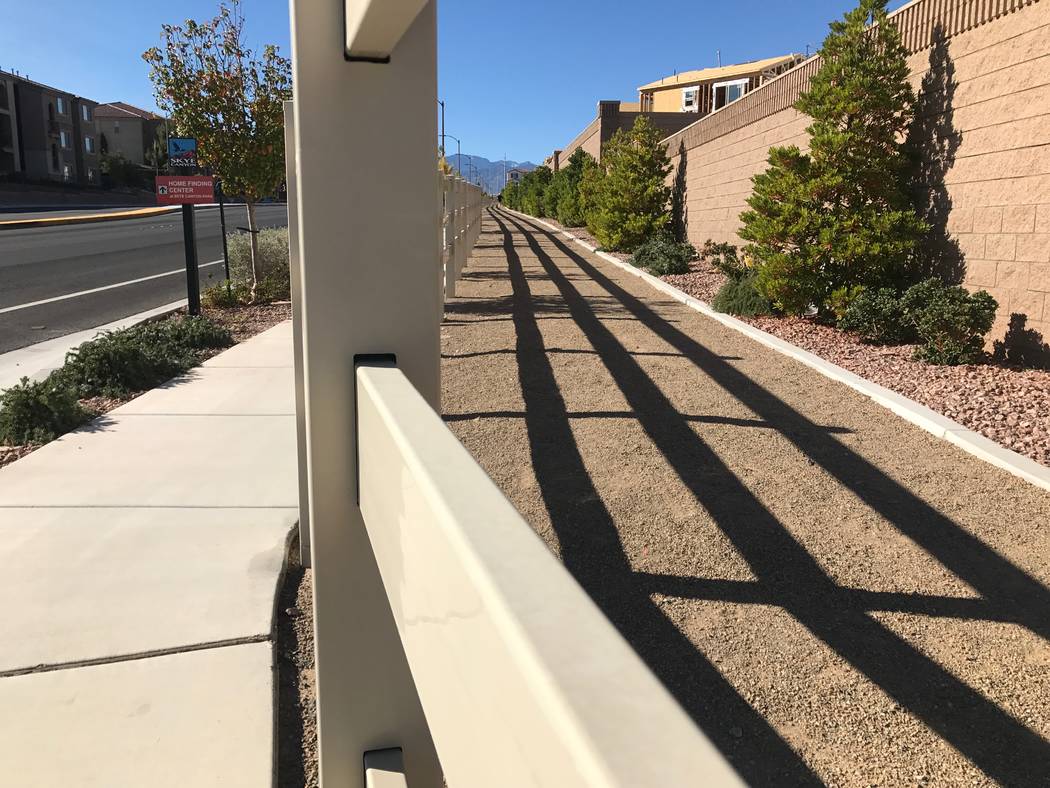 Olympia Cos. took measures to protect pedestrians and cyclists when designing the Skye Canyon master-planned community, said Olympia Vice President Chris Armstrong.
The development company implemented sidewalks that are detached from the street and made the sidewalks up to 10 feet wide in some areas, depending on the size of the road, Armstrong said. It also installed bike lanes along all major roads and placed trails throughout the community.
Now the company is teaming with the nonprofit Southern Nevada Bicycling Coalition, which aims to increase bicycle use. Olympia Cos. donated $15,000 to the organization and is allowing it to use one of Olympia's billboards — at Interstate 15 south near St. Rose Parkway — for one month to promote the More Space! Keep it Safe, Nevada initiative.
The initiative launched in September, with the help of a grant from the Nevada Department of Transportation, to educate drivers about the three-feet passing law in Nevada. The billboard is expected to reach 2 million drivers in one month, coalition president and founder Keely Brooks said.
Armstrong presented a check to Brooks on Nov. 28 at the Skye Canyon center.
Brooks said the funds will be used to purchase additional billboards near major highways and to put signs with the logo for the initiative on 10 taxicabs.
NDOT put up billboards throughout the valley when the three-feet passing law (NRS 484B.270) was enacted in 2011 but hasn't continued doing so, Brooks said.
As of Nov. 14, five cyclists had been killed this year in Clark County, Brooks said. The coalition receives updates from the Las Vegas Metropolitan Police Department. The average since 2000 has been four per year, she said.
"This is the type of thing that you need to continually be voicing and reminding people of," she said.
What the city is doing
North Las Vegas City Councilman Scott Black, who has been a road cyclist and mountain biker for 24 years, said the city is trying to do more about the issue.
This summer North Las Vegas became the first city in Clark County to adopt a comprehensive Complete Streets policy that includes the 10 elements recommended by the National Complete Streets Coalition. The city used a $270,000 grant from the Southern Nevada Health District to create striping for bike lanes and to add bike lanes on Bruce Street from Owens Avenue to Las Vegas Boulevard and on Owens Avenue from Civic Center Drive to Pecos Road, city traffic engineer Michael Hudgeons said.
The city awaits approval from the Regional Traffic Commission to receive funding to create a pedestrian and bike trail parallel with the 215 Beltway north from Decatur Boulevard and Aliante Parkway, Black said. Currently, people can walk or ride a bicycle from Alexander to Russell roads in a designated lane, but it doesn't extend north of Alexander Road. Eventually, it should go all the way to I-215, he said.
Contact Kailyn Brown at kbrown@viewnews.com or 702-387-5233. Follow @kailynhype on Twitter.
Rules for drivers
When passing a bicyclist, motorists must:
Move into an adjacent lane to the left if possible. If not, they must pass with at least 3 feet of clearance between their car and the bicycle. Safe passing is the driver's responsibility.
Yield to cyclists at intersections as they would other vehicles and pedestrians
Not drive or park in designated bicycle lanes or paths unless turning or in an emergency
Extend courtesy and care to inexperienced riders, especially children
Nevada Department of Motor Vehicles