Law allows North Las Vegas pot dispensaries to stay open 24/7
August 23, 2017 - 11:12 am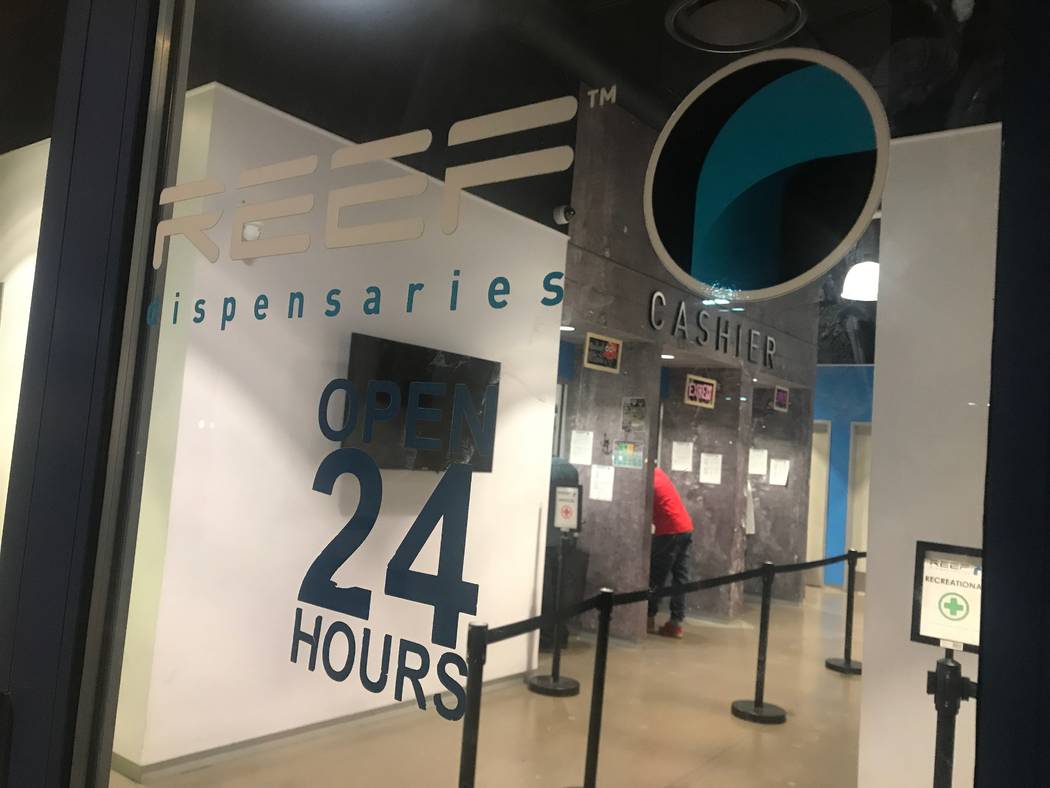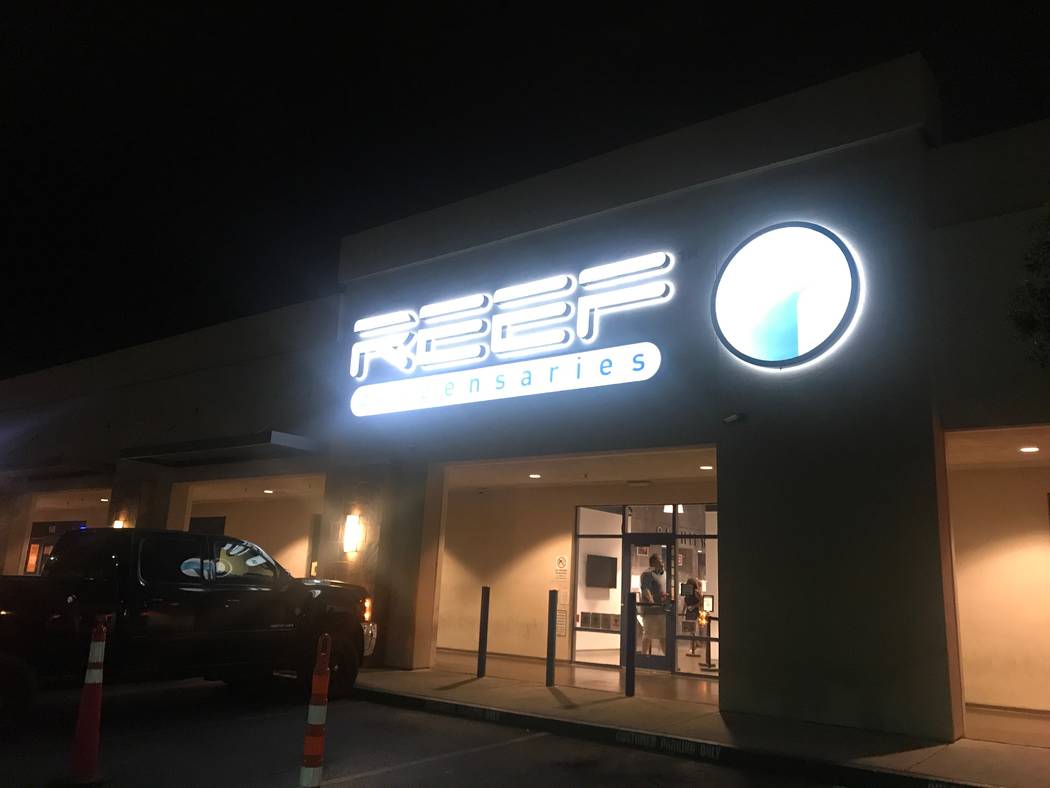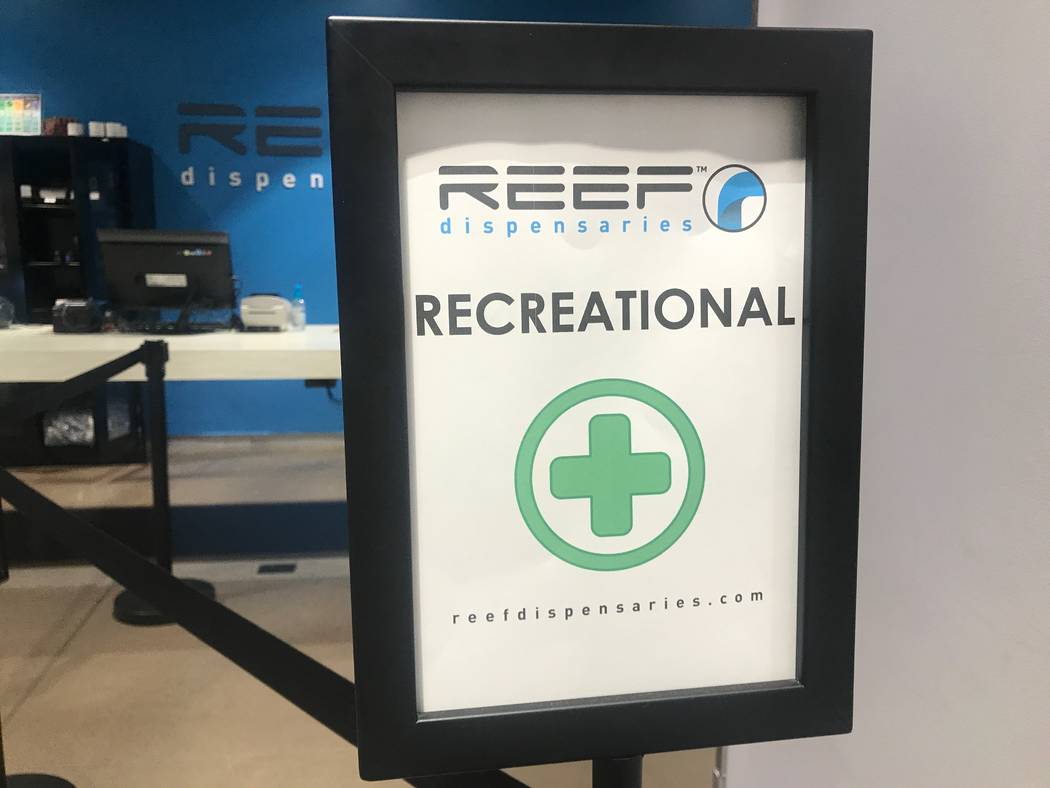 Las Vegas is known as a 24-hour town, but North Las Vegas is the only Clark County municipality that offers 24/7 marijuana sales.
Local laws require dispensaries in Las Vegas and unincorporated Clark County to close from 3-7 a.m., and those in Henderson to close from 8 p.m.-8 a.m. When the North Las Vegas City Council approved allowing medical marijuana sales in October 2014, it left the topic of hours to the department now known as Land Development and Community Services.
"We haven't had any reason to establish hours," city planning manager Marc Jordan said. "(And) we haven't had any concerns come down from City Council or citizen complaints that I am aware of that would warrant us to revisit it."
Being open all night has given Reef Dispensaries a leg up on the competition, CEO Matthew Morgan said.
"It's thriving," he said. "Three in the morning to 7 a.m. is a huge window for people who enjoy the nightlife in Las Vegas and are looking for something to settle down."
Late-night scene
About 3 a.m. on a recent Tuesday, a steady flow of customers visited Reef Dispensaries' North Las Vegas location. Three "budtenders" worked at the counter, taking orders. The graveyard shift is from 11:30 p.m.-8:30 a.m.
Medical and recreational marijuana customers use separate lines at the dispensary. Those who have medical marijuana cards have priority if there are long lines, graveyard-shift assistant manager Miles Langston said.
As customers entered, an armed security guard either opened the door for them or buzzed them in. Tryke Cos. marketing content manager Mike Pizzo said the business has armed security guards because it is a high-risk business; dispensaries deal only in cash because banks are wary of running afoul of federal law by dealing with them.
Some late-night customers were dressed in lounge clothes, while one man wore a construction uniform with bright long sleeves and work boots. A man with a cane used the medical marijuana express line, while a couple of women wore dresses.
"After the club, we need our indica so we can go to sleep," said 32-year-old Viviana Gallego of North Las Vegas.
"We get it to relax our muscles from dancing," added 26-year-old Kiara Santoyo of North Las Vegas.
Gallego said she has had a medical marijuana card since January, so she receives priority if there's a line at Reef. She said recreational sales, which began in July in Nevada, have made the lines longer.
The dispensary appears most busy when people get off work about 5-6 p.m., Santoyo said. The wait time was five-10 minutes even shortly after 3 a.m.
A rush came about 3:40 a.m., when there were 10-15 people in the store. A few came in small groups and ordered together.
The North Las Vegas location sees 300-400 people between 3 and 7 a.m., Langston said. Morgan said that he didn't know North Las Vegas would be a 24/7 operation prior to opening the store.
"We were very happy about it … I just felt like they were very pro-cannabis and were easy to deal with," he said of North Las Vegas leaders.
Reef Dispensaries has a flagship location near Sammy Davis Jr. Drive and Spring Mountain Road, and when it closes, employees direct people to the North Las Vegas store, Morgan said.
"Generally they are OK about it because they just want the cannabis," he said. "It's a $10 Uber ride."
Morgan said he hopes the flagship location eventually will be able to stay open 24/7.
"I think that if we could get this thing 24 hours, it would be very beneficial and to the state of Nevada tax-wise," he said.
Essence Cannabis Dispensary has a Henderson location that is open from 8 a.m.-8 p.m., one in the southwest (open 10 a.m.-1 a.m.) and one on the Strip (open 10 a.m.- midnight). CEO Armen Yemenidjian said he's still experimenting with the hours.
"We would definitely consider opening a North Las Vegas location, but it wouldn't just be because of the 24/7 (factor) …" he said.
Back at Reef, a few people passed around a printed menu. When customers left, security guards gave them daps and said goodbye. When one man left, he said with a wide grin to the guard, "Now, let's get this party started."
Contact Kailyn Brown at kbrown@viewnews.com or 702-387-5233. Follow @kailynhype on Twitter.
North Las Vegas dispensaries
There are four in North Las Vegas: Reef, Thrive Cannabis Marketplace, Jenny's Dispensary and Canopi.
Reef Dispensaries
Where: 1366 W. Cheyenne Ave., Suites 110 and 111
Hours: 24/7
Contact: 702-410-8032
Thrive Cannabis Marketplace
Where: 2755 W. Cheyenne Ave., Suite 103
Hours: 24/7
Contact: 702-776-4144 or thrivenevada.com
Jenny's Dispensary
Where: 5530 N. Decatur Blvd., Suite 115
Hours: 11 a.m.-8 p.m.
Contact: 702-718-0420 or jennysdispensary.com
Canopi Cannabis Dispensaries
Where: 2113 Las Vegas Blvd. North
Hours: 10 a.m.-2 a.m.
Contact: 702-420-2113 or canopi.com