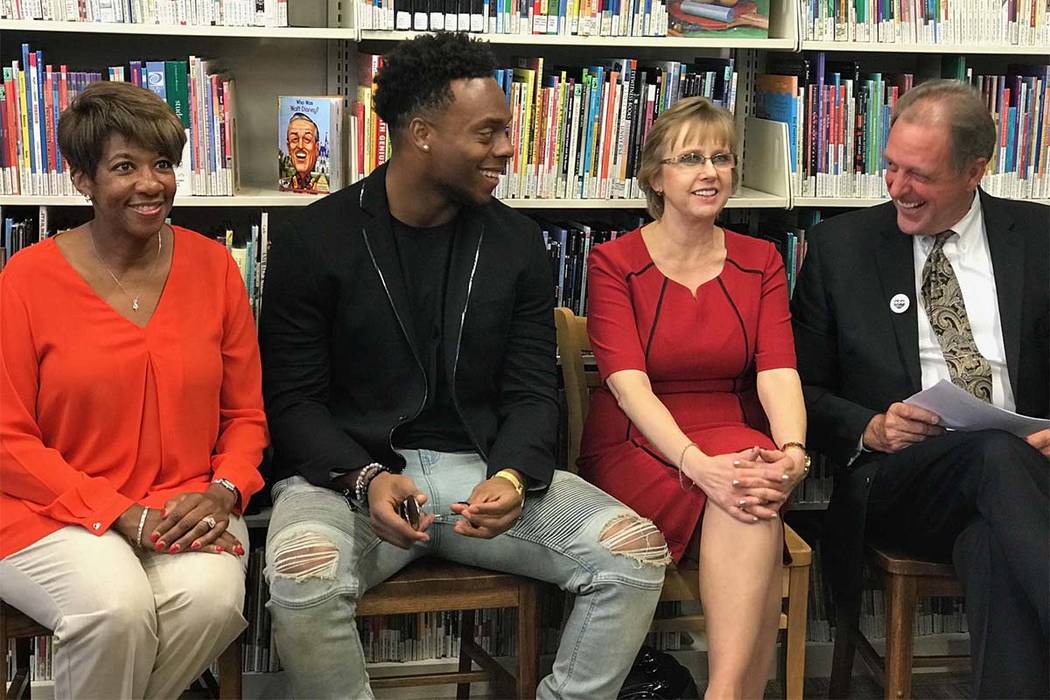 On the football field, Denver Broncos linebacker Brandon Marshall's job is to read the opposing team's offensive line and position himself for a tackle.
On Tuesday, the former North Las Vegas resident worked to promote a different kind of reading. He donated $5,000 to the city's library district for computers that will help teach literacy skills and bolster workforce development.
"Being a son of this city, I just love it with all my heart," Marshall, 28, said during a ceremony held in the children's section of the library on the first floor of North Las Vegas City Hall.
"Anything I could do to give back in an honor for me," Marshall said. "I'm happy for the opportunity and I'm happy to see everybody's smiles."
The city's library system needs about 30 laptop computers for a series of classes geared toward childhood literacy, workforce training and online coding, said Forrest Lewis, director of the North Las Vegas Library District. Marshall's donation will help pay for about 15 to 20 new computers.
"We have a lot of different things we wanted to do at the library to complement all of the other services we have, but we didn't really the system to do that," Lewis said. "This will really open the door for us."
Marshall recently launched the Williams-Marshall Cares Leadership Program to offer youth-oriented football training sessions in Nevada, similar to a training camp he held in June at Canyon Springs High School.
Marshall, a graduate of Cimarron-Memorial High School in Las Vegas, played college ball at the University of Nevada, Reno. He was drafted by the NFL in 2012 and played one season with the Jacksonville Jaguars before signing with the Broncos.
"The people who live here are just down-to-earth, good people," North Las Vegas Mayor John Lee said to Marshall. "For you to give some money to these people to allow them to better their lives, I can't think of anything more noble for a North Las Vegas residents to do."
Contact Art Marroquin at amarroquin@reviewjournal.com or 702-383-0336. Find @AMarroquin_LV on Twitter.