South Africa native spreads love of rugby in Las Vegas area
December 18, 2017 - 4:48 pm
Updated December 20, 2017 - 11:18 am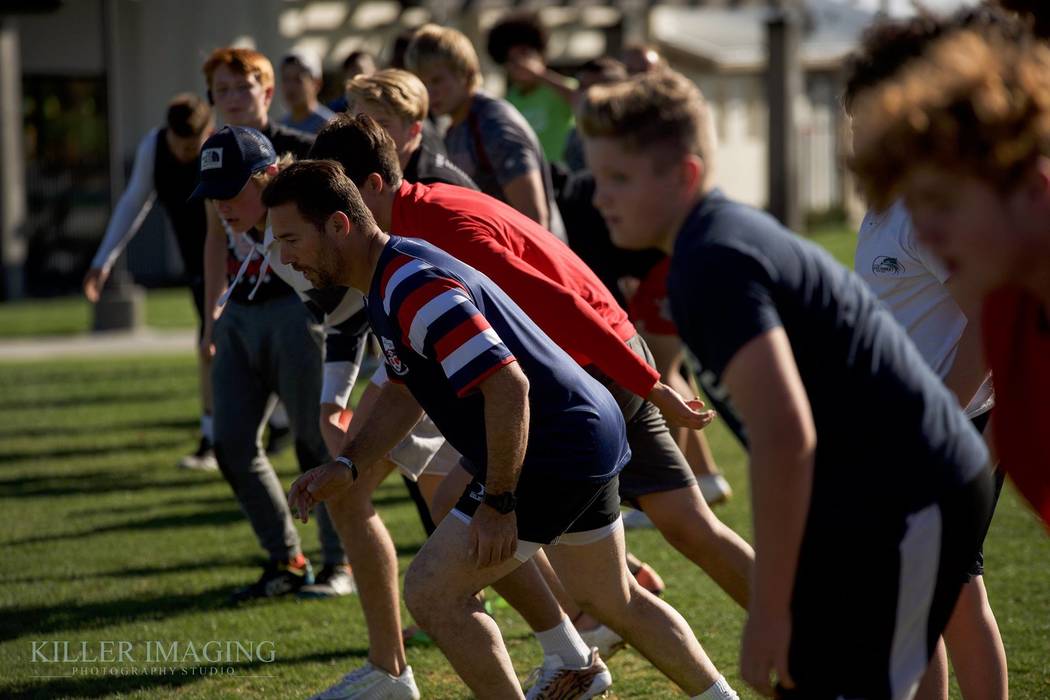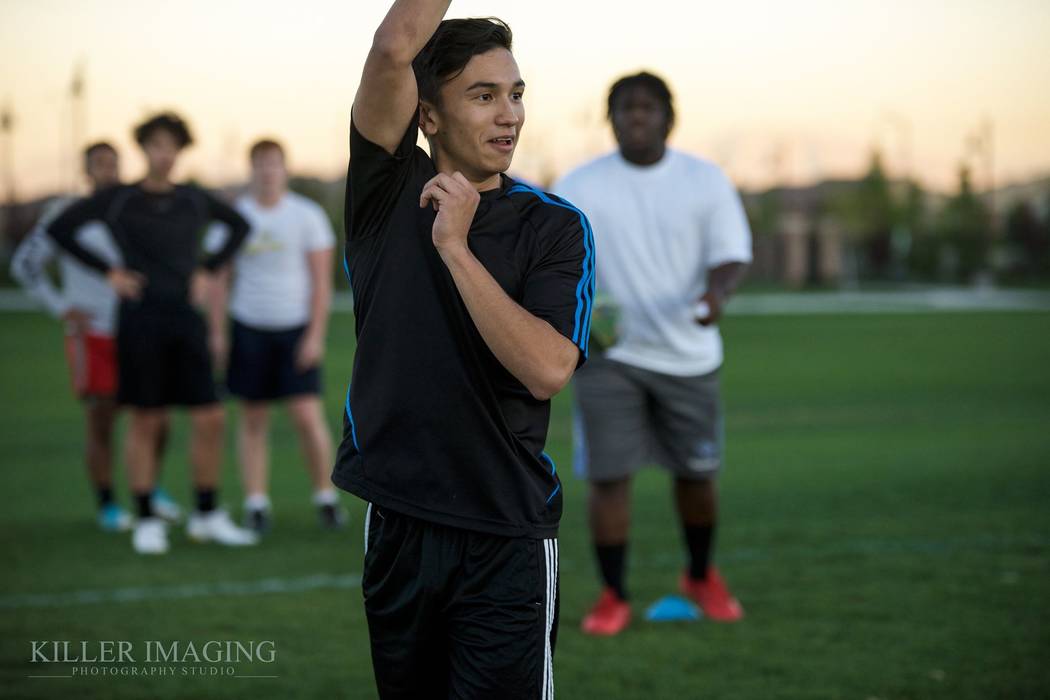 Leonard Nell grew up playing rugby in Johannesburg, so he thought little of playing it with his two sons in his northwest valley neighborhood. For other children, though, it was quite a surprise.
"It would bring all the kids (to the park) and they would say, 'What's this? What's this funny ball?'" Nell said. "I introduced it to all of them, and they fell in love with it."
Nell, who has lived in Las Vegas since 1999, taught children in his neighborhood for more than a decade before starting a youth rugby club in 2014. He set out to make it different from another local club and named the team, which includes U14 (under age 14) and U18 (under age 18) players, the Black Hawks. It is one of two official teams — the other is the Las Vegas Rugby Academy — that compete regularly.
Nell invited girls and boys who used to play in his neighborhood and contacted high-schoolers at Shadow Ridge, Arbor View and Centennial Hills high schools, he said. The team has about 35 players and is in its third season, which runs from preseason in September through June. The Blawk Hawks practice at Skye Canyon Park, one of the few fields in the valley with permanent poles needed for rugby, he said.
Because there are only a couple of youth rugby teams in the area, Nell contacts teams in other states and countries to schedule games. They've played teams from Austrailia, California, Arizona and Utah, he said. The Black Hawks are two-time defending state champions for the Nevada Youth Rugby Championship, Nell said.
Mason Bertsch, 17, used to play with Nell at the park. The Northwest Career and Technical Academy senior is the team's captain and has been playing with the Black Hawks since they started.
"I played soccer, basketball and football, (but rugby) is just really fun," he said. "I love it because it's fast-paced, going head to head against someone. (And) it's a team sport. Everyone touches the ball, and everyone contributes to a win. There's equal importance."
Nathan Short, 17, a senior at Arbor View, said he heard about the team from Nell's son. He joined the team with his older brother Devin, who now plays for the USA Falcons national team. Nathan called joining the team the best decision he has made.
"Coach Leonard is an amazing coach. He's very personal with (us) and he pays attention to each individual player as if he's his own kid. He really has a caring heart, but at the same time, he'll make you run laps," Nathan said.
Bobbie Wright, 17, a junior at Shadow Ridge, used to play rugby with Nell in their neighborhood. She said she joined the team because Nell said she looked like a rugby player. She was the first of four girls to join the team, she said.
"At the first practice I was super nervous because I hadn't played rugby before, but as time went on it was just normal with me being the only girl," she said. "All the guys were super cool about me being here when I was the only girl, and I think that played a big part in me (continuing to play on the team)."
Wright said she asked several girls on her high school's flag football team to join the Black Hawks and is working to get more to join so they can play in a game; they don't have enough players yet, she said. The girls team typically practices with the U14 junior team, she said.
Nell said that he thinks girls are intially intimidated by the sport and hopes to change that perception.
"A lot of them think there's no pads, its dangerous, but it's actually safer than football because they don't have the false sense of security with the helmets and pads, so now they have to be more careful. … I teach them techniques on how to tackle and how to be tackled," he said.
Nell, who plays rugby with an adult team known as Las Vegas Irish RFC, said he also has received interest in starting a men's rugby club, which he is calling the Red Hawks.
For more information about the Blawk Hawks youth team, visit blackhawksrfc.com.
Contact Kailyn Brown at kbrown@viewnews.com or 702-387-5233. Follow @kailynhype on Twitter.
Las Vegas Black Hawks rugby club
Social media: facebook.com/blackhawksrfc
Contact: 702-409-8955 and blackhawksrfc.com
How to play
Rugby involves two teams, each with 15 players. Team can carry, pass or kick the oval-shaped ball to the end zone to score points. There are four ways to score: a try (touching the ball down in the opponent's in-goal area or its goal line, which earns five points and the right to attempt a conversion kick), a conversion kick (worth an additional two points), a penalty kick (worth three points) or a dropped goal (occurs when the player drops the ball on the ground, then kicks it just as it bounces for three points).
Players can only pass the ball backwards and laterally.
Sources: princetonacrugby.com, deadspin.com