Summerlin student to gift statue to Tule Springs group
November 7, 2017 - 12:55 pm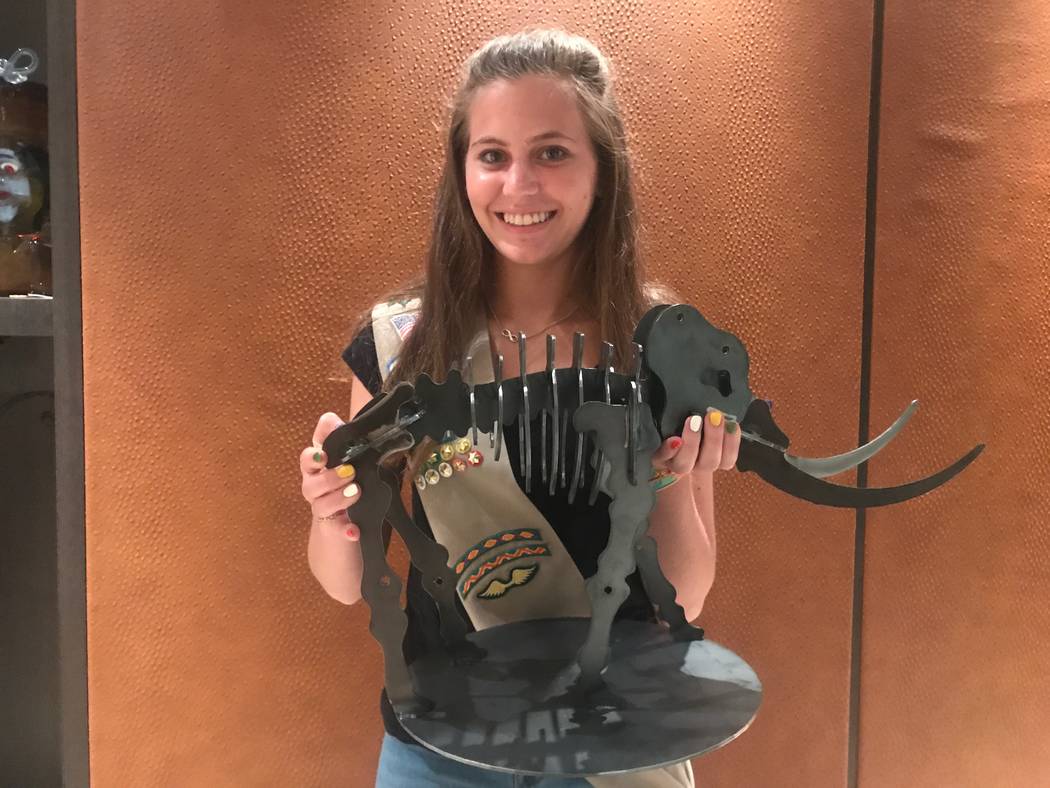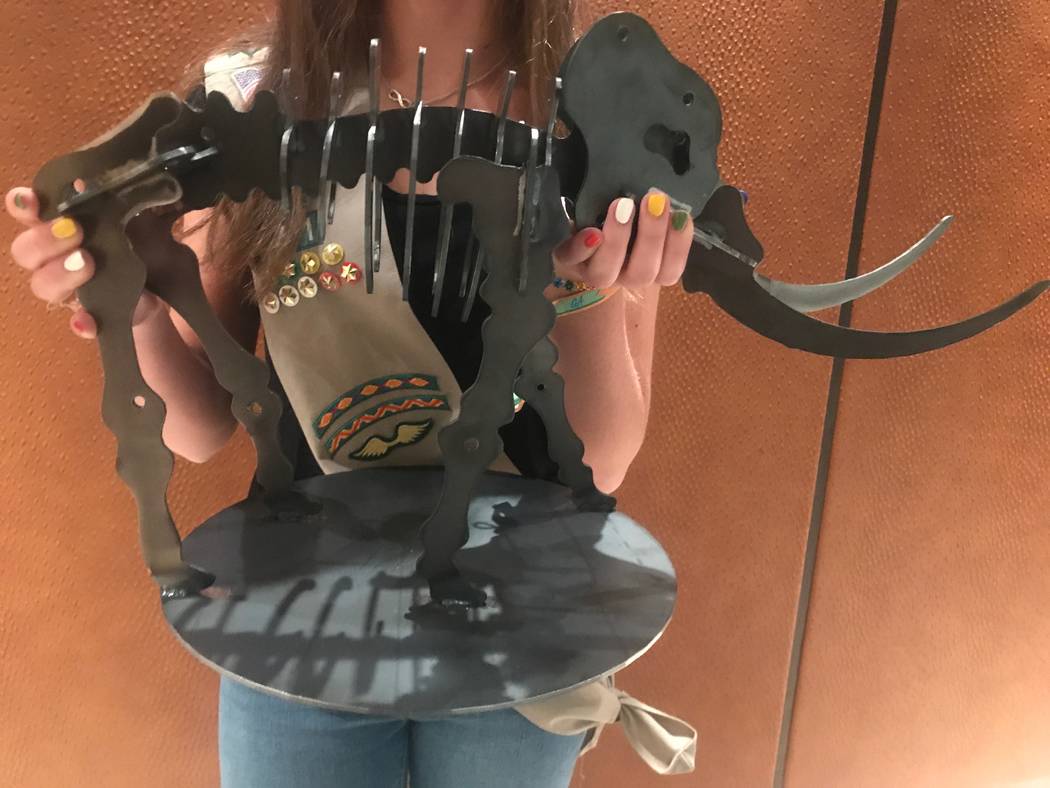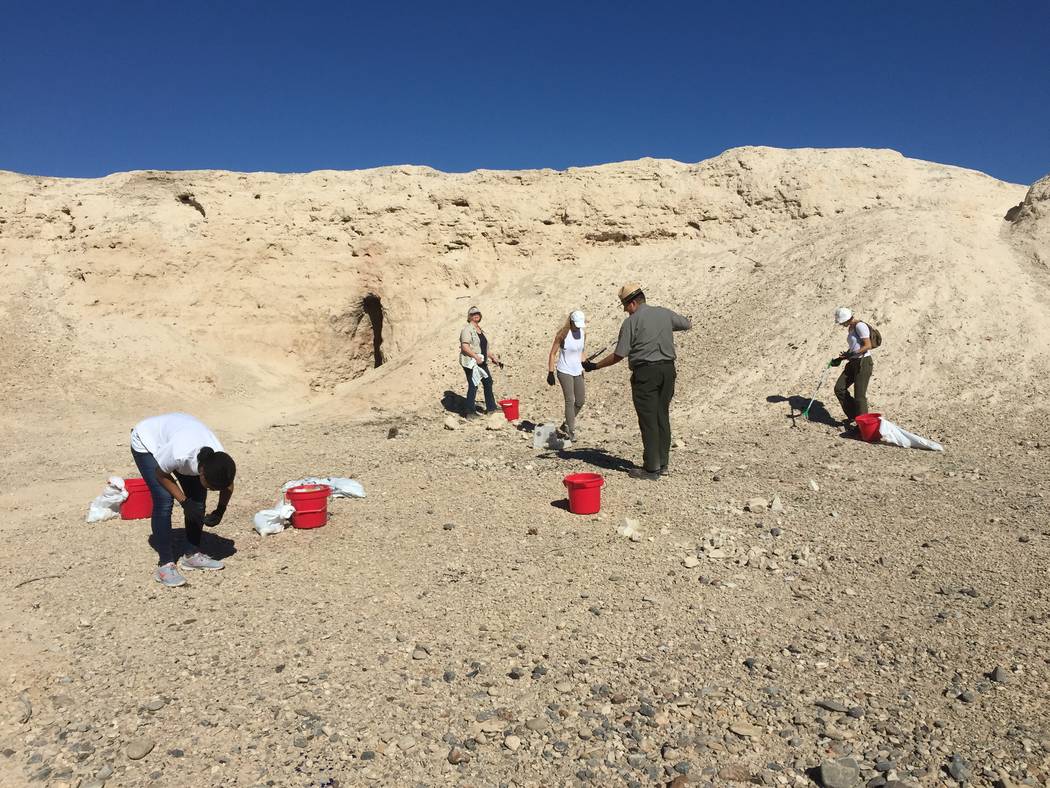 Tule Springs Fossil Beds National Monument may soon receive a life-size mammoth statue.
Seventeen-year-old Tahoe Mack of Summerlin is designing what she thinks will be a 16-foot-tall statue, with the help of mentors and artists Luis Varela-Rico and Joel Spencer.
The statue, which will be donated to the Protectors of Tule Springs organization, will be made with recycled metal that has been dumped at the monument illegally. Materials may include car parts and bullet casings. Mack said she chose a Columbian mammoth, whose fossils have been discovered at Tule Springs, because they are "huge but also gentle creatures."
Mack, a junior at The Meadows School, said her goal is to have the statue placed at a Tule Springs entry, which is not yet designed. She's working with the city of North Las Vegas on a location, she said. Mack also is fundraising and seeking corporate donations for the project, which she expects to cost about $100,000.
Mack, who has been interested in art since sixth grade, said that she came up with the idea after a POTS representative, Sherri Grotheer, gave a presentation about the monument. Mack had been unaware of the monument's existence.
"I saw Tule Springs, and I was like, 'There's no way that I'm not getting involved with this new national park," she said. "It's like a little hidden treasure."
Mack, a Girl Scout for more than 10 years, said she took on the project to fulfill her Girl Scout Gold Award, the ogranization's highest achievement. The award requires participants to develop a project that impacts the areas of STEM, education, agriculture or medicine on a local, national or global level.
The statue will provide visitors with education about the monument, Mack said.
"It's all about what's under the surface when you go to Tule Springs," she said. "So like on the outside it's all covered in trash. It kind of looks like a wasteland; but in reality people are digging under the surface and working really hard to make this park a park.
"(I want to show that) when you throw something away, it stays. It doesn't just go away."
Grotheer, who also was a Girl Scout and a troop leader, said the statue will bring more attention to the national monument.
"What I love about (the sculpture) is that it incorporates the environmental messages about what was almost lost through the abuse of prior generations; (trash) is now creating this amazing and iconic sculpture," said Grotheer, a POTS board member and fundraising chair.
"In our efforts to protect the resources out there, public education is key. So anything like this sculpture that draws attention (is beneficial), and we can use it as a teaching tool."
Two other Girl Scouts in Mack's troop are collaborating with POTS for their Gold Award. Grotheer has been mentoring each of them for nearly two years.
Mirrorajah Metcalfe, 16 and a junior at Faith Lutheran Middle School and High School, received her award in May after helping the organization create an educational video about Tule Springs for PBS. She also helped organize cleanups at the park and helped develop the Mammoth Penny Push through the Clark County School District, which raised more than $40,000 in two years. Grotheer said that the Mammoth Penny Push was the most successful program that provided funds for the monument.
Metcalfe said she will continue working with POTS even beyond her award requirements.
"I think (Tule Springs) is very important not only for the history but for people who live here to become engaged in the community," she said.
Dani Mason, 17 and a junior at the The Meadows School, is working on a project to provide marketing materials that POTS can use to raise money to hire employees — it is currently a volunteer effort — and to take care of the monument.
"I'm passionate about Tule Springs because it's so unique," she said. "It allows you to get in touch with nature in such a unique way. You feel like you're a part of something much bigger than yourself and much bigger than your community."
Contact Kailyn Brown at kbrown@viewnews.com or 702-387-5233. Follow @kailynhype on Twitter.
How to help
To donate to Tahoe Mack's project or assist with any Protectors of Tule Springs project, contact the group at tulespringslv.com.