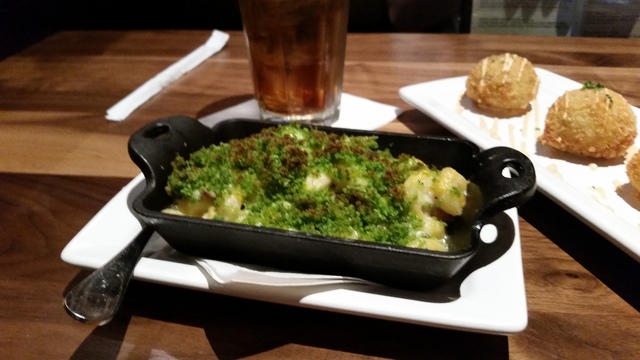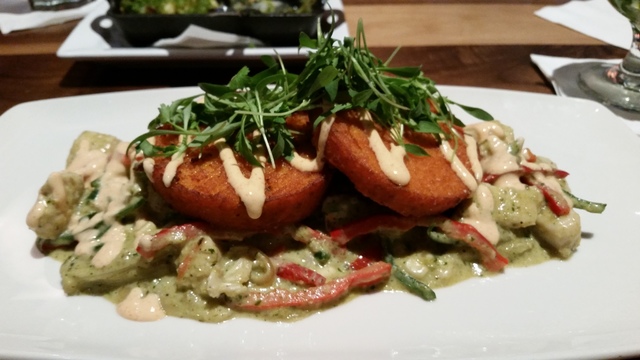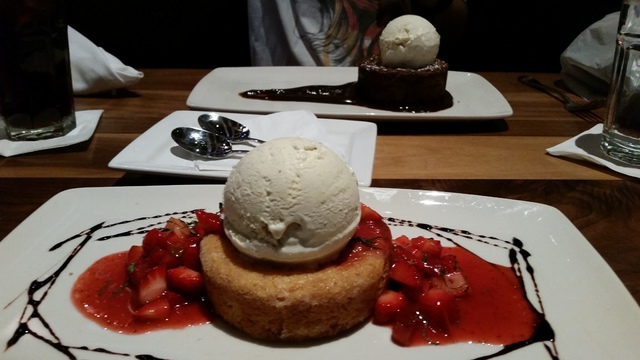 Lazy Dog Restaurant & Bar sits at the north end of Downtown Summerlin, 1725 Festival Plaza Drive.
The interior has a mountain lodge feel with heavy beams, stonework and metal accents. A sculpture of a dog — made of wrenches, locks and pliers — stands guard behind the hostess station.
The bar has its own area with wide-screen TVs. Seating is both booth and table. The stereo system was playing soft rock when View arrived.
Jake Osterkamp, general manager, said seasonal foods "keep the menu fresh. That might mean lamb shank or a stroganoff when winter comes, or (lighter fare) complemented by sangria for the summer."
Orders are made from scratch, and chefs are open to adding spice.
The tuna was served with a sauce that had a subtle kick, no doubt from the Indian curry mixed with coconut. The walnut chicken salad sandwich ($9.75) had that smack-your-lips quality. It included golden raisins, red onion, lettuce, celery and curry mayo on multigrain wheat bread and was packed so thick, one half was enough for a meal. The burger, done medium rare, was $10.95, and the side of French fries were crispy with their own subtle flavor.
Other menu items include barbecue pulled pork and grilled portobello mushroom sandwiches, Caesar chicken, strawberry field and spicy Thai chicken salads, as well as small bites such as turkey meatballs and chicken lettuce wraps.
Dogs are allowed in the patio dining area. Water bowls for Fido are free, and the menu includes bones for dogs.
Contact Jan Hogan at jhogan@reviewjournal.com or 702-387-2949.
Lazy Dog Restaurant & Bar
Where: 1725 Festival Plaza Drive
Hours: 11 a.m.-midnight weekdays; 10 a.m.-midnight Saturdays; 9 a.m.-midnight Sundays
Information: 702-727-4784 or lazydogrestaurants.com
Social media: facebook.com/LazyDogRestaurants/
1725 Festival Plaza Drive