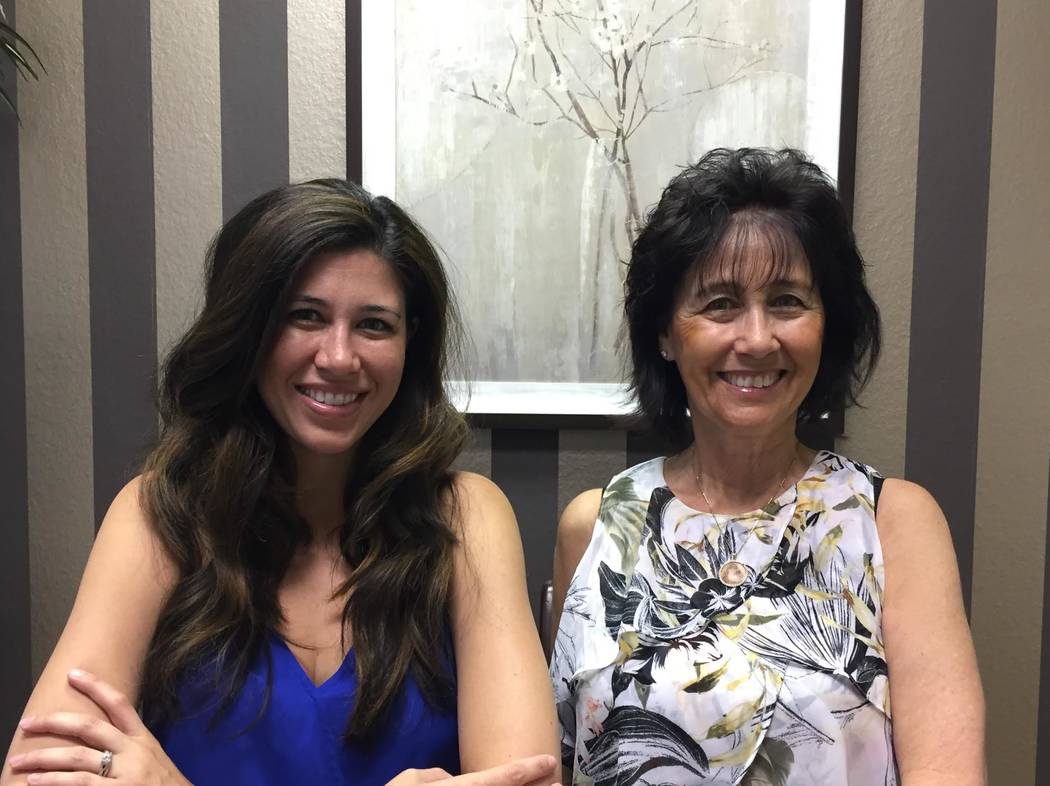 Some children are so fascinated by their parents' careers that they decide to follow in their footsteps.
Ishi Kunin and her daughter, Shoshana Kunin-Leavitt, are lawyers at the Kunin Law Group. Both Summerlin-area residents work in family law, with Ishi dealing with divorce cases and Shoshana specializing in adoption services.
Shoshana, 30, spent time there after school each day growing up. It gave her a sense of what her mother's career involved and what its demands were.
So, as a child, how much interest did she show in becoming a lawyer?
"Absolutely none," Ishi said, laughing.
But as she grew, Shoshana demonstrated that she'd make a good lawyer.
"She was an articulate child," Ishi said. "… I had rules. There were times when she'd (disagree with them), state her case and get me to change my position because she was rational."
It was in high school that Shoshana decided to follow pursue the same profession as her mother . Once in college, Shoshana did a summer internship at her mother's practice.
"The other attorneys did not want to assign me anything, and I was begging for work," Shoshana said. "I don't know if they saw me as the boss' daughter or what, but that's something I saw, being treated differently," Shoshana said. "I had to overcome that."
She earned her degree at California Western School of Law in San Diego in 2009. Shoshana spent one semester in the Czech Republic. After graduating college, she was a personal injury attorney for Richard Harris Law Firm before joining her mother's firm in 2011.
Ishi takes a step-back approach to mentoring, saying she's more apt to let her daughter learn for herself and not jump in to save her.
What does Shoshana like about working with her mother?
"I'm not afraid to ask a stupid question of my boss, which might be the case somewhere else," she said.
The law firm is again seeing children. Shoshana's two girls, ages 2 and 4, have a separate area down the hall where a nanny oversees them. Mom and Grandma will pop in regularly for hugs.
Like father, like son
Henderson resident Steven Hrustyk, 47, began working for Station Casinos as an engineer 12 years ago. He became the director of facilities for Fiesta Rancho and Texas Station about 1½ years ago. His son, Jesse, 27, is a porter with internal maintenance at Sunset Station.
"Ever since he was a child, he's always been interested in everything I did," Steven said. "Whether it was working on car outside or anything, Jesse was always there wondering what I was doing. … It's neat for me because he was always looking up to me. It's almost like being a superhero."
When Jesse was dissatisfied with his job in a grocery store, he asked his father if there were any openings at Stations. Steven looked into it and told his son about the job at Sunset Station. Jesse was hired in 2013 and cornered Dad for information right away.
"Knowing he'd been a porter, I didn't really know what the job entailed until I started asking my dad more questions," Jesse said. "He always says he has a mental map of how to get things done, and I always thought that was the neatest thing."
His father advised him on what to expect and the situations he'd likely encounter.
"Mostly, I told him about safety," Steven said. "It's a very big concern of ours."
Jesse is on track to becoming an engineer, following the same path as his father. He said there was a lot to learn, so he looks to his father for guidance. Steven was the type to take machines apart to learn how they ran. As a child, Jesse was often able to watch.
"I showed him how things work and why they work, so you can actually diagnose things," Steven said. "Sure, someone can change out a part, but understanding the mechanical process and why it does that is (important)."
The pair get together once or twice a month, sometimes to barbecue and talk shop. They've discussed possible schools that offer courses on heating ventilating and air conditioning, which might help Jesse move into an engineering position with Station Casinos, just like his dad.
Editor's note: This is the second report in a two-part series. To read the first, click here.
Contact Jan Hogan at jhogan@reviewjournal.com or 702-387-2949.
Occupation search tools
The Bureau of Labor Statistics offers the Occupational Outlook Handbook with general information on how much education and training are needed to enter certain occupations. Read the "Job Outlook" section of careers that are of interest. Searches may also be sorted by on-the-job training; pay range; projected number of new jobs; and entry-level education, using the Occupation Finder.
Visit bls.gov/ooh.