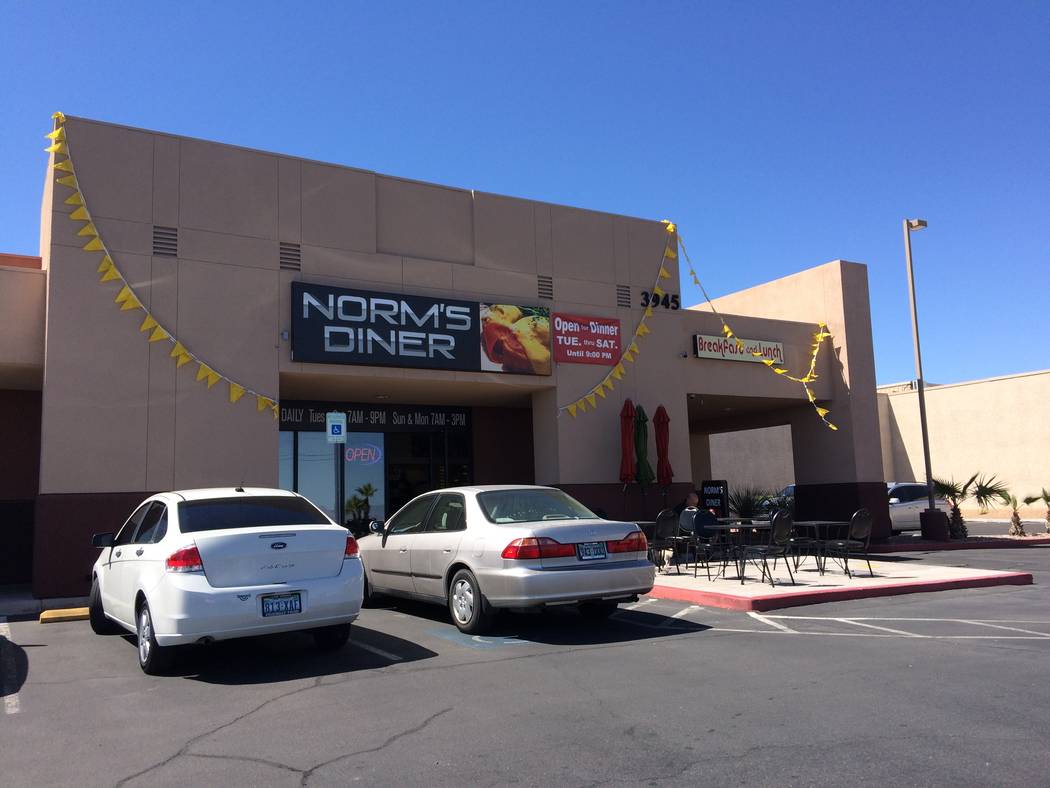 It takes a while to build a clientele in the restaurant business. After Norm Chan spent years growing his diner, Eggs And, things were at a point where he could take a breath.
Then, last fall, his rent doubled.
Chan found a new place for the business. The move brought with it two modifications: Chan added dinner hours and changed the name. It's now called Norm's Diner and is on a corner spot at 3945 S. Durango Drive, with patio dining.
He lost some patrons who couldn't find him. But those who did are regulars again.
David and Rhoda Pearlstein, self-described customers for life, said, "The food is excellent and all homemade. …We were patrons at his former location and we go the extra mile to his new location."
Chan has a long history in the restaurant business. His father, Chris, had a coffee shop in San Francisco, where Norm helped out once he turned 13. The family moved to Las Vegas in 1975 and Chris Chan opened Khan's Mongolian Grill.
"We had to educate people on what a Mongolian grill is. Now they have it in all the buffets in town," Chan said.
By then, he was an art student at UNLV. His dad got him a job flipping burgers poolside at the International, now the Westgate. He was moved into the main kitchen after the summer pool season and spent almost four years there as a chef.
Elvis Presley performed at the hotel, and one night, the superstar ordered a chopped steak.
"I spent a lot of time to make it nice, right? I even made fresh gravy for him," Chan said. "I was waiting for the (room service) captain to come back and tell me that he loved it."
It seems Presley was in a sour mood; he grabbed the plate the moment the meal arrived and threw it against the wall. The room service captain spent more than an hour cleaning it up, Chan learned the next day.
The plate-throwing story is featured on the back of the menu at Norm's Diner. This past February, it prompted a patron to introduce himself. He'd served as a bodyguard for Presley and was in the penthouse when the plate-throwing occurred.
"I went, 'Oh, my goodness, I have an eyewitness,'" Chan said.
That wasn't Elvis' only story to make it through the International's grapevine.
"He used to shoot out TVs every other day with a gun," Chan said, adding, "there was the time they were remodeling the penthouse and he took a 50-pound bag of cement and threw it out the (window). It smashed some of the cars in the parking lot and the next day, he'd go buy them a new Cadillac. So, when I went to work, I started parking underneath the penthouse hoping I'd get a new Cadillac, too."
After his stint at the International, Chan went on to learn computers and work in information technology in California for 25 years. He married and had a son. In 1996 he and his wife, Inkyung, moved back to Las Vegas to be closer to her family. She was the one who encouraged him to open the diner, which contains hints to parts of his life. His favorite team, the San Francisco Giants hold court on one wall. The speakers play classic 1960s and '70s music.
A blackboard announces the day's specials — and, yes, even chopped steak.
Visit normsdinerlv.com
Contact Jan Hogan at jhogan@reviewjournal.com or 702-387-2949.
3945 S. Durango Drive