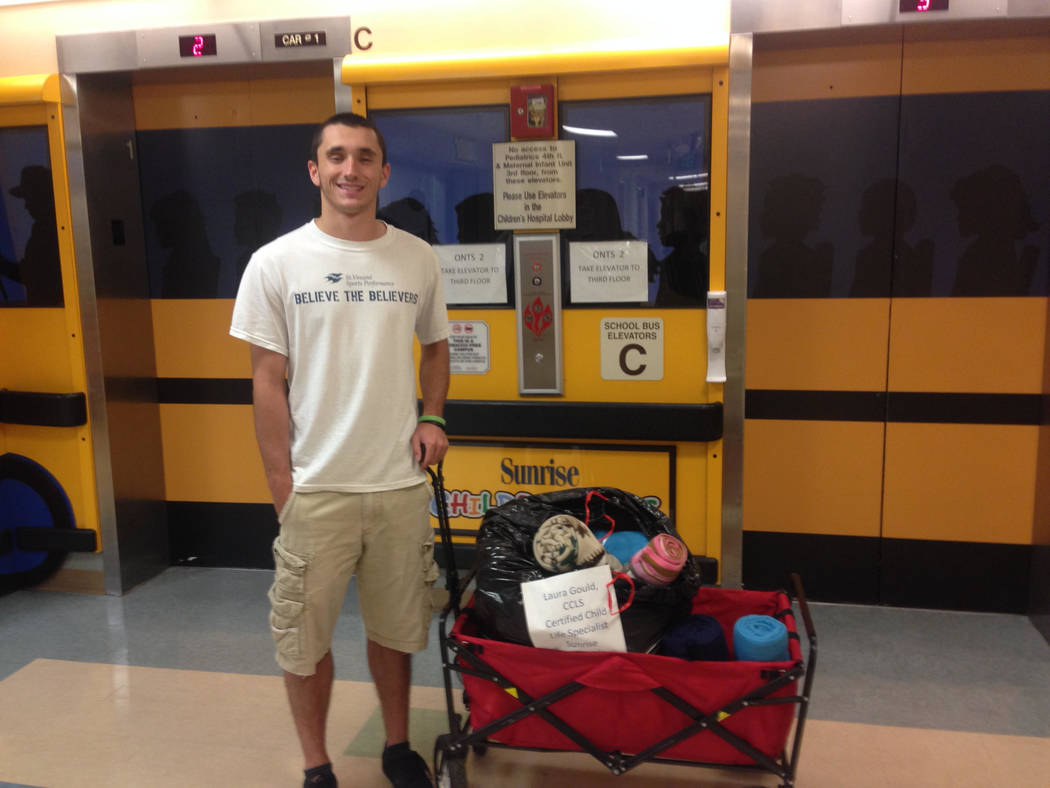 Michael Spada, 21, grew up in Summerlin and is now a student at the College of the Holy Cross in Worcester, Massachusetts, with a double major in psychology and political science. But he's still leaving his mark on Southern Nevada, bringing blankets to children hospitalized for cancer treatments.
It's because he knows what they're experiencing.
"The hospital gave me my life," he said of Sunrise Hospital, "and I wanted to give something back."
In March 2010, when Spada was 13, he was diagnosed with Burkitt lymphoma, a form of non-Hodgkin lymphoma. It's an aggressive type of cancer that forced him to remain in the hospital for two weeks at a time to get chemotherapy and combat the disease. After that, he was supposed to recuperate at home for a week, but his body reacted poorly to the treatments and he'd often have to remain at Sunrise.
"I was definitely scared, but at the same time I was like, 'I'm going to beat this thing,'" Spada recalled. "My family was awesome, and so I never thought I was never going to beat it. It was more 'when' is that going to happen, not 'if.'"
Spada's treatments started immediately and ended in July 2010. Finally, after five months, he was given the green light to return to his life as a student at Sig Rogich.
Spada knew how important blankets were to young cancer patients, so he started a drive to secure some for young oncology patients at Sunrise. He called the effort "Michael's Blankets for Cancer." At first, only extended family contributed. Then, other people heard of the effort and sent new fleece blankets for youngsters in the cancer ward.
"Michael's Blankets for Cancer" has delivered 6,500 to Sunrise Hospital and 2,000 to a research center that is now closed, Spada said. He delivered them personally, usually bringing 40-70 at a time. Now that he's in college nearly 2,700 miles away, he delivers them twice a year: around New Year's Day and when he's back home in the summer.
"It's an awesome experience, incredibly rewarding and humbling," he said. "You see the kids' faces light up."
He said a positive attitude and prayers helped him when he was battling cancer, and he hopes the blankets let the children know they are not alone.
There's another side to his story. Spada's five months in the hospital depleted his college funds, something he didn't learn until he was at Palo Verde High School and considering options for higher education. His parents advised him to keep his grades up so he'd qualify for financial aid.
Sure enough, a scholarship from Ronald McDonald House allowed him to attend Holy Cross.
Spada has received $5,000 from Ronald McDonald House. His parents, Tony and Denise, said his care cost roughly $1.25 million, and they are trying to recover financially.
Spada is looking to attend law school after graduation. He plans to continue his charity as long as blankets keep coming in. As for his parents, "We never in a million years thought (the blanket drive) would ever develop into what it has become today," his mother said. " … As Michael goes from room to room, there are mothers and grandmothers who ask if they can touch Michael's hair, saying they have hope that their little one's hair will grow back too. Naturally, Tony and I are standing in the hallway just a blubbery mess."
To donate, visit Michael's Blankets for Cancer on Facebook.
Contact Jan Hogan at jhogan@reviewjournal.com or 702-387-2949.
About lymphoma
Lymphoma is one of the most common types of blood cancer. There are two main forms: Hodgkin and non-Hodgkin. Both occur when lymphocytes, a kind of white blood cell, grow in an abnormal way. Cancerous lymphocytes are known to travel to various parts of the body where they accumulate and form tumors. Non-Hodgkin lymphoma is the more common type. Roughly 500,000 Americans have lymphoma, while about 332,000 have the non-Hodgkin type.