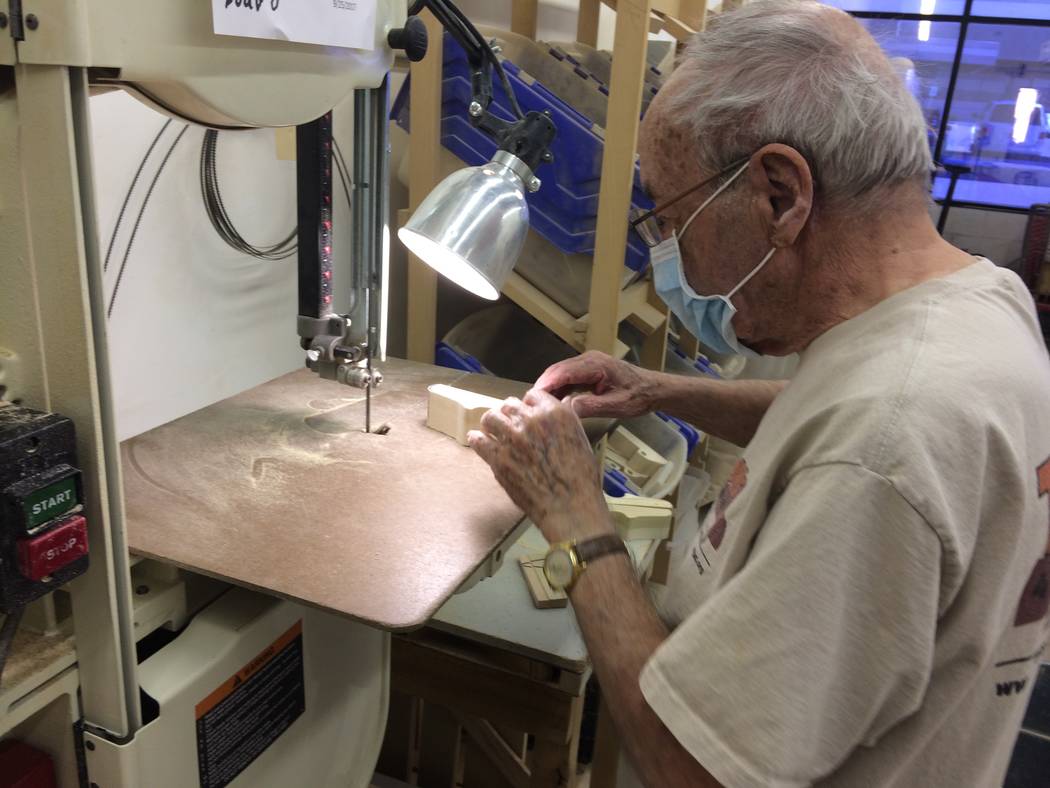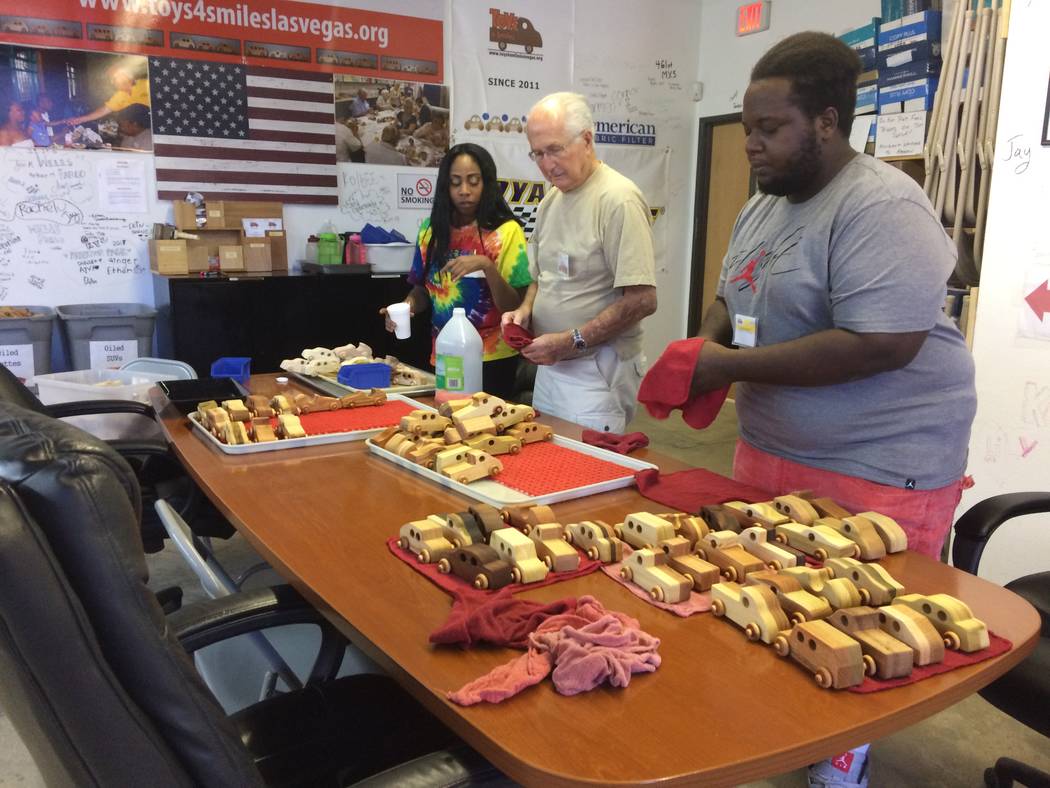 When Rex Doty of Summerlin founded Toys 4 Smiles, he figured he and his cohorts might make 500 wooden toys a year to give to children. Now, they aim to make between 3,000 and 4,000 a month.
Toys 4 Smiles reached a milestone in October: giving away its 300,000th toy.
"People said, 'Keep it, save it, put it under glass as a keepsake,'" the 72-year-old Doty said and shook his head. "That's not what this is about."
At first, toys were distributed at places of need: hospitals, social service agencies, domestic violence shelters. These days, they're given out wherever there are children.
The effort grew out of a friend's tool shed before landing at an industrial park at 4315 Dean Martin Drive, Suite 200. Rent money is always in short supply, but individual checks flutter in: $20, $25. One woman sends a $10 check each Christmas.
"In August, we almost shut down," Doty said, adding that since, "good things just keep happening."
One of those good things is the possibility of a partnership with Easter Seals. Talks are in the works, Doty said.
In Summerlin, Toys 4 Smiles has been part of Third Thursday events since January 2016, at Village Square, 9400 W. Sahara Ave. October's Trunk or Treat Halloween saw roughly 2,000 attendees, according to organizers.
"It brightens the day of every child and ensures they leave the shopping center with a big smile on their face," said Erica Lowndes of Village Square Property Management.
The effort reaches beyond Las Vegas. Two years ago, Toys 4 Smiles vehicles were taken to Savannah, Georgia, to assist 6-year-old Jaden Hayes, who was giving away toys. Most recently, the wooden toys were shipped to Houston for children affected by Hurricane Harvey. Plans are to ship to Florida and Puerto Rico as well.
As at Santa's workshop, the toy making at the nonprofit's rented space seemingly never stops. Volunteers come and go as time permits. Sometimes groups will arrange to come in to lend a hand. View visited the shop in October.
In the back rooms are machines such as a band saw, sanders, branders, a drill press and table saws. Saw dust is on the floor, and the unmistakable scent of wood lingers in the air. To keep things simple, Toys 4 Smiles produces only six versions of toy vehicles. As many as 50 volunteers come in to help each month.
"It's not a guy thing," Doty said. "Some of our best volunteers are women who've never picked up a tool in their life."
Dan Cooper, 92, is the oldest volunteer. He retired after working in the import-export business for 56 years.
"I took wood shop in high school and had (similar tools) in my garage," he said. "… This helps fill my day."
Aaron Thomas, 27, was staining the wooden toys and said, "I feel like every toy being made will help a child somewhere down the line."
Nicole Branch, 32, a medical assistant student, recently began volunteering. She has a friend in the hospital, so Doty gave her a reclosable bag of six toys to take there.
"I thought, 'Who's really going to play with these?'" she said. "But the kids there loved them; they almost fought over them."
Summerlin resident Ken McFall, a retired elementary school teacher, delivers the toys to organizations where children are involved. He'll give them away at Walmart if he sees a child getting cranky.
"Seeing their smile is a big part of why I do this," he said. "The kid stops crying and the parents, they're just grateful."
McFall regularly takes a box to the Strip and sits outside the Bellagio, giving toys to tourists with kids. He said little children don't care about the sites on the Strip and need something to occupy them. As soon as they receive one, they're down on the pavement, playing with it, he said.
"People can't believe they're free," he said. "I mean, nothing is free in Las Vegas anymore, right?"
McFall's son Tyler, a firefighter, was at the Route 91 Harvest festival concert Oct. 1, heard the shots and grabbed about 20 concertgoers, putting them in the back of his pickup and driving them to safety.
The next day, McFall took 350 wooden toys to those donating blood and to UMC, where a nurse allowed him into the children's ward. He also went to Sunrise with toys.
"I met a family whose son had been shot through the shoulder. I gave some to the staff," he said, tearing up. "Some of the toys went to adults and they smiled, too, like it was a little bit of therapy, something real to hold onto."
Visit toys4smileslasvegas.org or call 702-232-8191.
Contact Jan Hogan at jhogan@reviewjournal.com or 702-387-2949.
By the numbers
In 2016, manufacturers sold $26.5 billion worth of toys in the United States. Of that number, $1.45 billion sold were toy vehicles.
Source: toyassociation.org