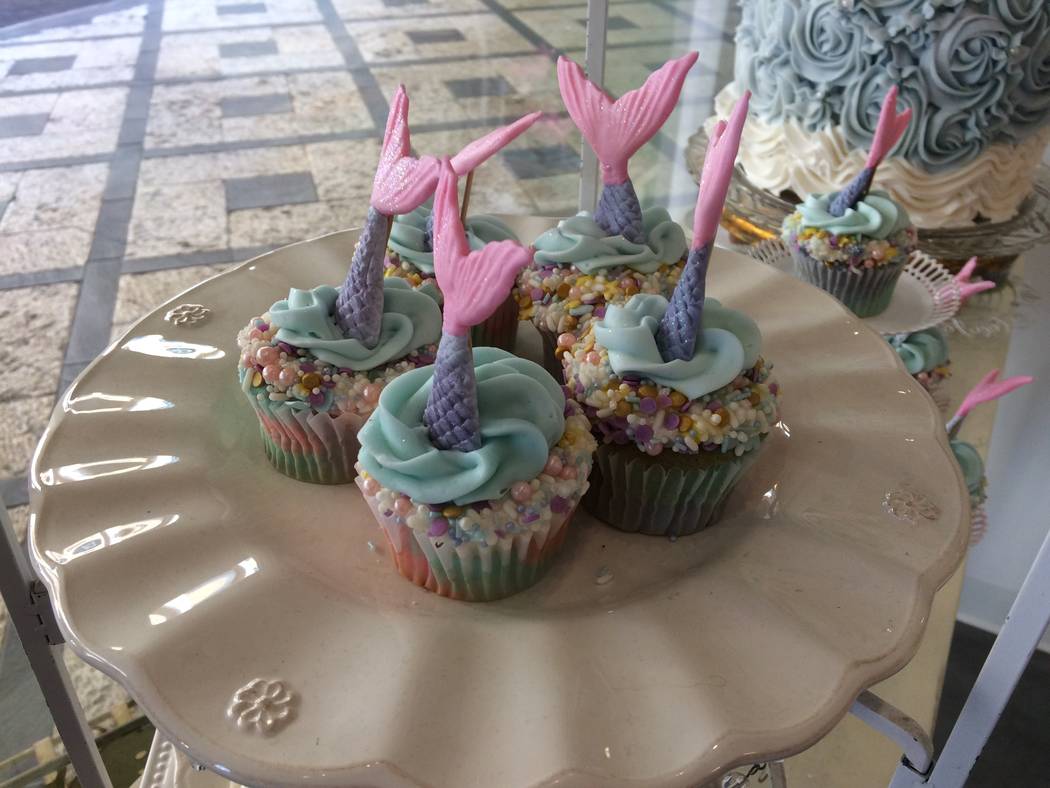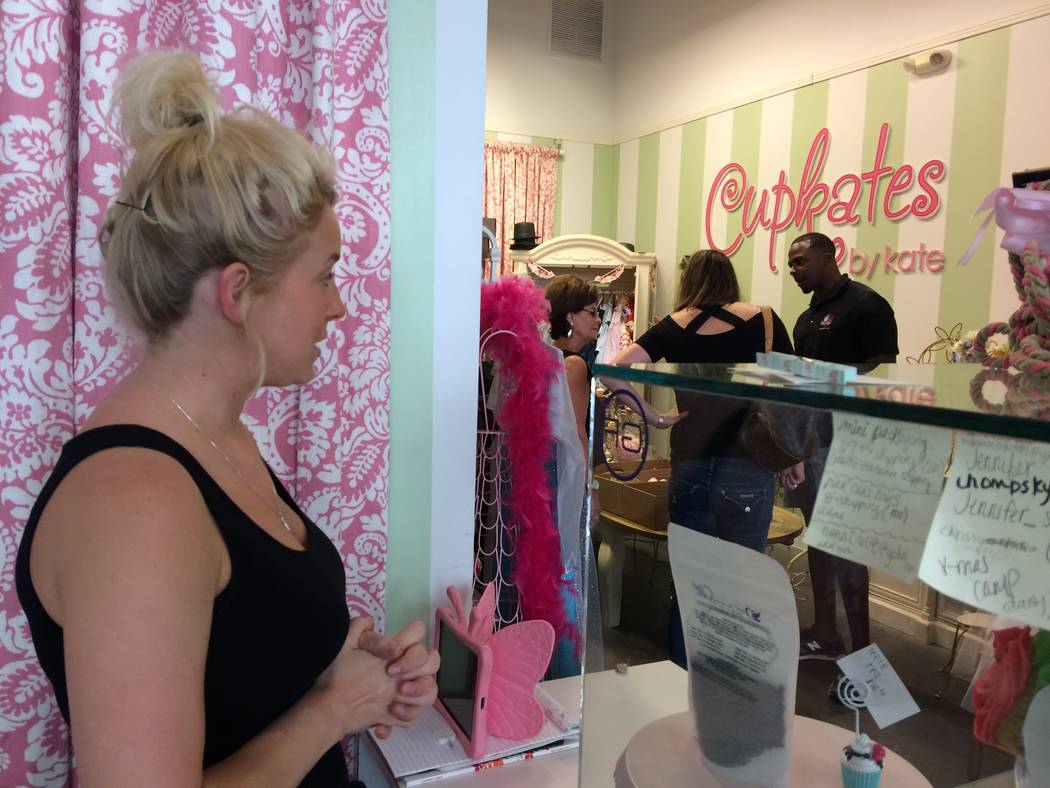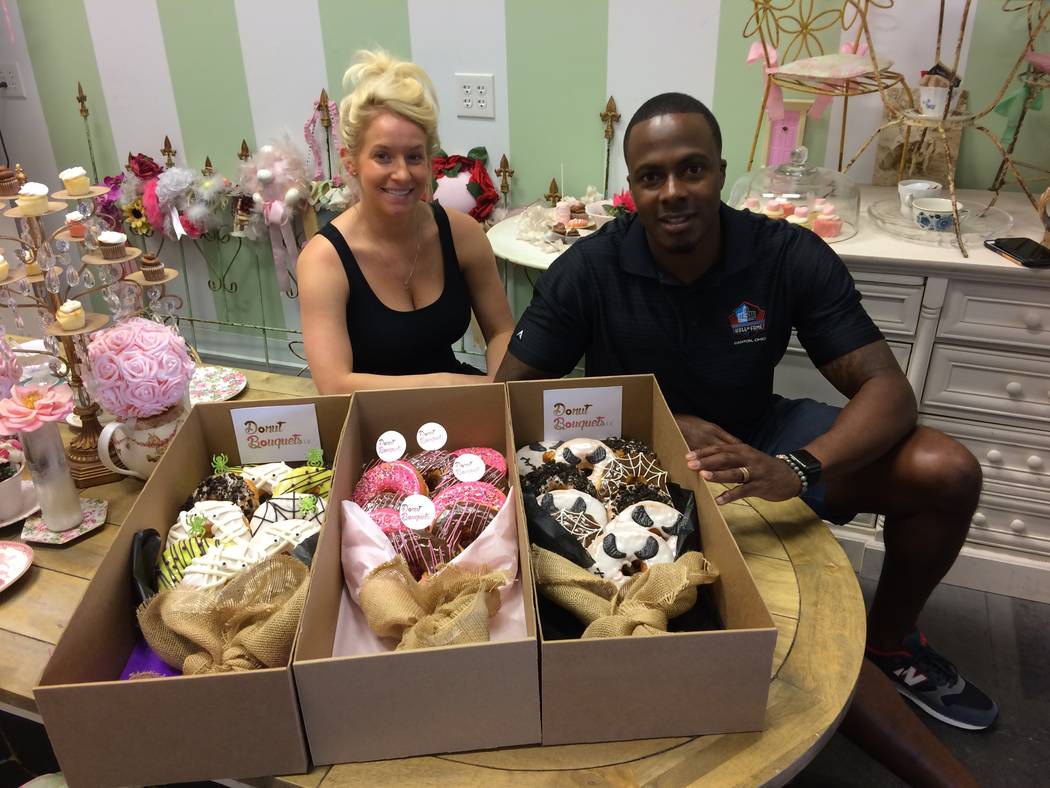 Kate Anyanwu named her fledgling business Cupkates in 2009. She since has added a new concept: bouquets of decorated doughnuts.
Shopper Laura Izzo stopped in at the Tivoli Village business at 400 S. Rampart Blvd., Suite 130, and said she'd never seen cupcakes with mermaid tails coming out of the top.
"Is that edible?" she asked. "It is? I've seen many cupcakes, but nothing this unique."
Izzo explored further and saw the doughnut gift bouquet, saying she was amazed at the concept.
Kate Anyanwu's husband, Uche, handles the marketing side of the business.
"It's making me more well-rounded, learning how to market to a whole different crowd," he said, adding that he liked the challenge of marketing food and beverages, a change from his previous work in sports management.
Kate experimented at home to nail down the balance of ingredients. The recipe is made from scratch and intuition. Her husband got to be her taste tester.
Kate began working out of a commercial kitchen off Sunset Road, often giving away more product than she was selling, just to get name recognition. Her brother, Will Thompson, is a silent partner. Soon after, in July 2012, she opened a 320-square-foot spot in Tivoli's Market LV, an incubator area for new businesses on the second floor. By December 2013, she'd added a 320-square-foot space in the container park. In January 2015, she moved from Market LV to the main street of Tivoli and closed the container park unit. She now has one 600-square-foot operation.
The businesses has hosted tea parties where little girls got to play dress-up and decorate cupcakes. Birthday and holiday parties still make up a good part of the business.
"I definitely like the quaintness of the small spots for sure," she said. "I just wanted a place where kids could come and be a kid."
Through it all, lessons were learned. A big one was time management.
"I work at a pace that's 100 mph," she said, "and if something goes wrong and throws me off, it's hard to get back on track and up to speed again."
Uche is freeing up Kate's time as she handles a new challenge: being a first-time mom. The couple welcomed Amelia in late September. Amelia has a sleeper in a back room.
The doughnut bouquets might take a while to gain a foothold in Las Vegas. The couple said they're doing everything they can think of to get the idea out there: word of mouth, social media, even fliers.
Kate's advice to other start-ups: "You have to keep it in your mind not to give up. If it was easy, everyone could do it. There are times when I ask myself, 'Why am I doing this?' The reward comes if you stick with it."
Call 702-439-3266 or visit cupkateslv.com.
Contact Jan Hogan at jhogan@reviewjournal.com or 702-387-2949.
400 S. Rampart Blvd., Suite 130