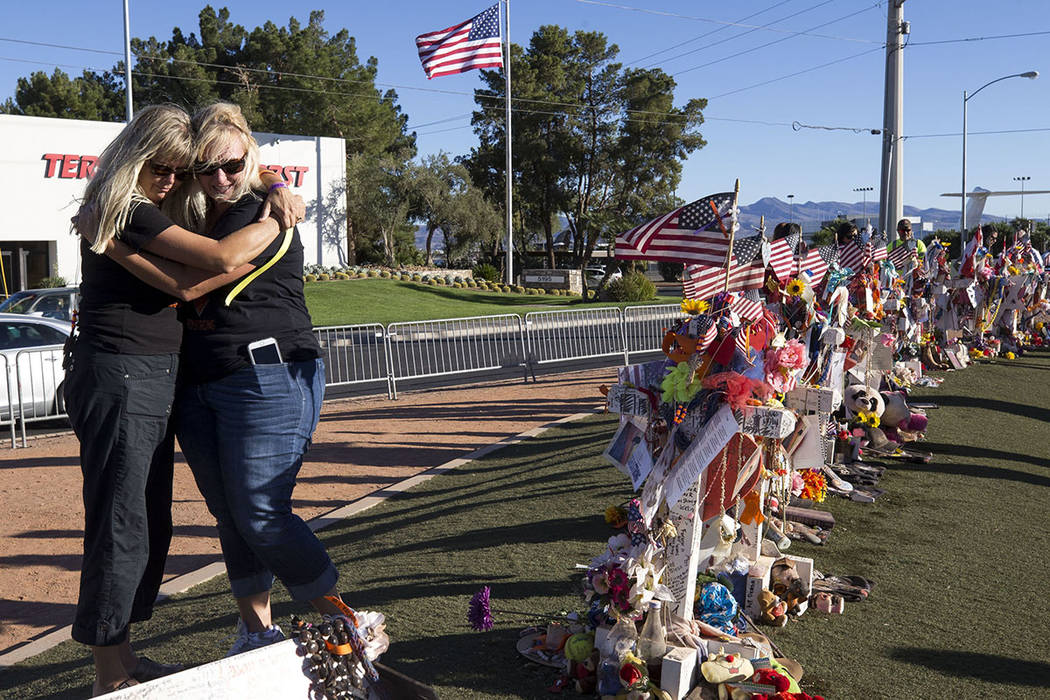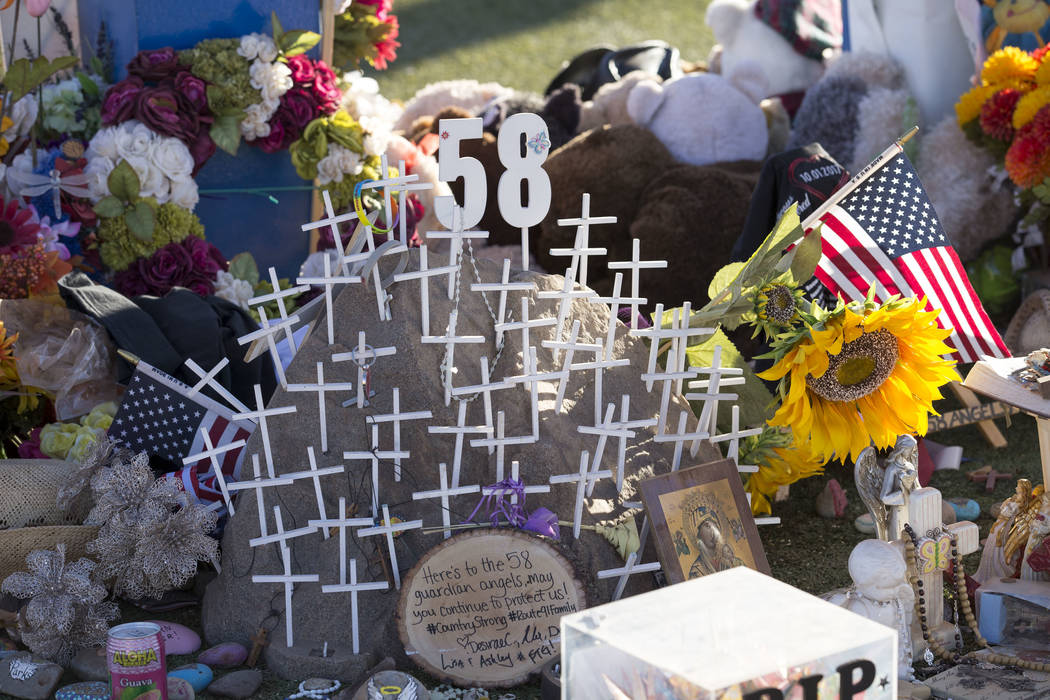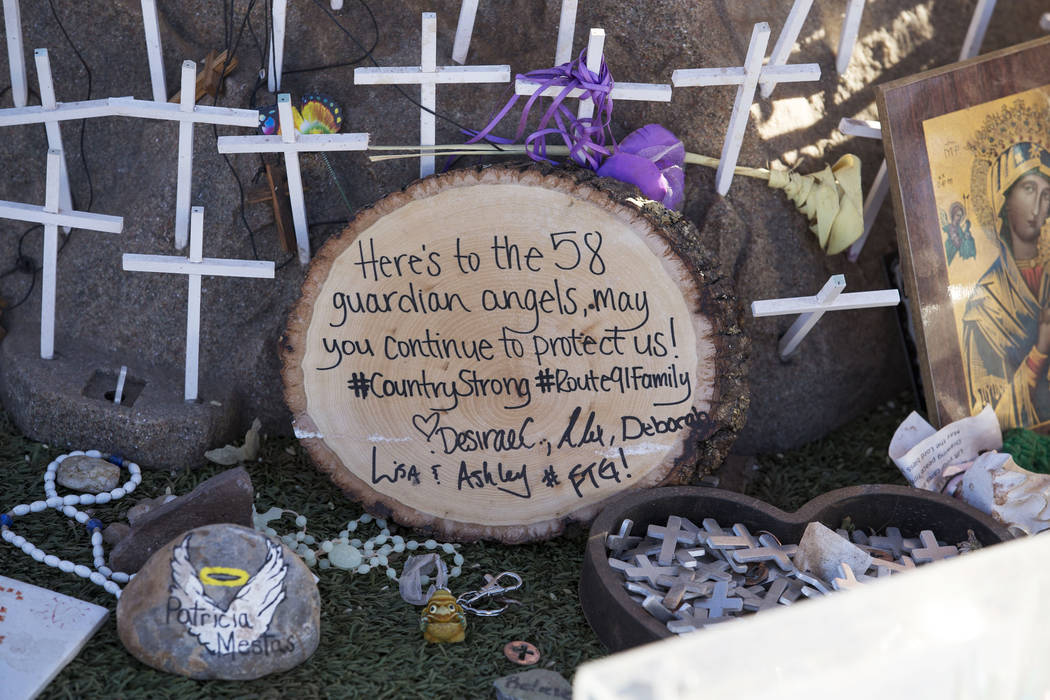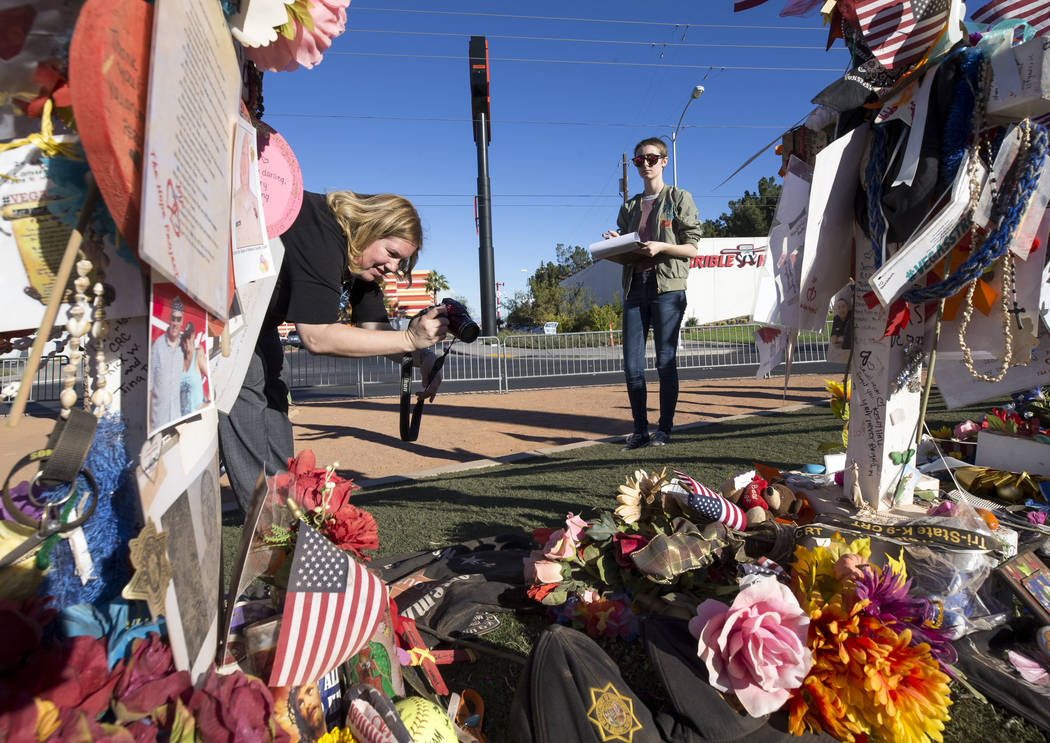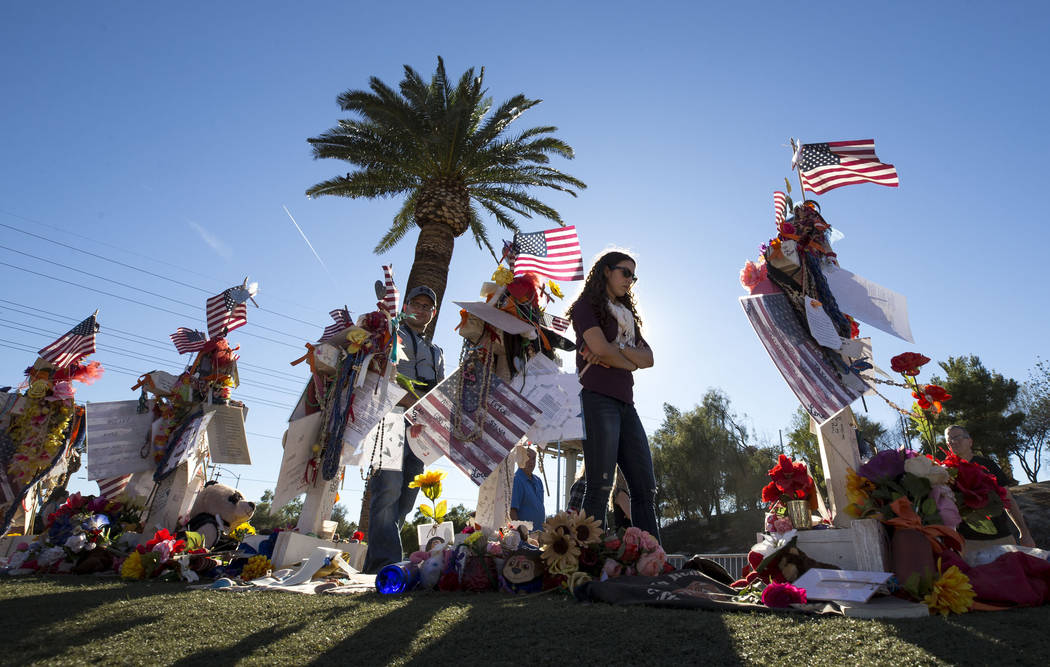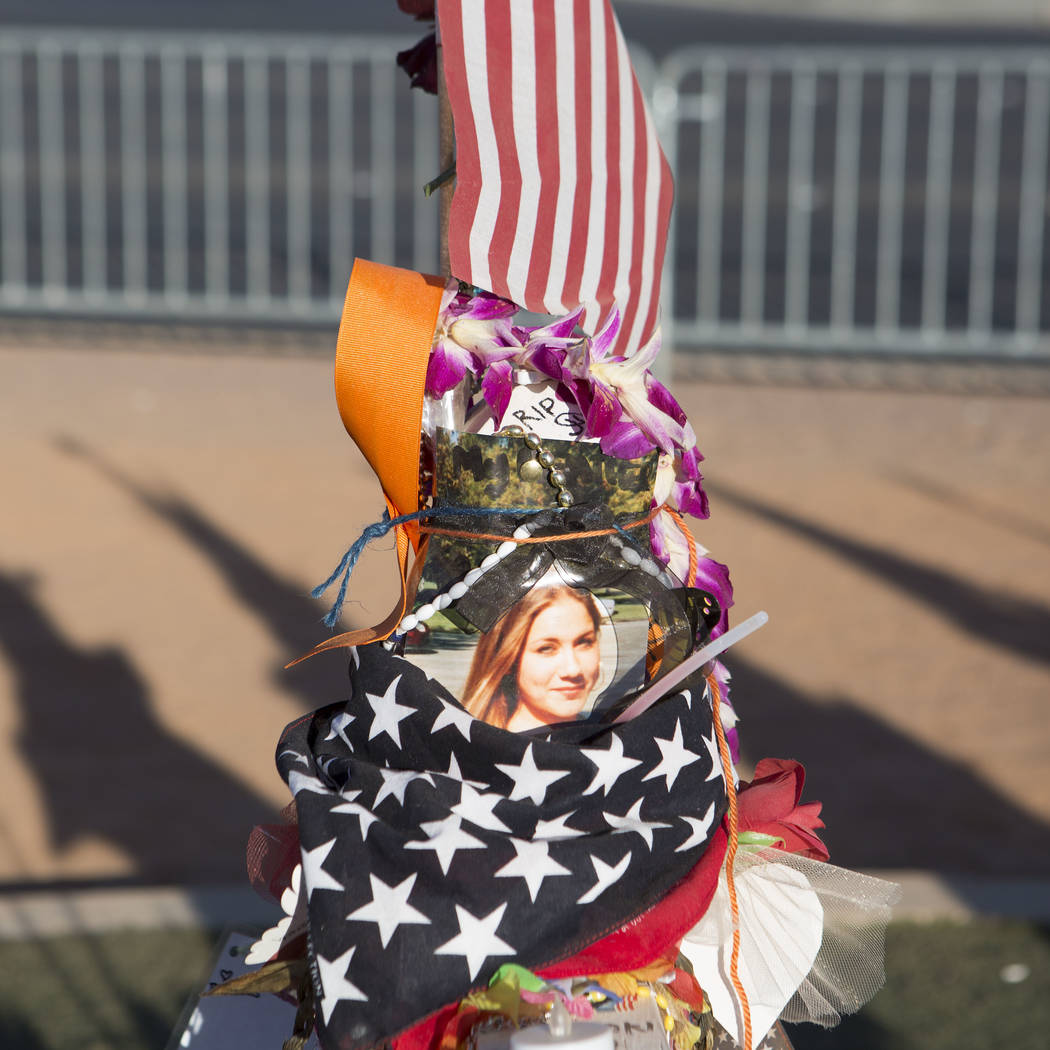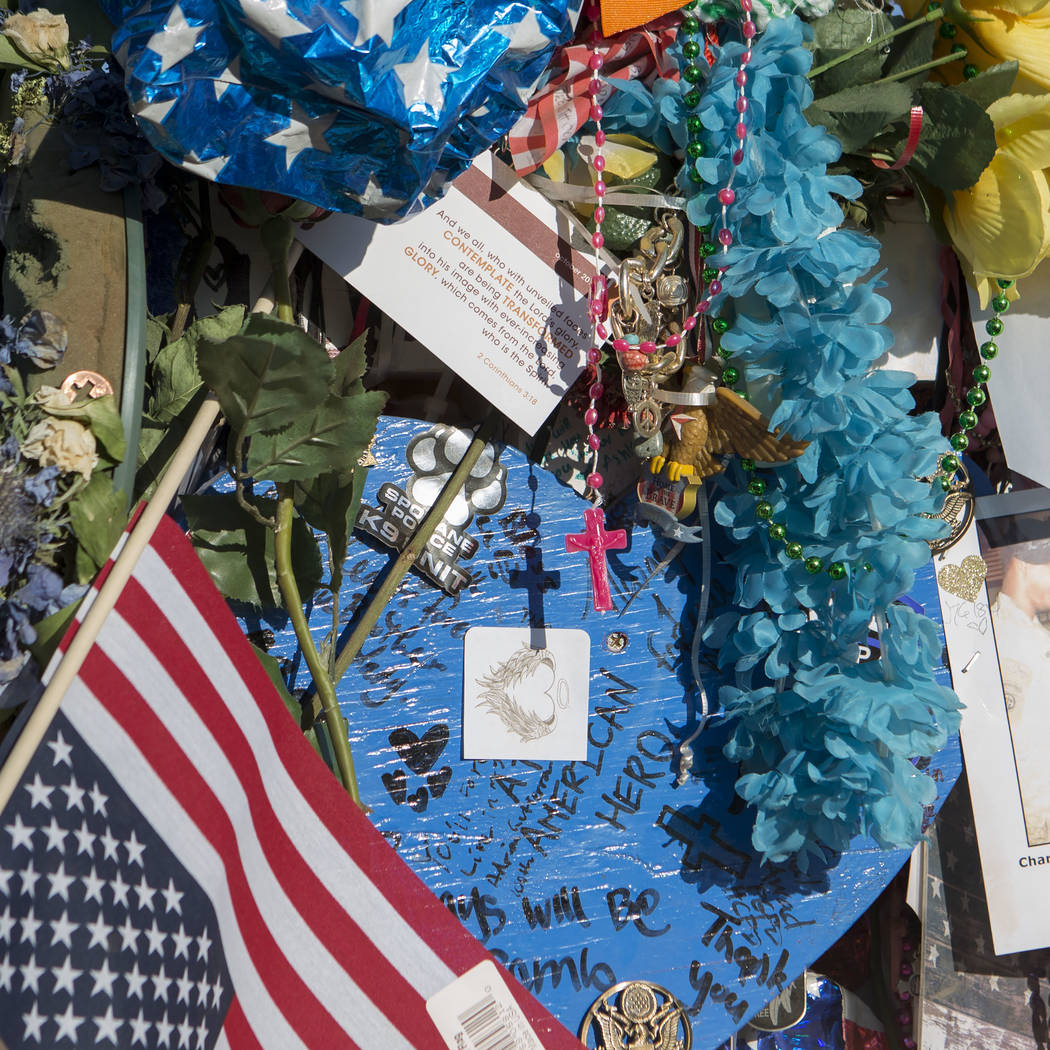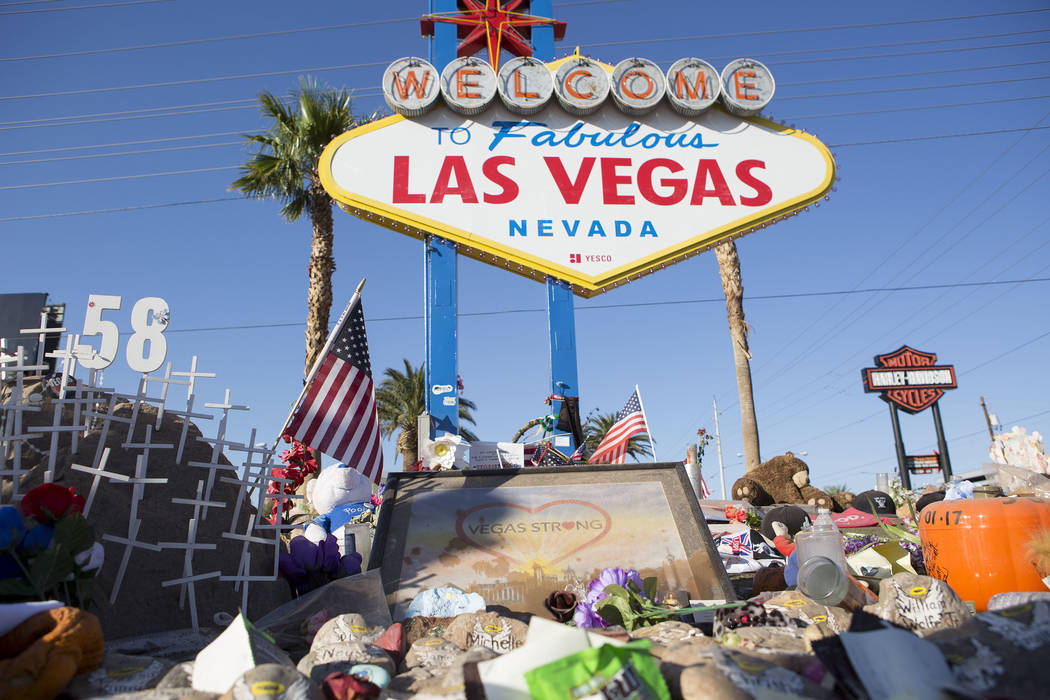 Southern Nevadans have through Saturday to view the collection of crosses and other items — stuffed animals, cards, photos, banners and more — left in memory of victims of the Route 91 Harvest festival shooting at their original location near the Las Vegas welcome sign at the southern end of the Strip.
On Sunday, items that make up the memorial are scheduled to be moved to the Clark County Museum, 1830 S. Boulder Highway, to become part of its permanent collection. Moving is scheduled to start after a short 9 a.m. ceremony in which county commissioners will recognize Greg Zanis, the Illinois carpenter who created the 58 crosses, one for each victim of the shooting.
Museum staff members took photos of the collection Thursday to create a detailed photographic record of the memorial, which after the Oct. 1 shooting became an impromptu focal point of community mourning. The photos will help to record the context of each item and provide a visual record of the memorial.
"Note that this has been a fluid memorial. There have been pieces that have been moved and have been piled up," said Mark Hall-Patton, Clark County museums administrator. "We want to have photographs of every individual artifact because there's stuff on top of stuff."
A few items already have been taken to the museum, while others — disintegrating flowers and spoiled edible goods — have been discarded. Relocation of the remaining bulk of the collection will involve boxing up each cross and its artifacts. The boxed items will be transported by truck to the museum.
Southern Nevadans will have a few more weeks to view the crosses, which will be placed on public display at the museum through Dec. 17. Hall-Patton said the process of incorporating the artifacts into the museum's collection will start next week and probably will take months to complete.
"We're probably talking tens of thousands of articles," he said. "We're talking many months of work. It's a very long, involved process, but it's what we do with any material that comes into the museum."
And while all of the items will become part of the museum's collection, "it doesn't mean they'll be on permanent display," he said. "We will display the crosses for a month, but at that point we'll take them off display, mainly because they won't hold up outside."
Hall-Patton said, "We are going to look at each individual piece as to the best way to house it so that 100 years from now somebody will be able to understand how we mourned, how we reacted to 1 October."
Contact John Przybys at jprzybys@reviewjournal.com or 702-383-0280. Follow @JJPrzybys on Twitter.