Toy drive makes Christmas special for kids from low-income neighborhoods
December 22, 2017 - 5:14 pm
Updated December 22, 2017 - 9:21 pm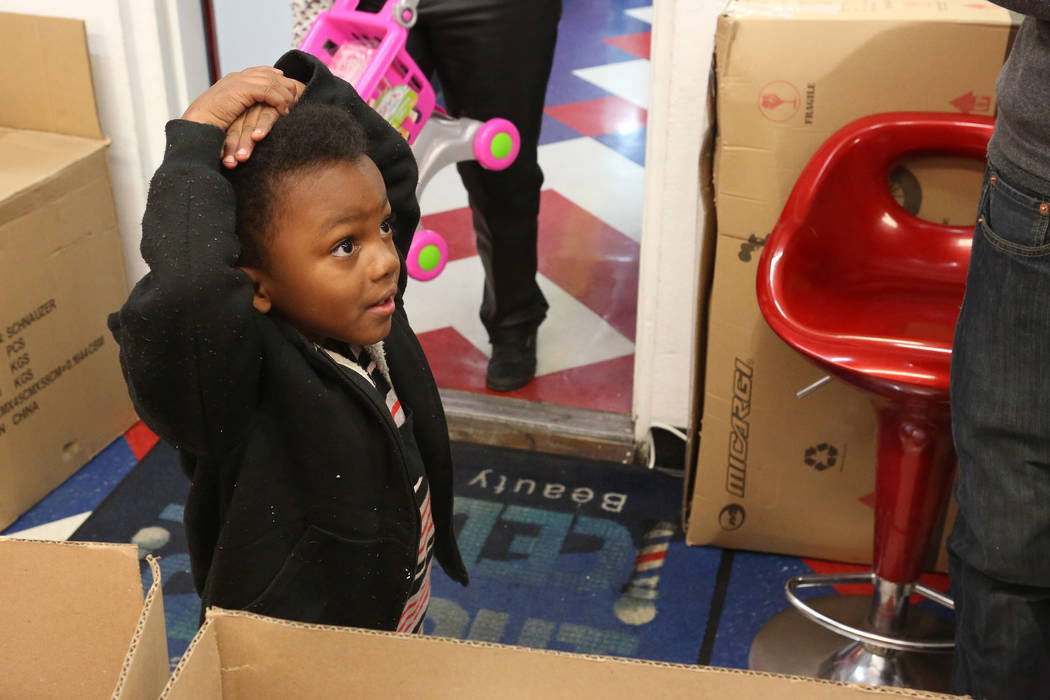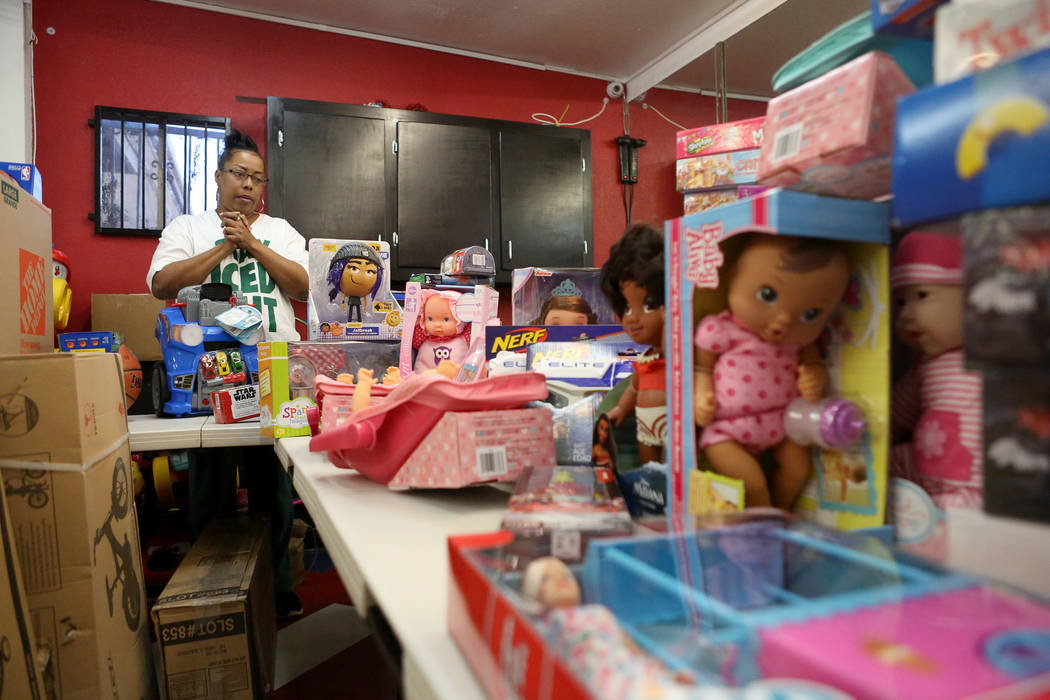 It wasn't Santa Claus, but Floyd Mayweather's personal barber and a group of community businesses who helped make Christmas special for dozens of kids living in low-income west Las Vegas neighborhoods.
About 30 families gathered Friday afternoon at Iced Out Barber Shop, near Martin Luther King Boulevard and Washington Avenue, to accept gifts collected for children in Marble Manor and other low-income neighborhoods.
A backroom of the barber shop was so filled with boxes of toys that there was enough room for only a few children at a time to walk in and accept their toys. Store owner Jackie Starr said she empathized with the children because she was not born with a silver spoon and didn't come from a family "where money just flowed."
"I came from a large family and my parents wasn't able to always give us on Christmas what we asked for, but we had love and each other," Starr said. Since then, she has found success as Mayweather's barber and the owner of two Las Vegas barber shops.
"It just wouldn't be right to be blessed and not bless others," said Starr, adding that she has four grandchildren of her own who want for nothing. "I have all that I need in life, so just to see kids put a smile on their face, that's what makes me feel good."
The founders of Las Vegas Black Image magazine, Charles and Kimberly Tureaud, helped Starr coordinate with Caesars Entertainment, the Southern Nevada Water Authority, and Josh "Chop" Towbin, co-owner of Towbin Automotive, who made buying the presents possible.
Towbin said he jumped at the chance to participate when Starr called him from Dubai, where she was traveling with Mayweather, to tell him about the toy drive.
"We waited all year for Christmas as kids," Towbin said. "If there's one kid that doesn't get a toy, if you can change that for one kid, that's really important."
As barbers continued to do customers' hair on either side of the shop, Santa sat in a barber's chair, posing in front of a backdrop with kids who had just received toys.
Children, some in superhero pajamas, some in puffy coats and boots, clutched Spider-Man and Frozen scooters, Hot Wheels, remote control trucks and basketballs as they walked out of the barber shop and into the parking lot, where a DJ played R&B Christmas music.
"We were listening to the radio, and I heard that Floyd Mayweather was giving away toys and we came right over here," said 48-year-old Cheryl Pierre.
Pierre's 4-year-old twins, Giovanni and Gianni, received a Hulk action figure and a doll, and her 18-month-old daughter Gisele received a set of plastic balls. Gianni tugged shyly at one of her pigtail braids, climbing onto the pink bike she won at the giveaway.
"I always think it's nice when people help give things in the community," Pierre said.
Charles Tureaud, one of the event's organizers, said he hopes the toy drive will bring greater support to the minority community.
"I don't think there's a connection between the parents in this community and some of the the bigger drives," Tureaud said, adding that many parents work a lot and don't know how to access organizations that could help them during the holidays.
"Of course we want non-profits to benefit, but we wanted to experience the gift of giving and physically watching these kids go home with their gifts," Tureaud said.
He emphasized the importance of participation from community partners, and particularly the attention that Mayweather's celebrity brings to the black community.
"It's about the kids that we believe are overlooked," Turead said before the event. "You can see the poverty in some of these kids' eyes."
Contact Kimber Laux at klaux@reviewjournal.com. Follow @lauxkimber on Twitter.