Haze from western wildfires penetrates Las Vegas Valley
September 16, 2017 - 5:43 pm
Updated September 16, 2017 - 10:16 pm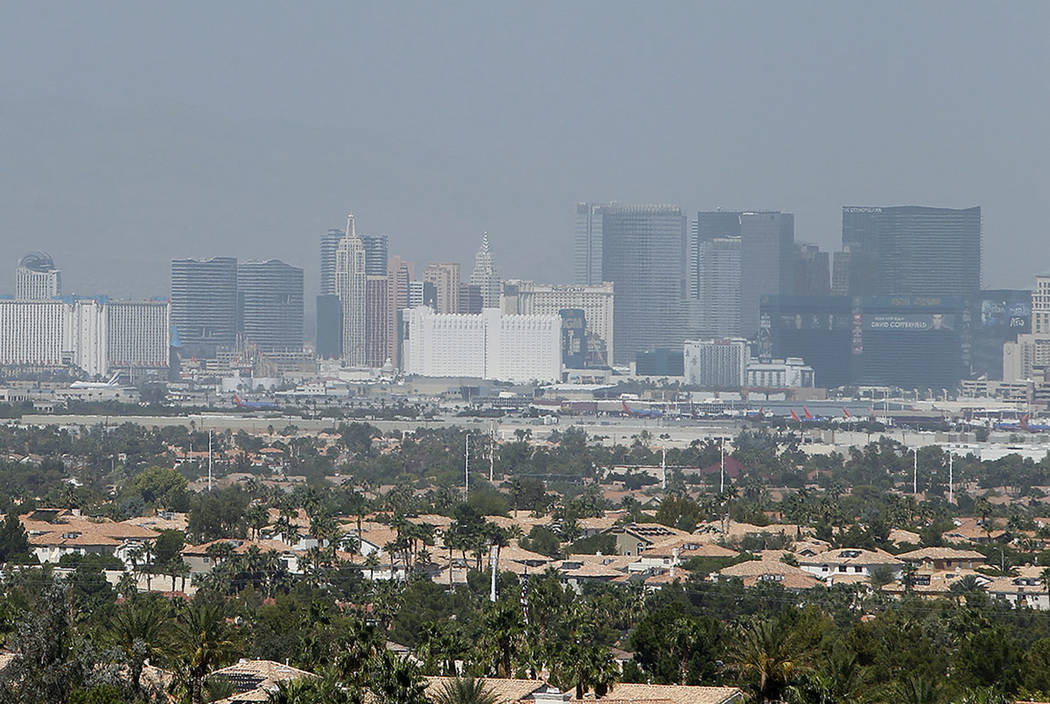 The Las Vegas Valley can expect slightly cooler-than-normal temperatures in the coming days with no rain in the forecast, the National Weather Service said.
Saturday's forecast high was 90 degrees and its forecast low was 72 degrees, meteorologist Chris Outler said. The normal high for Sept. 16 is 95 degrees, he said.
Sunday's forecast high is 92 and the forecast low is 72 degrees, he said. Monday should have a high of 95 degrees and a low of 72, Tuesday should have a high of 91 degrees and a low of 74 degrees; Wednesday's high should be 89 degrees with a 69-degree low, he said.
Saturday morning had some haze and fog, Outler said, because of a weather pattern called an inversion, which happens when a small warm layer of air rises over mountaintops and traps smoke and pollutants in the valley. Inversions are more common in the winter and cooler months, he said.
Outler also said some smoke from wildfires in Oregon, Washington and California had drifted into Nevada, contributing to the haze. He said daytime sun had helped burn some haze off.
On Saturday afternoon, the Clark County's online air quality map showed Las Vegas and Jean with moderate air quality readings and good air quality in Apex and Boulder City.
Outler said he expected some of the haze to linger during the week.
Contact Matthew Crowley at mcrowley@reviewjournal.com. Follow @copyjockey on Twitter.