Centennial sweeps Foothill for first state volleyball title since 2003
Updated May 17, 2018 - 9:49 pm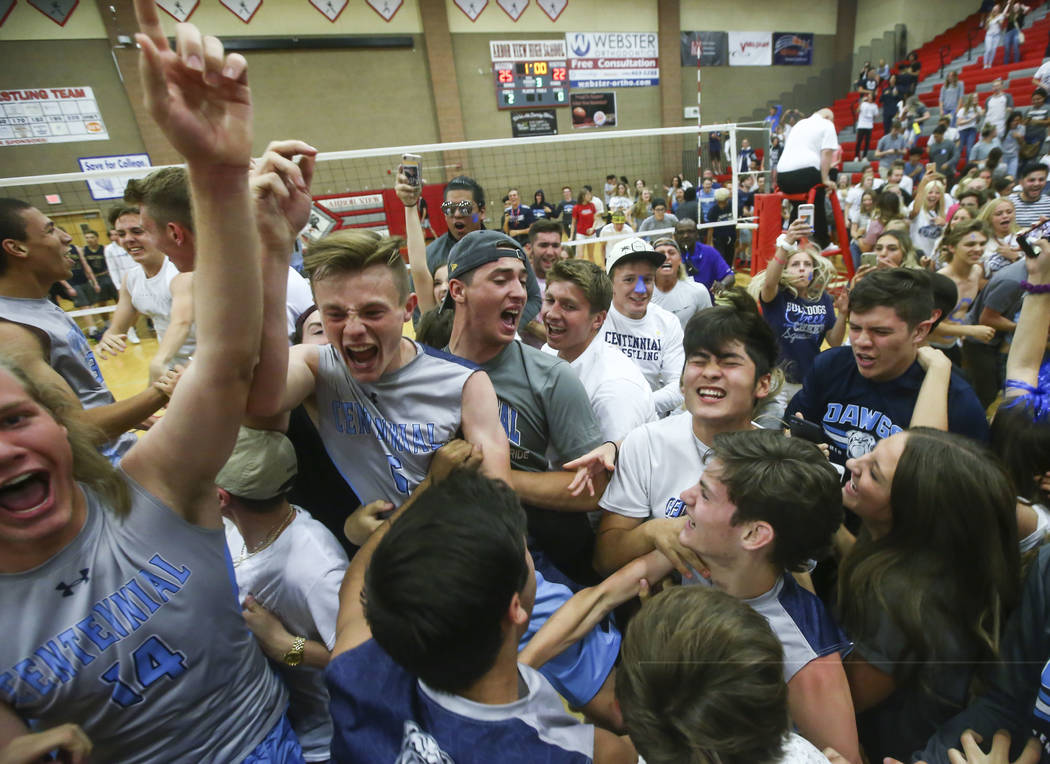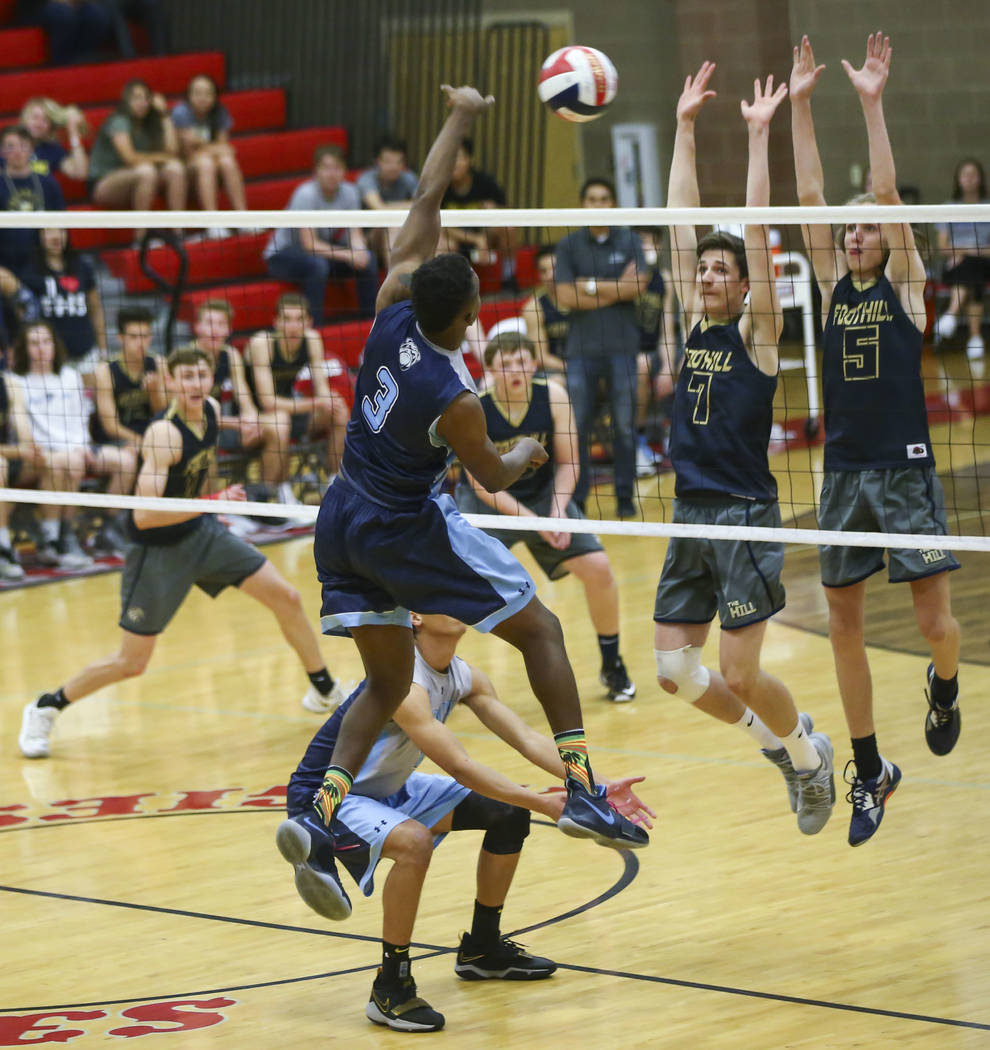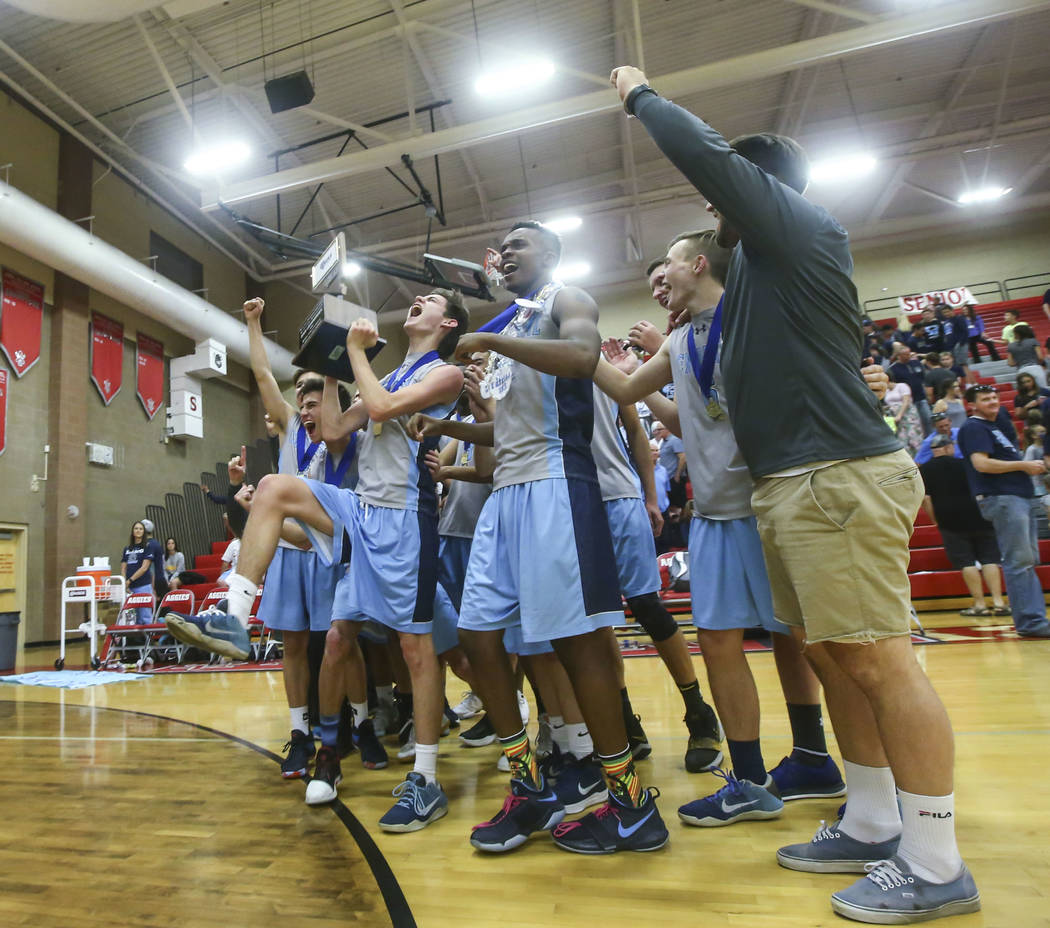 A baby blue banner turned up on the floor of Arbor View's gymnasium Thursday night, featuring the phrase "2018 State Champs" as Centennial's boys volleyball team celebrated its Class 4A state championship a few feet away.
Students nearby didn't know where it came from, who made it, or what it was.
Perhaps it was a prediction. Perhaps a premonition.
Perhaps a little of both.
The Bulldogs, motivated by their loss in the state semifinals a year ago, completed a dominant season — they didn't lose a set during the region or state tournaments — with a 25-21, 25-18, 25-22 victory over Foothill to clinch their first state title since 2003.
A rowdy student section was there to support the players and adorned them with intricate candy necklaces after the trophy presentation.
Victory is pretty sweet.
"This started at the very end of last season," Centennial coach Erik Davis said. "These boys put a lot of passion into the game. We've been together all year long. We put our very best foot forward in the state finals. "
Seniors Teon Taylor and Farries Gardner led the Bulldogs (40-5) with 14 kills apiece, and Sam Durkin had 38 assists.
Taylor added four blocks and almost single-handedly swung the second set with a string of ferocious kills, after each of which he screamed, flexed and urged the crowd to cheer louder.
"We came back with a fire after last year," he said. "The crowd was huge. It fed our whole team."
The Falcons (32-12) had chances to extend the match, but Centennial didn't relent. Students stormed the court after championship point, and somehow the baby blue sign ended up near Centennial's bench.
"This is a complete team effort," Davis said. "When everybody does their job, great things happen: like state championships."
Davis initially redirected an interview request to assistant coach Scott Nelson, who coached volleyball in Las Vegas for 25 years and never had won a state title.
Nelson navigated the pandemonium with a smile and an unspoken sense of fulfillment. He's a champion now, too.
"We had the talent, for sure. We had well trained players in each of our key spots," Nelson said. "It's all about performing when you need to, and they did."
Contact reporter Sam Gordon at sgordon@reviewjournal.com. Follow @BySamGordon on Twitter.