FIELDER'S CHOICES: Out of state, out of mind? Not anymore
August 31, 2016 - 10:02 pm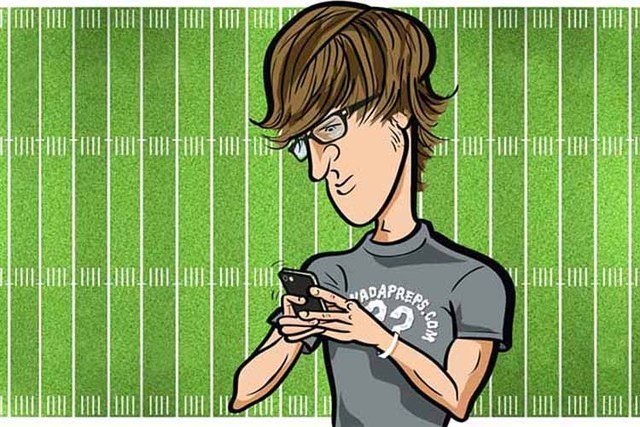 There's been a lot of talk in the news lately about borders and walls. It's probably because of the way prep football schedules continue to spread across state lines.
Interstate prep football games were all over the TV last weekend, and of the 20 games this Friday involving teams in the Review-Journal's coverage area, nearly half include a team from out of state.
Agassi Prep, Arbor View, Foothill and Moapa Valley host teams from Utah, while Beatty and Desert Oasis face schools from California. Also, Liberty travels to Texas for the first time, while Bishop Gorman hosts a Florida power.
And if you want to get technical, there's the game between Needles and Mohave (Arizona) Accelerated, neither of which are even from Nevada.
For many years, local schools didn't need to venture outside of their own backyard to play, and few out-of-state teams visited the area. But all that's changed recently.
And in this case, change is good.
I got off to a good start last week with my picks, nearly going 100 percent straight-up in my debut. I don't know much about the out-of-state teams, but I'll do my best. Be sure to visit Nevadapreps.com for more of my selections.
Cocoa (Florida) at Bishop Gorman — This is the home opener for the nation's new No. 1 team, and they welcome O.T. Genasis' favorite school to Las Vegas. "I'm in love with the Cocoa … " No, not that Co— ? Oh, never mind.
Gorman is 0-2 vs. Florida teams on the field, losing to Miami's Booker T. Washington in 2013 (28-12) and Seffner Armwood in 2011 (20-17), a game that was later forfeited. But this Gaels team is better than those two. More specifically, this Gaels defense is better. … Gorman by 10.
Chaparral at Basic — My dad said when he was going to high school, this was one of the big rivalries. Everybody on the east side of the valley would pile into a buddy's car and head to the game, then blast Thin Lizzy in the parking lot when it was over. I bet they had cool sideburns, too.
These teams haven't met since a 35-28 Chaparral win on Sept. 12, 2008. I was starting first grade then, so a lot's changed. Basic scored 55 points in its opener, and this is a big step up for the Cowboys. … Basic by 20.
Liberty at Westlake (Texas) — The entire Lone Star State still is smarting from last week's thumping handed out by Gorman, and now the Patriots arrive in Austin, Texas, to face the state's new No. 1 team. Not the best timing.
Liberty caught a bit of a break as Chaparrals quarterback Sam Ehlinger, a Texas commit, is sidelined after undergoing knee surgery this week. Then again, Westlake is the alma mater of Drew Brees and Nick Foles and probably has some 13-year-old QB prodigy waiting in the wings. … Westlake by 14.
Cheyenne at Canyon Springs — This has developed into, um, actually a pretty nice little rivalry, to paraphrase Will Ferrell in "Old School." The Desert Shields might disagree, of course, since they're 0-4 against Canyon Springs dating to 2012.
The Pioneers pitched a 6-0 shutout in the opener and cost me a perfect week of straight-up picks. I don't expect much scoring in this one, either. … Canyon Springs by 3.
Shadow Ridge at Eldorado — The Mustangs were one of the five Class 4A teams that didn't play last week, so I couldn't scout them. I do know they're running the flexbone offense this season and the school's colors are navy blue and gold, meaning they should look a lot like Navy. That can't be a bad thing.
The Sundevils were able to work out some of the kinks in last week's loss to Pahrump Valley when Eldorado quarterback Jaime Rangel accounted for 223 of his team's 222 yards of total offense. That's not a misprint, by the way. … Shadow Ridge by 6.
Legacy at Mojave — The Longhorns made their way into the latest Southern Nevada Football Coaches Poll despite not playing last week. That means the first player or coach from Legacy to say "nobody believed in us" should have to run 50-yard gassers every Thursday for the rest of the season.
The Rattlers will be fired up for the first meeting with their neighbor since 2013. Let's hope the offense clicks more than last week when Mojave managed only 40 yards of offense in its loss to Silverado. … Legacy by 5.
John Muir (California) at Desert Oasis — The list of famous alumni from Muir includes rock star David Lee Roth and former UNLV basketball star Stacey Augmon. The Mustangs also were a Southern California football power in the 1990s with the McCullough brothers (Saladin and Sultan) at running back. I swear, you can find anything on Google.
The Diamondbacks will need to get off to a better start this week if they hope to win their home opener. Desert Oasis was held to 28 yards in the first half of last week's loss to Green Valley. Ouch. … John Muir by 1.
Virgin Valley at Sunrise Mountain — The third Chris Sawyers Bowl could feature plenty of offensive fireworks based on last week's results. The Bulldogs, Sawyers' former team, gave up 34 points in a loss to Cedar (Utah) while Sunrise Mountain, his current outfit, gained more than 600 yards of offense in its blowout win over Boulder City.
Thank goodness for the spread offense. … Sunrise Mountain by 13½.
Last week: 7-1, 6-2 (with points)
Season: 7-1, 6-2 (with points)
Contact Fielder at Fielder@nevadapreps.com. Follow him: @FielderNVP