Noah Lopez sparks Gorman to 9th consecutive Sunset Region title
November 17, 2017 - 11:36 pm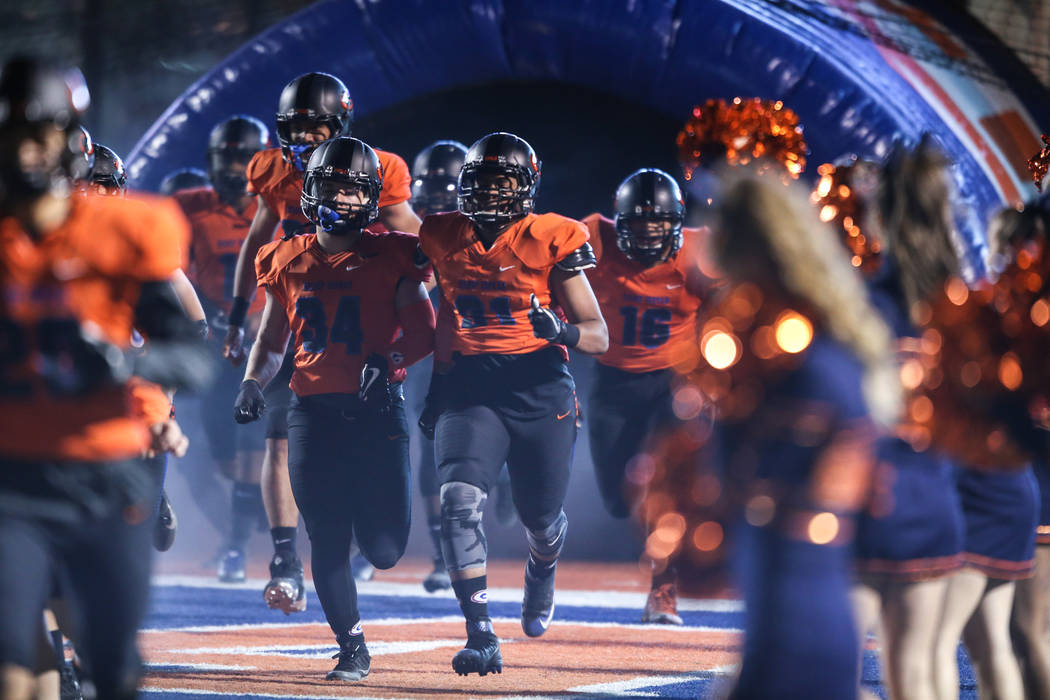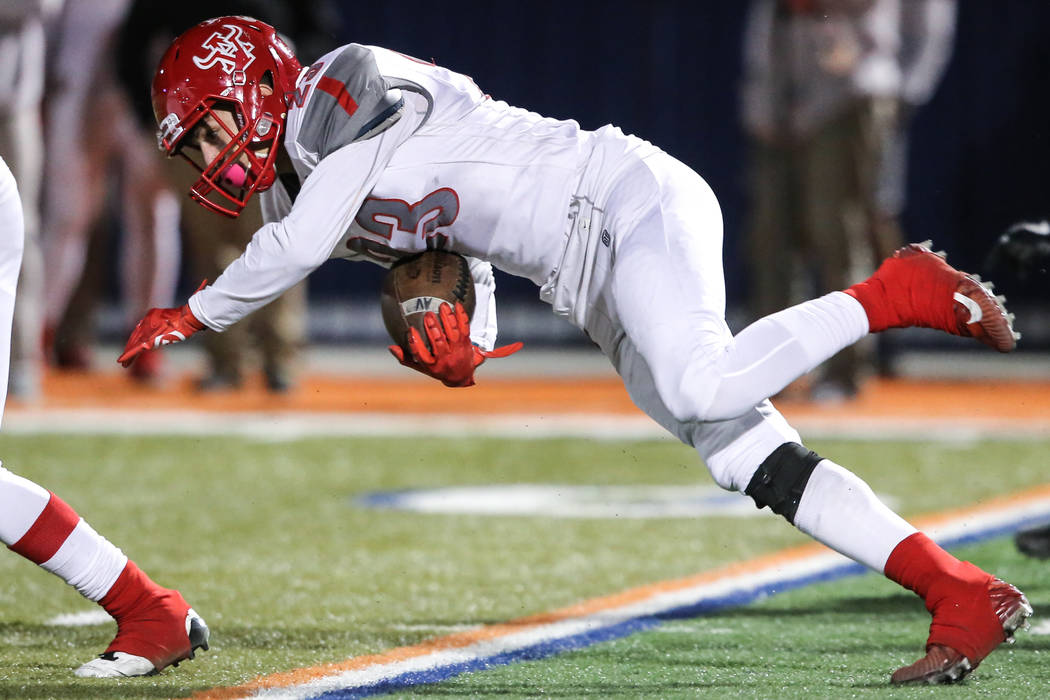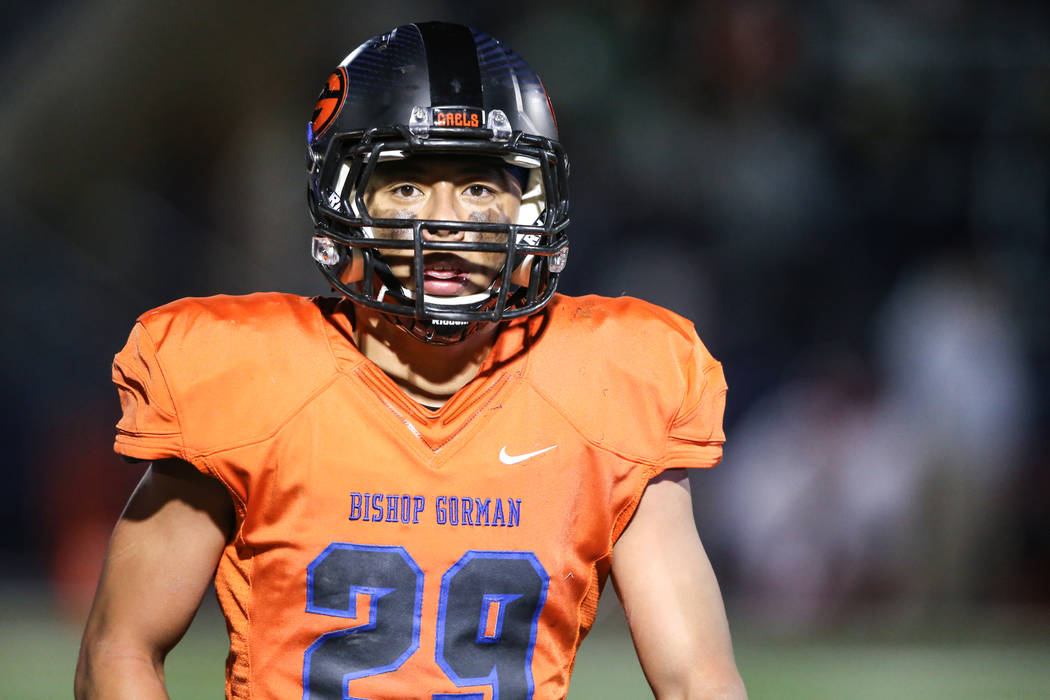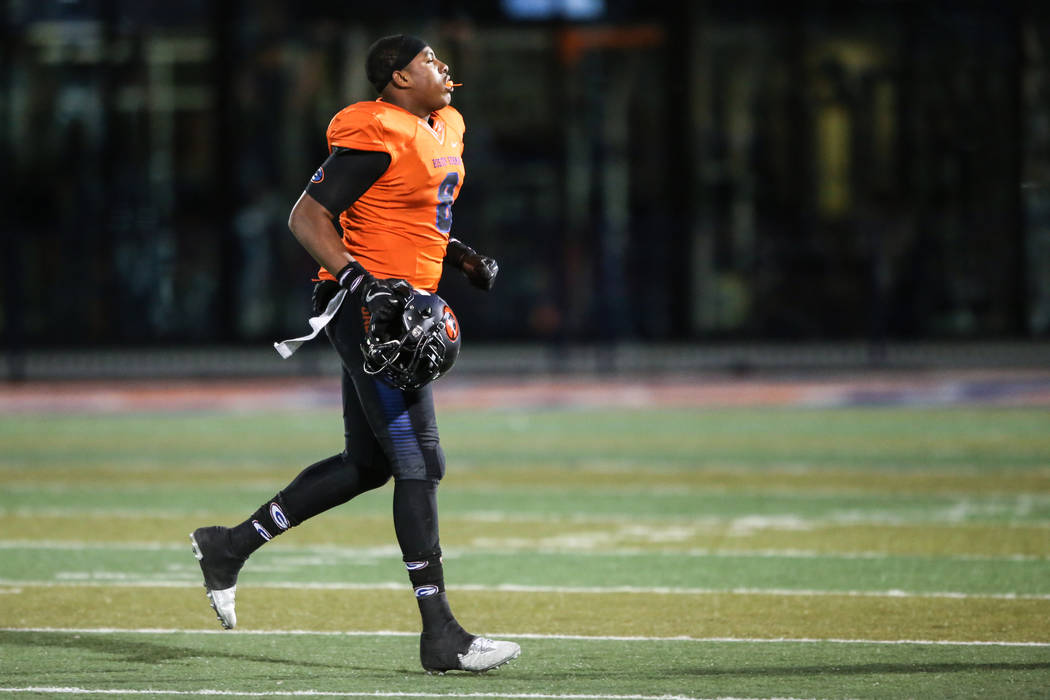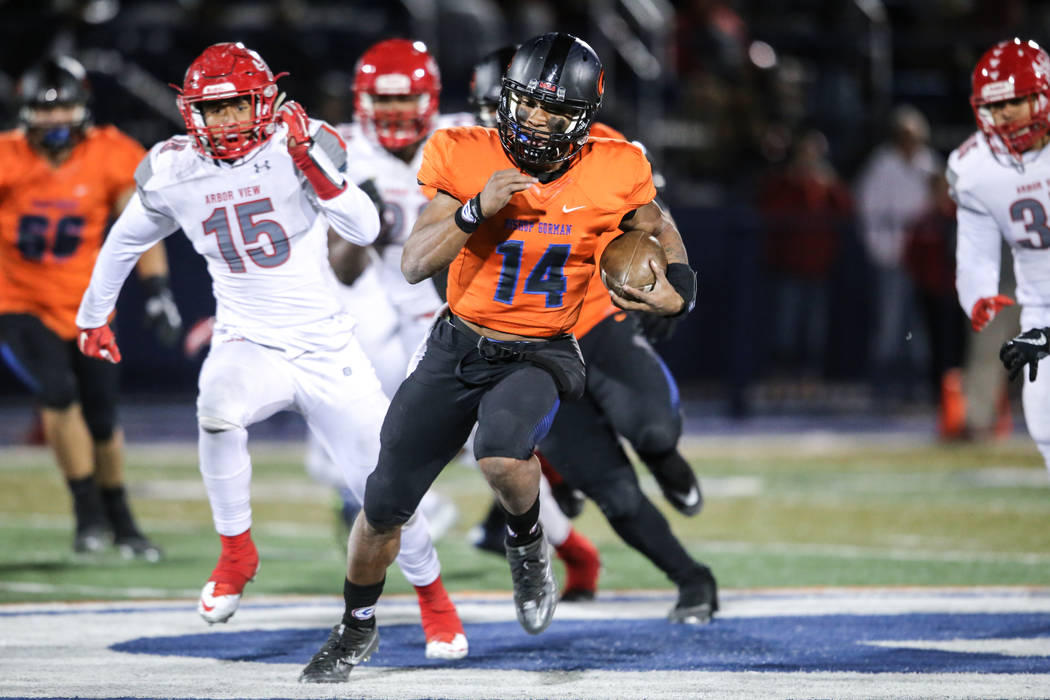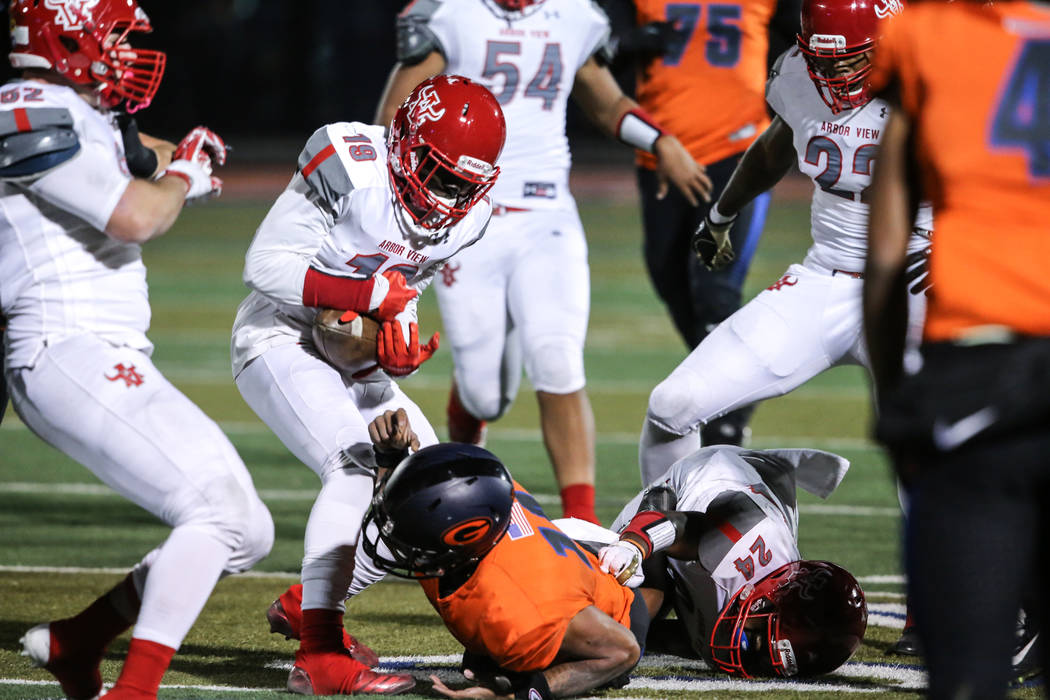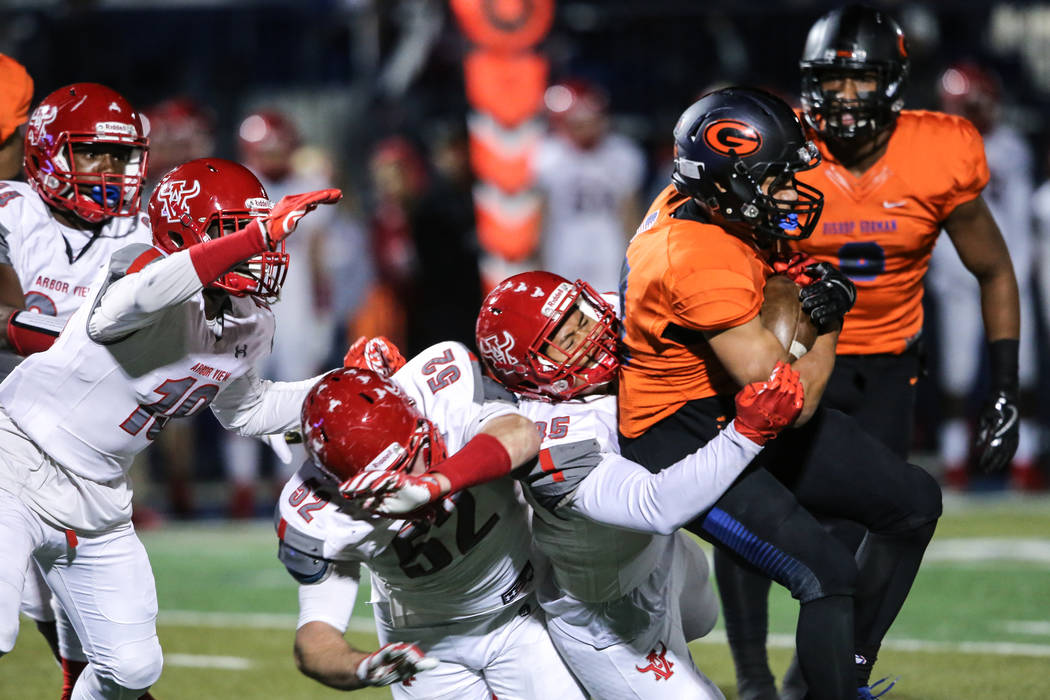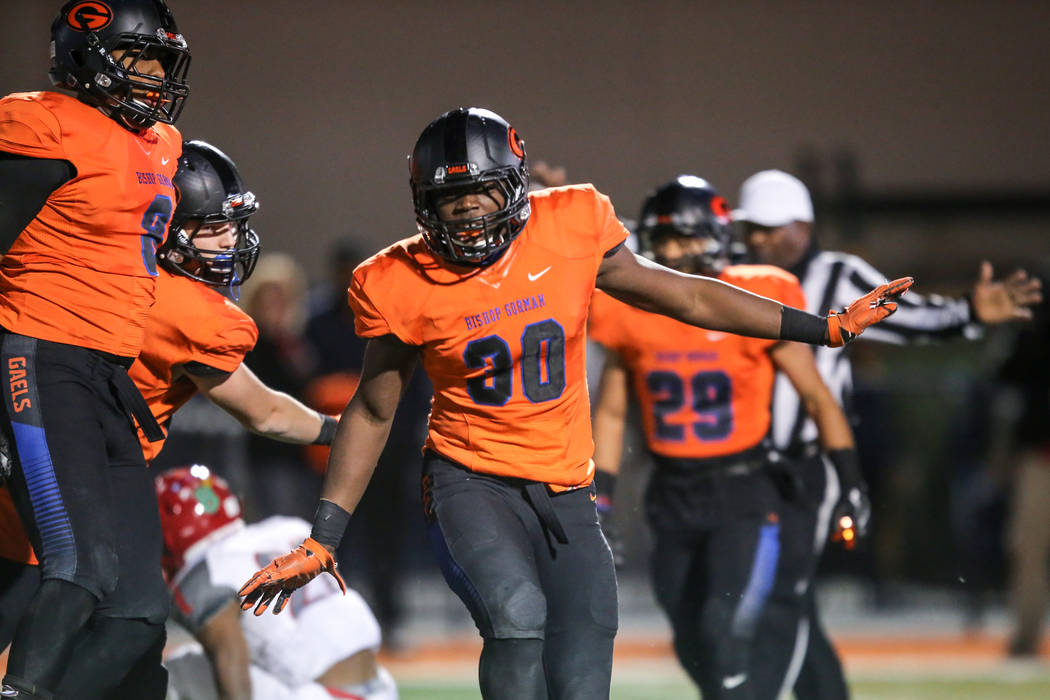 Noah Lopez's teammates told him early this week Arbor View would be the most physical in-state team Bishop Gorman has faced this season.
They weren't wrong, as evidenced by a 7-all first quarter.
But the 5-foot-8-inch Mater Dei transfer didn't back down Friday night. He provided several key defensive plays in the first half, sparking the Gaels in the Class 4A Sunset Region final.
Lopez, a defensive back, finished with three sacks, a forced fumble and a fumble recovery to help the Gaels secure their ninth consecutive region title with a 42-7 victory over Arbor View at Fertitta Field.
Eight-time defending state champion Gorman (11-2) will face Sunrise Region champion Liberty (11-1) in a state semifinal Friday at Rancho High.
"(Lopez) balled out today," said Gorman senior Palaie Gaoteote, who is the nation's top linebacker. "The proof is in the pudding. He's got more sacks than I do. So I got to find a way to get there."
With Arbor View employing its double-wing offense, Lopez had one-on-one matchups off the edge during play-action passes. And he capitalized early in the second quarter, scooping up the game's first turnover off a forced fumble by teammate Isaac Tuia, to give the Gaels the ball at the Aggies' 16.
Arbor View had all the momentum on its side after stopping Gorman on fourth-and-9 to end the opening quarter. But Lopez's recovery quickly led to a 10-yard touchdown run by Brevin Jordan, and then 35 unanswered points by the Gaels.
"We had it built in our system of what we wanted to do, and he took advantage of that," Gorman coach Kenny Sanchez said. "He creeped in a couple of holes that they provided for us. He did a really good job. … Any game, turnovers are huge. And in big games, they're even bigger."
Lopez had back-to-back sacks on the Aggies' next offensive possession — one a forced fumble on Arbor View quarterback Logan Bollinger — that led to one of Amod Cianelli's two second-quarter rushing touchdowns.
"As soon as my wing goes in motion, I'm manned up," Lopez said. "And I'm always coming off the edge. … That forced fumble changed the whole game around and gave our offense another chance to score."
Dorian Thompson-Robinson was 6-for-13 passing for 79 yards and a touchdown. The UCLA-bound quarterback also had 121 yards rushing and a touchdown.
Cianelli rushed for 105 yards and two touchdowns on 11 carries, and Cedric Tillman had a touchdown reception for Gorman, which also got an interception from JoJuan Clairborne.
Bollinger threw a 30-yard touchdown pass to Kyle Graham to lead Arbor View (10-1).
Contact reporter Ashton Ferguson at aferguson@reviewjournal.com or 702-383-0430. Follow @af_ferguson on Twitter.